JUNE 1, 2015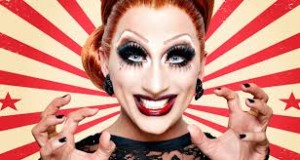 Tonight is the much-anticipated finale to Season 7 of "RuPaul's Drag Race." (9pm EDT on Logo)  Who will become America's Next Drag Superstar?  Will it be Pearl, Ginger Minj or Violet Chachki?  Don't really care all that much.  One will win tonight, but for me the queen of Drag Race will always be the reigning champion, Season 6 winner Bianca Del Rio.
For five years, I had the privilege to work alongside the remarkable Joan Rivers on "Fashion Police."  One thing I quickly learned that, while many stars sought her blessing, the only way you could get it was if you earned her respect.  Bianca did — she was Joan's final interview guest on her internet series "In Bed with Joan."  I believe that Bianca earned that respect from Joan not because she was a reality star or a funny man in a dress.  It's because she is a comic, a hard-working comedian of the old school who works hard and earns her laughs.
While the show's finales are always a hoot, it's doubtful they'll reach the heights of this year's non-televised warm-up routine, as Bianca throws some shade and reads the room like there's no tomorrow.