AUGUST 6, 2021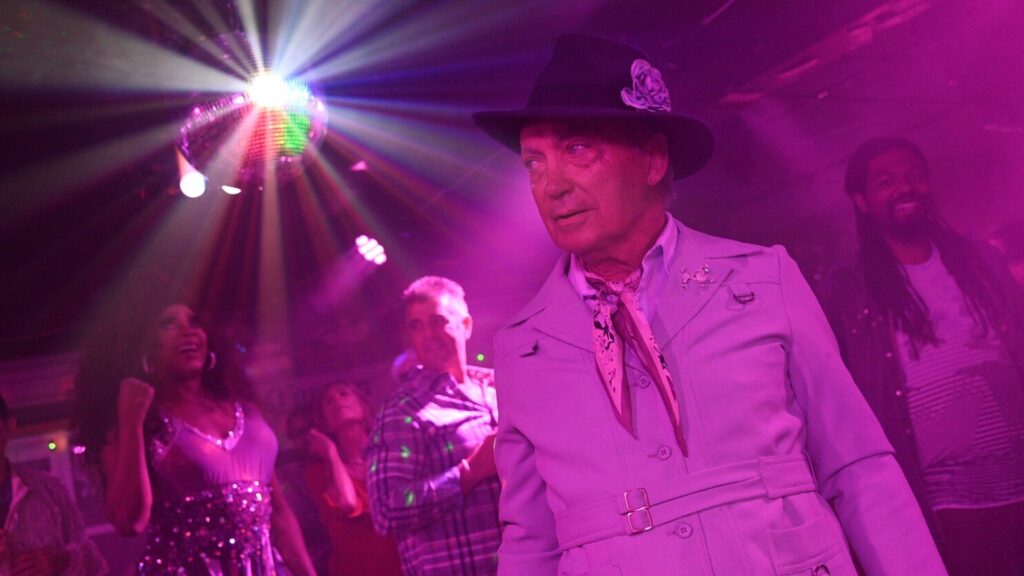 In a career that has thrived over half a century and is highlighted by over 150 film appearances, German actor Udo Kier has landed the role of a lifetime in Todd Stephens' "Swan Song," and, not surprisingly, he makes the very most of it. Though often cast as a raging psychopath in more than a few B-movies, Kier has also worked with distinguished directors like Gus Van Sant, Lars von Trier, Alexander Payne, and Rainer Werner Fassbinder. However, with "Swan Song," Kier gets the rare opportunity to play a real person – Sandusky, Ohio hairdresser Pat Pitsenbarger, whose flamboyant style earned him the sobriquet "The Liberace of Sandusky."
As Pat is languishing in a Spartan retirement home (where the day's highlight is fruit cocktail for lunch), he is visited by lawyer Walter Shamrock (Tom Bloom), who reveals that Pat's former client Rita Parker Sloan ("Dynasty's" Linda Evans), the conservative queen bee of Sandusky society, has died and has included a provision in her will for Pat to be paid $25,000 if he would work his magic on her one last time for her funeral. Pat, who has been estranged from Rita for years after she skipped the funeral of Pat's AIDS-stricken life partner David, initially wants no part of it ("Bury her with bad hair," he snaps at the lawyer). But the cash (and the chance to flee his now-dreary life) proves too tempting for Pat to resist.
In most good road movies, it is the journey, not the destination, that's important, and so it is in "Swan Song." To get to Rita's side of town, Pat sets out on foot to cross Sandusky; he even tries hitchhiking by holding a sign that reads "FREE BEAUTY TIPS" in exchange for a ride. As he searches through town for the beauty products he needs, Pat is surprised not only by how life in Sandusky has changed but by how kind the people he meets can be. Of course, with his limeade-colored pantsuit, Pat may not exactly blend in with the citizenry, but the townspeople, from a thrift-shop clerk to a Black hair salon owner, are never less than kind to this wandering stranger.
Still, there is a palpable sense of loss that Pat feels upon his return to Sandusky, from a visit to his beloved David's gravesite to a confrontation with Dee Dee Dale (a dramatic Jennifer Coolidge), his former assistant to whom he taught all of his beauty secrets and who repaid the favor by opening her own shop across the street (taking Pat's best clients with her). Less tangible but still very real for Pat is the passing of the gay community as he knew it in Sandusky. Men no longer have to troll public toilets for sex, nor are they forced to congregate in the town's only gay bar, the Fruit and Nut, where "Mr. Pat" once headlined the bill for many years. Yes, Sandusky is now a much better place for gay people than in Pat's era, but he can't help feeling a loss of the life that he enjoyed back then. As Pat observes ruefully as he watches two gay dads play with their child, "I wouldn't even know how to be gay anymore."
"Swan Song" is the third film in Stephens' "Sandusky Trilogy," the first being his script for 1998's acclaimed "Edge of Seventeen" (about coming out in Sandusky), followed by his directorial debut, 2001's "Gypsy 83" (which focused on getting out of the small town). It is evident that Stephens loves the town in which he grew up — the lack of condescension toward its small-town characters is one of the shining elements of "Swan Song." Still, his script at times feels a bit surface and needlessly episodic, as we wind up focusing as much on the townspeople he meets instead of a closer focus on Pat, whose character suggests deeper layers of complexity that the film at times only hints at.
Happily, Stephens has assembled a solid cast to populate Pat's road trip. Even in a straight role, Coolidge is always a welcome presence, and there's a nice turn by Michael Urie as Rita's gay grandson, who quickly forms a sweet bond with Pat. And the surprise at seeing Linda Evans after all these years is almost worth the price of admission itself.
But in the end, "Swan Song" is all about Udo Kier, who delivers his best performance in recent memory (and even perhaps of his distinguished career). Yes, his heavy accent is still ever-present and sometimes gets in the way of a few of Stephens' carefully worded one-liners. Much more important, however, is the gravitas that Kier brings to the role. Whereas another actor might simply see Pat as an excuse to swish, Kier takes a different route. His Pat not only talks the talk but in Kier's hands, you believe that Pat has really walked the walk in a life that feels thoroughly lived. It may seem strange when discussing such a flamboyant character, but Kier brings genuine authority to Pat, making us believe in the courage of this man living his life the way he did, when he did, and where he did. Pat owned it, and so does Udo Kier.
GRADE: B
This review originally appeared at Next Best Picture.