JUNE 7, 2021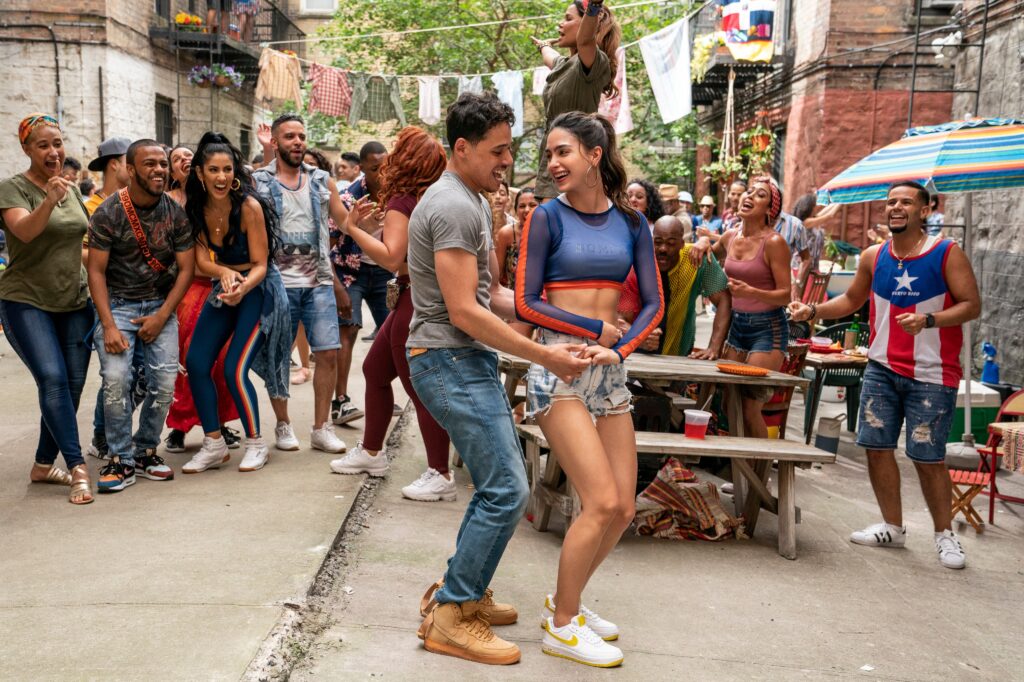 The Golden Globes are toast, at least for the 2022 ceremony. The Hollywood Foreign Press Association's vague talk of inclusiveness, spotlighted by the lack of a single black journalist invited to join the group, has been Topic A within the film community the past few weeks, with some in Hollywood hoping that the HFPA gets its act together for 2023, and others simply saying "Good riddance!"
Although some journalists and publicists disdained the Globes because of the privileged demands made by many in the group's membership, the fact remains that the Globes have had an enormous impact for some films in their campaigns for Academy Award consideration.
In fact, there are two kinds of films that had primarily relied on Globes recognition to kick-start their award campaigns: comedies and musicals. Every year, dramas tend to dominate the awards season, particularly with the nominations for Academy Awards, with musicals and comedies usually getting short shrift. In fact, since 2000, only four musicals ("Moulin Rouge!," "Chicago," "Les Miserables" and "La La Land") have been nominated for the Best Picture Oscar, with each getting a significant boost from their recognition from the Globes.
To be sure, it's rare that we get more than one or two musicals in a given year for awards consideration. So it's ironic that the very year that the Golden Globes go dark that we have a year with eight live-action musicals, the most in recent memory. With the loss of the Globes, each of these musicals will be deprived of the potential boost that a musical/comedy nomination could have offered, some more than others.
So which of this year's musicals will be hurt the most by this "no-Globes" season, and which will be impacted the least?
IN THE HEIGHTS (Warner Bros, June 11 in theaters and on HBO Max)
The year's first big musical blockbuster might be the film that is most impacted by the cancellation of the Globes. Enthusiastic early notices on social media have suggested that the Jon M. Chu film might be an awards player, but there is the chance that its early release date, while probably wise commercially, could cause the film to be a distant memory once awards season kicks in. A timely reminder with Globe nominations — an almost-certain Globe Best Picture nod plus possible acting nominations for lead actors Anthony Ramos and Melissa Barrera, as well as supporting actress Olga Merediz — could have been useful to bring the film back into the awards conversation. As it stands, "In the Heights" will probably make out just fine on Oscar nomination morning, but with Globe nominations (and potential wins), it's possible that it might have even done a little better.
NO-GLOBES IMPACT: Without the kind of boost that 5 or 6 Globes nominations could have had, the awards team at Warners will have a slightly heavier lift to remind Oscar voters of the film. But the early reviews are glowing and box-office prognosticators are bullish on its chances, so that should help keep the film in the conversation throughout awards season.
WEST SIDE STORY (20th Century Studios, December 10 in theaters)
Steven Spielberg's remake of the classic 1961 Best Picture winner is being released on the 60th anniversary of the original film and will likely be one of the films at the center of attention as awards season begins in earnest. The Globes have loved Spielberg in the past, with 12 Globe nominations as Best Director and two wins, and unless "West Side Story" completely tanked, he would have been in line to earn his 13th. With its December release, "West Side Story" probably would not have needed the Globe nominations as much as the summer's "In the Heights," but any early awards recognition for the film would have been a way to additionally burnish the film's credentials.
NO-GLOBES IMPACT: Minimal. The press will likely be all over this film during the weeks leading up to Oscar voting, so recognition at the Globes would simply have been icing on the cake and not something the film would have desperately needed.
DEAR EVAN HANSEN (Universal, September 24 in theaters)
This one may be the big musical question mark of the season. Based on the 2015 Tony Award-winner for Best Musical, "Dear Evan Hansen" eschews the big production numbers so prevalent in "In the Heights" and "West Side Story" and focuses instead on a socially anxious teen whose life suddenly becomes intertwined with the family of a classmate who has committed suicide. With the recent release of the film's trailer, and the reaction on social media to it was decidedly mixed. But the musical's composers, Benj Pasek and Justin Paul, are 2-for-2 with the Globes, having won for their songs in "La La Land" and "The Greatest Showman," and would likely have contended once again for their new song for "Dear Evan Hansen."  Any recognition from the Globes could have possibly given an extra shine to the film which it may possibly need.
NO-GLOBES IMPACT: If reaction to the film itself is anywhere near as divisive as that to the trailer, "Dear Evan Hansen" might have dearly needed to have Globe validation to jump-start its Oscar campaign. Globe nominations for Picture, Ben Platt, and Amy Adams/Julianne Moore would have helped a lot. Without that, the film will have to stand on its own. Stay tuned.
CYRANO (United Artists, December 25 in theaters)
This latest retelling of the classic Edmond Rostand story of the lovestruck suitor who is deemed unsuitable by society because of a physical defect is now a musical adapted by playwright Erica Schmidt. Produced off-Broadway in 2019, this take on "Cyrano" was more of a moody chamber piece than the big splashy musicals to which Globes voters have traditionally gravitated. If there would have been a Globes play at all, it would likely have been in Best Actor for the film's star Peter Dinklage, who received glowing reviews for his performance in the play, in which the actor's size was utilized as the character's romantic drawback rather than Cyrano's traditional large nose. Director Joe Wright (Globe nominee for "Atonement") would also have been an added prestige element for the film which could have attracted Globe voters.
NO-GLOBES IMPACT: Minimal. United Artists is taking a platform-release approach to "Cyrano," and if the somber tone of the stage production carries over into the film, it wouldn't have been of much interest to the glitzy Globes anyway.
TICK, TICK… BOOM! (Netflix, streaming fourth quarter 2001)
As the film directing debut of Lin-Manuel Miranda, "Tick, Tick…Boom!" would have likely garnered Globes attention even without a star like Andrew Garfield in the lead role. The semi-autobiographical story, written by the late Jonathan Larson ("Rent"), focuses on a struggling composer (Garfield) who is driven by fear that he is never going to make it the theater. Though set in the insular world of the performing arts, that worry about making one's dreams come true is universal and could have moved Globes voters. Given the fact that it is an awards contender from Netflix, it is anticipated that "Tick, Tick…Boom!" will receive an Oscar-qualifying run at least at the two theaters that Netflix owns in New York and Los Angeles. But just as having Miranda and Garfield on the red carpet might have helped the glam factor of the Globes, so too would a Best Picture nomination in turn help "Tick, Tick…Boom!"
NO-GLOBES IMPACT: Given the love that the Globes last year in singling out "Hamilton" (plus the fact that in the past they've loved actors-turned-directors), Miranda might have had a shot if the film was well enough reviewed. .
ANNETTE (Amazon, August 6 in theaters, August 20 streaming on Amazon Prime)
Léos Carax's first film since 2012's "Holy Motors" is slated to make an international splash when it opens the Cannes Film Festival on July 6. On its face, the story of a stand-up comic (Adam Driver) and his wife (Marion Cotillard), an international opera star, who are raising their daughter Annette who possesses magical powers might seem to be a straightforward plot. But in the distinctive hands of Carax and his co-writers, the cult band Sparks ("The Sparks Brothers"), "Annette" promises to be anything but conventional. Driver and Cotillard might offer star power to the Globes, but Carax's rigorous artistic style would appear to be counter to the kinds of musical/comedy films that the Globes had embraced in the past.
NO-GLOBES IMPACT: No Globes? No problem, at least for "Annette." If the film is anything like "Holy Motors," "Annette" is likely be a play for critics groups, and that's about it.
In addition to "Annette," Amazon has acquired two additional musicals, "Cinderella" from Sony and "Everybody's Talking About Jamie" from 20th Century Studios via Disney and "Cinderella" from Sony. In Amazon's acquisition announcements, Amazon indicated that both musicals will be released for streaming only, forgoing any Oscar-qualifying theatrical release. However, given the precedent set by "Hamilton," which went directly to streaming and earned two Globe nominations, both of these musicals would have likely been eligible for Globes consideration.
EVERYBODY'S TALKING ABOUT JAMIE (Amazon Prime, streaming September 17)
The UK's hit musical comedy, which has been playing in London's West End since 2017 was filmed in 2019 by stage director Jonathan Butterell, making his film directing debut. Teenager Jamie (Max Harwood) was one big goal in his life — to become a drag queen — which makes school life occasionally difficult and threatening. Likely awards attention will be centered on Richard E. Grant (Globes nominee for 2018's "Can You Ever Forgive Me?"), who has the film's showiest role that of Jamie's drag queen mentor Loco Chanelle. The property is a familiar one around the world except for America, which will get the musical's first stage production in January.
NO-GLOBES IMPACT: "Hamilton" was a title familiar to almost all audiences so Globes nominations were not a surprise. The battle for Globe recognition would have been a more uphill battle for "Jamie," although Grant would have had the film's best shot.
CINDERELLA (Amazon Prime, streaming in September)
Writer/director Kay Cannon's modern-day take on the Cinderella story has garnered a wide array of musical stars, including Billy Porter, Idina Menzel and James Corden supporting pop star Camila Cabello in the title role. Definitely not another remake of the Rodgers & Hammerstein musical, Cannon's "Cinderella" will feature contemporary pop songs mixed with originals composed for the film. The supporting categories at the Globes mix musicals with dramas, so breaking into that lineup would have been a challenge, although most press has center on Porter's role as a genderless fairy godparent.
NO-GLOBES IMPACT: Another musical take on "Cinderella" might have been an uphill battle for awards attention anyway, but the cancellation of this year's Globe has eliminated what the film might have needed to be considered more than just a family comedy.
Without the usual Golden Globes boost on which film musicals have traditionally relied, these eight films, each so different from one another, will have to carve out their own path on the long road to the Oscars. The results should be fascinating to watch.
This essay originally appeared at Next Best Picture.