JULY 8, 2021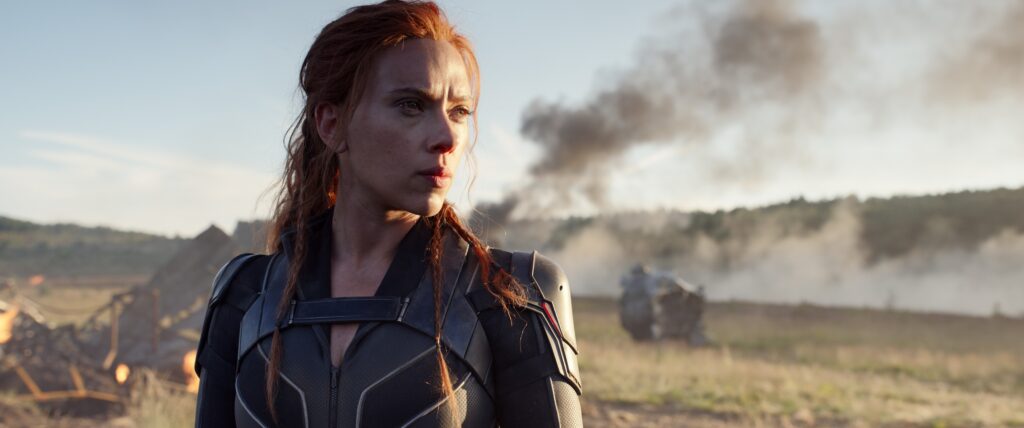 In what is the first in a series of planned monthly articles focusing the best films ready for your enjoyment, I'll zero in on what's showing in theaters, streaming online (or both) for the month of July. The most common question I get from readers about new movies they want to catch is "Where can I see it? Is it on Netflix? or Hulu? Or Prime?"  Don't worry, I've got your back. With each review, I've included just where each film is available to view. So now let's take a look at July…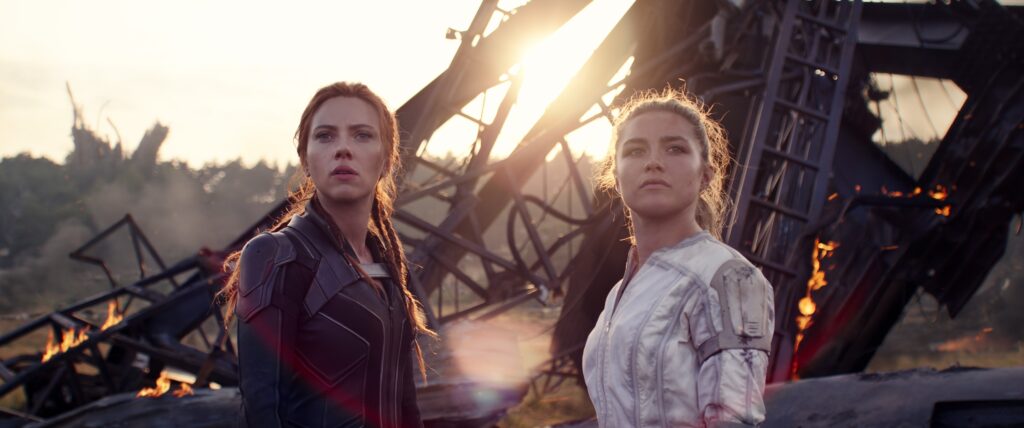 BLACK WIDOW – July 9 in theaters and streaming on Disney+ (plus a $30 charge)
Cate Blanchard's long-awaited stand-alone film centers at last on Avenger Natasha Rominoff (aka Black Widow, aka Scarlett Johansson) but is comparatively more modest in scale than the recent Marvel CGI franchises, focusing as much on family as it does on spectacle. The film's core relationship is between Natasha and her sister Yelena (an excellent Florence Pugh) who were raised in a Russian sleeper cell in Ohio and eventually separated as children, each to be trained as a fighting machine. The Romanoff sisters reunite to battle the head of the program (Ray Winstone) that turned them into killing machines, but that storyline is pretty standard Marvel stuff. The real meat in "Black Widow" is the family angle with the sisters trying to reconcile their ersatz parents — "Mom" Melina (Rachel Weisz) and "Dad" Alexei (aka The Red Guardian, aka "Stranger Things'" David Harbour, chewing every piece of scenery within five miles) — and just who they are to them now. Being Marvel, there is of course an array of action set pieces, the best of which is a "getting-to-know-you" fight between the sisters and a spectacular snowbound prison break of Alexei. Though there are moments when the film seems to be spinning its wheels, on the whole, "Black Widow" offers the kind of sendoff that Johansson's Nastasha deserves.
GRADE: B+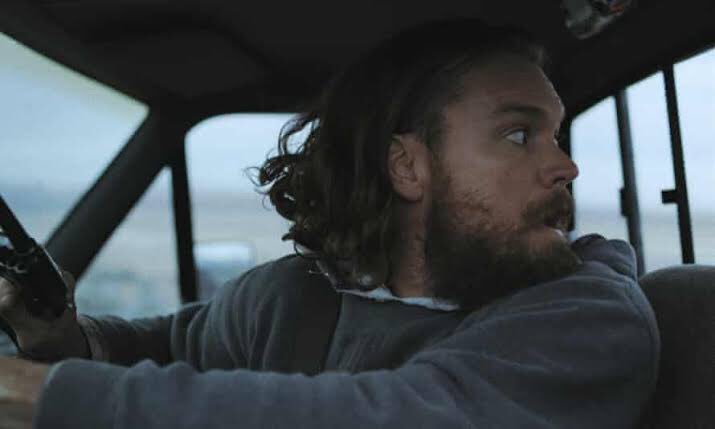 THE KILLING OF TWO LOVERS – Now playing in theaters and streaming on demand.
Robert Machoian's "The Killing of Two Lovers" begins provocatively with the image of David (Clayne Crawford), a young bearded man pointing a gun over the sleeping bodies of his estranged wife Nikki (Sepideh Moafi) and her new boyfriend Derek (Chris Coy). The fact that he can't bring himself to pull the trigger is just the beginning of the frustrations plaguing David, who has recently agreed to Nikki's request that they separate with the options of seeing other people. Nikki is taking full advantage of that last option by taking up with Derek, but David can't see anything past being with Nikki and their four children, whom he adores. Even worse, he doesn't know what he can do about to fix his situation. Writer/director Machoian has created a taut thriller here, coming in at a lean, mean 84 minutes without a single wasted shot in the film. Crawford's performance is the best by any actor I've seen so far this year, and Machoian has loudly introduced himself as a filmmaker to watch. I would be very surprised if "The Killing of Two Lovers" doesn't make my 10 Best list at year's end.
GRADE: A-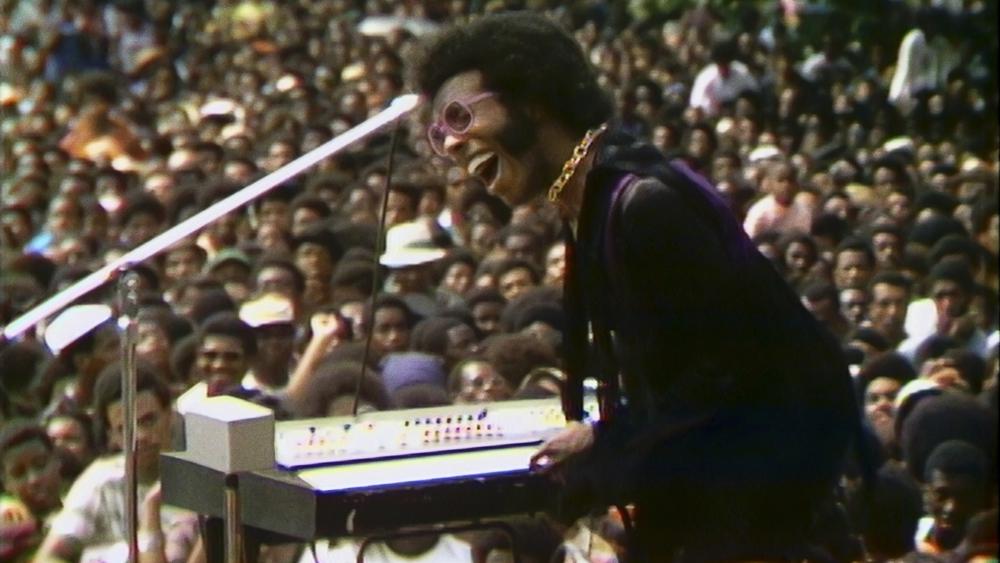 SUMMER OF SOUL (…OR, WHEN THE REVOLUTION COULD NOT BE TELEVISED) – Now playing in theaters and streaming on Hulu.
It's an incredible story. The same summer as Woodstock, another major music festival took place with chart-topping stars for six consecutive weekends in New York's Harlem. And the world never heard of it. The 1969 Harlem Cultural Festival which was held in the neighborhood's Mount Morris Park (now Marcus Garvey Park) thrilled audiences with such stars from the worlds of soul, R&B, jazz, salsa and gospel as Stevie Wonder (on the drums!), Mahalia Jackson, Nina Simone, The 5th Dimension, The Staple Singers, Gladys Knight & the Pips and Sly and the Family Stone (photo). The six concerts were filmed in hopes of getting a movie made. That never materialized, and for the past 50 years, the 40 hours of footage sat forgotten in a basement. That is, until now. Lucky for us, the footage fell into the hands of first-time director and master DJ Ahmir Thompson, better known to us as Questlove. As one might expect, the musical performances have a natural flow to them with one building upon another. But Questlove adds two extra dimensions to "Summer of Soul" that elevate the film immeasurably. First, he adds contemporary interviews with those same artists still living, most memorably with Marilyn McCoo & Billy Davis Jr. of The 5th Dimension, looking at themselves from 50 years earlier and painfully recalling how the group was attacked by some African Americans for sounding too "white," which in part was why performing at the Harlem festival meant to much to them. Most importantly, Questlove offers social and political context of what was happening that year in a community that was still reeling from the assassination of Dr. King. "Summer of Soul" is a culturally significant snapshot of one year in time. And best of all, you can dance to it.
GRADE: B+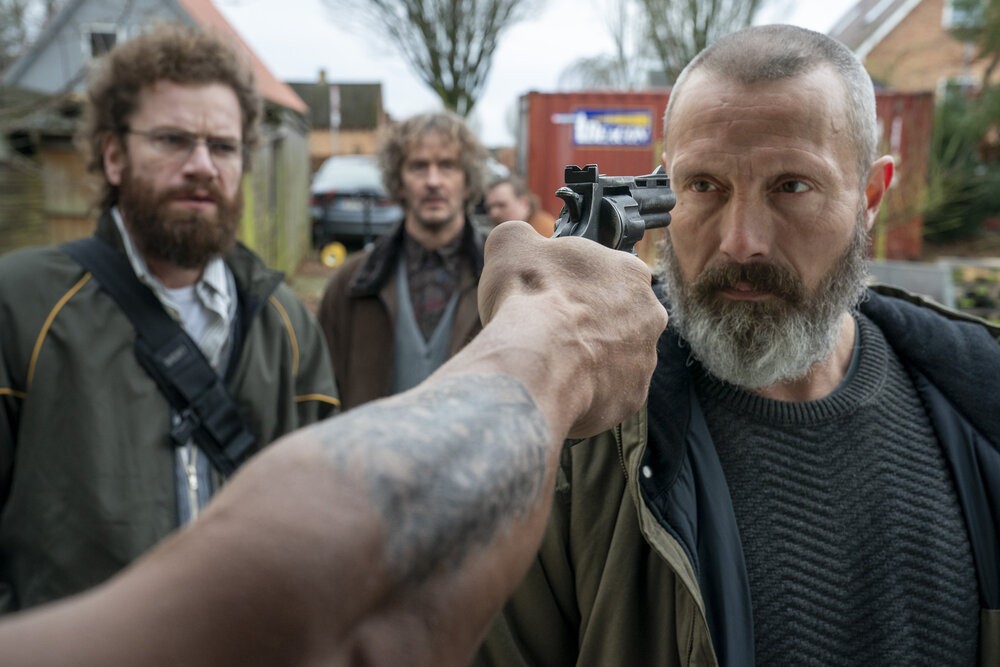 RIDERS OF JUSTICE – Now playing in theaters and streaming on demand.
When you hear the plot of "Riders of Justice," you'll probably think you've seen it all before. After his wife dies in a train accident, hardened Army vet Markus (Mads Mikkelsen of "Another Round") returns home to comfort his surviving daughter, but what he's really looking for are answers. Sounds like another Liam Neeson movie, right? Just wait. The answers that Markus seeks come in the form of three dweebs — mathematicians Otto (Nikolaj Lie Kaas) and Lennart (Lars Brygmann) and their hacker buddy Emmenthaler (Nicolas Bro) who claim that they have eyewitness proof that the tragic accident was really murder. Before Markus knows it, the three have moved into his house and proceed to upend his life with their incessant investigation. At that moment, "Riders of Justice" morphs from just another action thriller to become the most unexpected buddy comedy that you can imagine. Writer/director Anders Thomas Jensen doesn't scrimp on the action — there are a few set pieces here that are absolute nail-biters — but he's not at all afraid to use comedy to have a good laugh at the lamest parts of the action movie genre. "Riders of Justice" is a meta concept that shouldn't have a prayer of working, yet it succeeds spectacularly.
GRADE: A-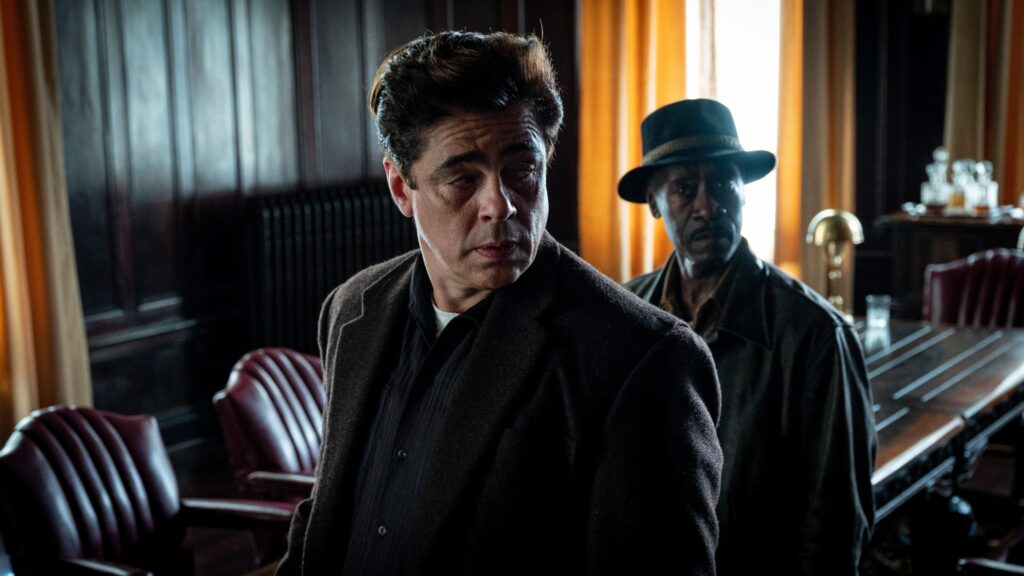 NO SUDDEN MOVE – Now streaming on HBO Max.
OK, Steven Soderbergh did recently produce the weirdest Oscar ceremony in memory, but don't hold that (too much) against him. He remains one of the world's great directors who is comfortable with an abundance of genres — from biopics ("Erin Brockovich," "Behind the Candelabra") to comedies ("Logan Lucky," "Magic Mike") with a few "Oceans" films in between. But I think the Soderbergh I like best is the crime thriller Soderbergh from his late-'90s period with such films as "The Limey" and the George Clooney/Jennifer Lopez starrer "Out of Sight." I thought that Soderbergh was lost to us, but he's back with the tough new thriller "No Sudden Move," now streaming on HBO Max.  Like many Soderbergh movies, this one's jammed back with movie stars from his informal repertory company, including Don Cheadle and Benicio del Toro as two small-time crooks hired by a mob enforcer (a welcome Brendan Fraser) to babysit a family while Dad (David Harbour) is forced at gunpoint to retrieve some valuable papers from a company safe. The plan goes horribly wrong (as they tend to do in these movies), and our anti-heroes have to scramble for their lives from both the law (Jon Hamm) and the crime bosses above them (Ray Liotta, Bill Duke). Soderbergh directs with unpretentious flair from a complicated but effective script by Ed Solomon. A word of caution: it's streaming at home on HBO Max, so be sure to let any ringing iPhones go to voicemail — you won't want to miss any of the film's many twists and turns.
GRADE: B+
********************
These are just some highlights for July, but there are so many other terrific movies from earlier in the year almost too numerous to list. Here's a few:
QUO VADIS, AIDA? — A heartbreaking look at one family during wartime that's one of the finest films of the past five years. Now streaming on Hulu.
LUCA – The latest animated film from Pixar is a delightfully colorful memory piece about two boys in an Italian seaside town who share an unusual secret. Now streaming on Disney+ (with no added charge).
THE MITCHELLS vs THE MACHINES – Here's an even better animated film that boasts the most imaginatively funny screenplay so far this year. Now streaming on Netflix.
THE SPARKS BROTHERS – In the year's most entertaining documentary, director Edgar Wright ("Baby Driver") offers an visually witty look at a duo that's often called "the best British band ever to come out of America."  Now playing in theaters.
And above all…
IN THE HEIGHTS – Jon M. Chu's screen version of Lin-Manuel Miranda's Tony Award-winner explodes with a great score and spectacular choreography in what is easily the screen's best musical in years.  Now playing in its final weeks in theaters and streaming on HBO Max through Sunday, July 11 ONLY.  Don't miss it!