JUNE 8, 2021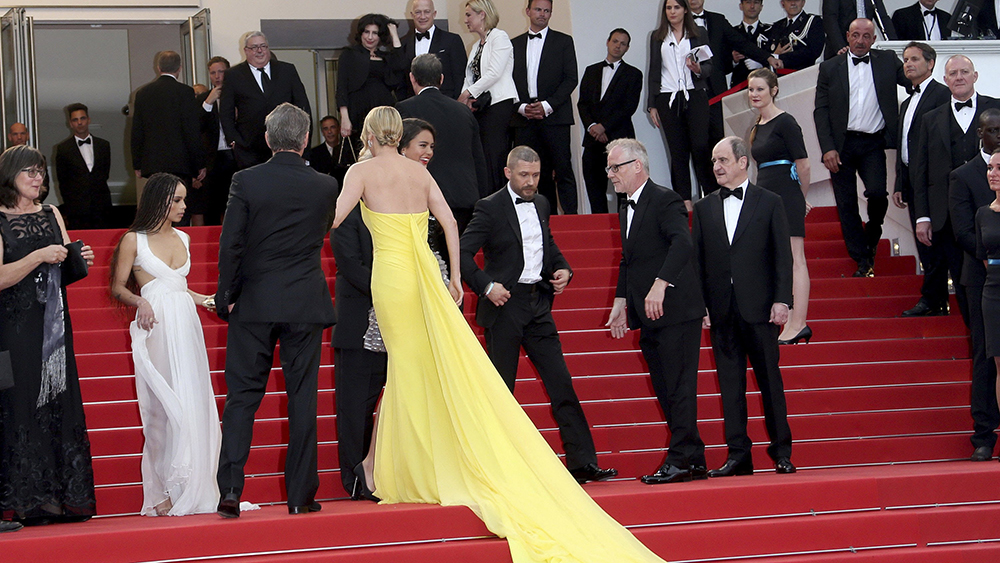 Cannes is back, baby!  If the lineup for 2021 Festival, announced last week by festival director Thierry Frémaux, is any indication of its quality, it's back in a really big way.
The 63 films that will be premiering at Cannes include a wide array of international titles, many of which were set to premiere at the 2020 festival, (which was forced to be cancelled because of the pandemic) but which waited on their release dates so that they could be at Cannes in 2021.
Yes, there's the glam portion of the festival with stars climbing up the red carpet to the Palais des Festivals, a tradition that will likely be more than filled by the casts of the three in-competition films previously announced  — "Annette," the Leos Carax musical with Adam Driver and Marion Cotillard that will open the festival; Paul Schrader's lesbian-nun drama "Benedetta" and Wes Anderson's "The French Dispatch" with a coterie of movie stars that will made the paparazzi squeal with delight.
Among serious fans, though, it's the Cannes film lineup that is the real meat of the festival, particularly those films that have selected to vie in the Main Competition for the Palme d'Or. Among the newly-announced in-competition titles announced are ten that really excite me the most:
"A Hero" (d: Asghar Farhadi) — One of my most anticipated films of the year brings the two-time Oscar-winning director back to his native Iran. The plot of "A Hero" has yet to be revealed, but if it's Farhadi, I'm there. Much like his Oscar-winning "A Salesman," the film is scheduled to be released by Amazon during awards season.
"Red Rocket" (d: Sean Baker) — In a welcome surprise this morning, the director of "Tangerine" and "The Florida Project" returns to the festival for his first in-competition film that he reportedly finished just last week. Like "Tangerine," Baker has mostly cast first-time actors in this story of a porn star (Simon Rex) who returns home to his family in a small Texas town.
"Memoria" (d: Apichatpong Weerasethakul) – The heralded Thai filmmaker, who won the 2010 Palme d'Or with "Uncle Boonme Who Can Recall His Past Lives," is back in competition with his latest, starring Tilda Swinton as a woman who suffers from "exploding head syndrome." Intrigued? Well, yeah!
"Flag Day" (d: Sean Penn) — The director of "Into the Wild" offers his first film in five years, a crime drama based on Jennifer Vogel's memoir about her con-artist father who, in order to support his daughter, becomes a counterfeiter and bank robber. Penn also joins the intriguing cast, which includes Katheryn Winnick, Miles Teller, Eddie Marsan and Josh Brolin.
"Paris, 13th District" (d: Jacques Audiard) — Audiard, another Palme d'Or winner (2015's "Dheepan"), returns to France after his Hollywood sojurn ("The Sisters Brothers") with this story of four young adults who, while remaining friends, find love with one another. Audiard co-wrote the script with Léa Mysius ("Ava") and Celine Sciamma ("Portrait of a Lady on Fire").
"The Story of My Wife" (d: Ildikó Enyedi) — The Hungarian filmmaker, whose dreamy 2017 romance "Of Body and Soul" was Oscar-nominated, returns with another unusual love story focusing on a 1920s sea captain (Anders Baasmo Christiansen) who makes a bet that he will marry the next woman who walks in through the tavern door. Enter Lizzy (Léa Seydoux), and complications ensue.
"Everything Went Fine" (d: François Ozon) — The prolific French filmmaker likes to swing for the fences every time out, and when he connects (such as with 2012's "In the House"), there's no one quite like him. The new film, despite its cheery title, captures a dramatic struggle between a daughter (Sophie Mafrceau) and her elderly father (André Dussollier) who is desperate to die. Screen legends Charlotte Rampling and Hanna Schygulla co-star.
"Bergman Island" (d: Mia Hansen-Løve) — French director Hansen-Løve's long-in-the-works marital drama stars Tim Roth and Vicky Krieps as a filmmaking couple who travel to Farö, the remote island where Ingmar Bergman lived and worked, in order to finish their latest screenplay. But as they work, they find that who they are and the characters about which they're writing begin to blend, threatening their marriage.
"Tre Piani" (d: Nanni Moretti) — It's been two decades since Moretti last won the Palme d'Or (for 2001's "A Son's Room") and five years since his last film, so his return to directing and to Cannes with his latest film, "Tre Piani" is a welcome sign. Adapted from a novel set in Tel Aviv by Eshkol Nevo, the film has been relocated to Moretti's native Italy and focuses on three families living in three apartments on different floors of the same bourgeois condominium.
"Titane" (d: Julia Ducournau) — If you ever saw Ducournau's most recent movie, the cannibal horror film "Raw," you likely didn't forget it. The French director has returned to Cannes with her latest, about which little is known plot-wise other than the fact that it is a mystery about biocompatibility, which could mean just about anything. But if "Raw" is any indication of what her new film might portend, we are likely to be in for quite a ride.
But that's not all. Outside of the main competition, there's a large number of intriguing films, including Tom McCarthy's "Stillwater" with Matt Damon (likely to raise the film's profile prior to its July 30 U.S. release); Eva Husson's "Mothering Sundays" with Olivia Colman, Josh O'Connor and Colin Firth; the Amazon-acquired documentary "Val" on the dramatic life of Val Kilmer; Kogonada's sci-fi drama "After Yang" with Colin Farrell and Jodie Turner-Smith; Todd Haynes' documentary on The Velvet Underground, and Oliver Stone's doc "JFK Revisited: Through the Looking Glass."
What's missing? With every Cannes announcement, there are always grumbles about what films are not there, and those hoping for a glimpse of Pablo Larrain's "Spencer," Park Chan-wook's "Decision to Leave," Ruben Ostlund's "Triangle of Sadness," Paul Schrader's "The Card Counter" or Jane Campion's "The Power of the Dog" (likely due to its connection to the forbidden Netflix) will just have to wait for another festival closer to awards season.  But there are more film announcements still to come for Cannes, so a major surprise or two may still be lurking out there.
Though the vast majority of us will not be able to stroll on the Coisette for the festival, the eyes of the movie world will be glued to what's happening in this seaside town from July 6-17. And I, for one, can't wait.
This article originally appeared at Next Best Picture.