AUGUST 11, 2015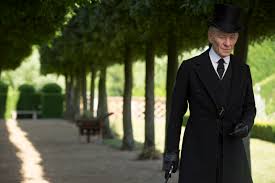 When I heard that Ian McKellen was to be cast as Sherlock Holmes, I imagined him with a sparkle in his eye, a spring in his step and a witty bon mot on his lips.  Be warned that that is not the Sherlock Holmes of "Mr. Holmes," the second collaboration between McKellen and director Bill Condon.
Their first collaboration, 1998's "Gods and Monsters," brought Condon an Oscar for his script and McKellen his first nomination.  "Mr. Holmes" is not in that film's league, though both men have a special chemistry that is amply on display here.
In 1947, this Holmes is in his 90s, having retired to his seaside home, which is managed by his housekeeper Mrs. Munro (Laura Linney) and her inquisitive young son Roger (Milo Parker) who becomes fascinated with the great detective and his career.
This is not a happy Sherlock.  Holmes is alarmed at his increasing memory loss — he has even traveled to Japan for a plant that he hopes will slow down the deterioration.  He is also haunted by thoughts on the case that prompted his retirement.  He is very displeased with the fictional story of that case that the world believes is the truth, so he is determined to tell the story the way it really happened.  If only he could remember it.
Herein lies the narrative limitation of "Mr. Holmes."  What propelled the Sherlock Holmes stories was the forward motion to solve a mystery.  That propulsion (particularly evident in the current PBS series with Benedict Cumberbatch) is key to keeping an audience invested in the outcome.  Here, however, we watch as Holmes tries to mentally recount a case in fits and starts — yes, the big picture is finally revealed but it is without the thrill of a real mystery, a thrill that the better Holmes books and films easily provide.
There are pleasures, however, in "Mr. Holmes," mostly provided by McKellen.  Many of the actor's recent performances have been big (the "X-Men" series), bigger (the Tolkien films) and biggest (his hammy PBS sitcom "Vicious").  Here McKellen is working in miniature — a glance, a gesture, a facial tic — and it's a wonder to see onscreen what else this acting legend can show us.
And sometimes that level of wonder is enough.
GRADE:  B-