AUGUST 10, 2015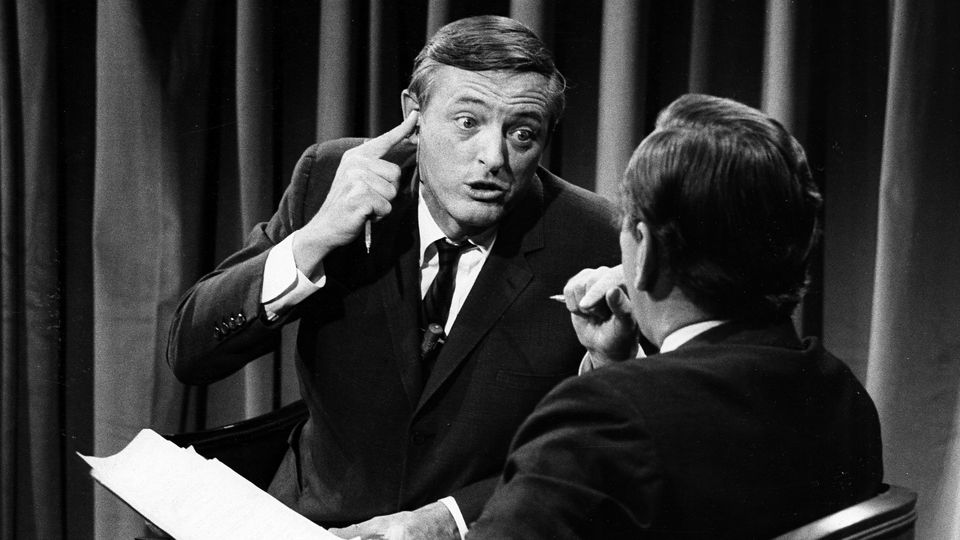 Today they are all over the cable news landscape.  They're labeled as "strategists," and both parties use them to make their talking points again and again.  Yes, they do create drama, which seems to be the networks' goal, but the more the same arguments are voiced, the emptier the combatants appear.
It was not always this way.  Its origins began as a simple time-filler, and it was all chaotically realized by ABC News.
In 1968, that network was in the news toilet.  In fact, worse than the toilet, it was irrelevant.  CBS had Cronkite.  NBC had Huntley & Brinkley.  And ABC had…Frank Reynolds.  While the other two networks planned gavel-to-gavel coverage of that year's political conventions, ABC had no money to do so and could only come up with enough funds to host a 90-minute recap show every night.  Someone there had the bright idea to fill some time by having an intellectual back-and-forth about the political goings-on.  Bingo.
Using both clips and backstage footage, the craziness that ensued is captured in the hilarious yet thoughtful new documentary "Best of Enemies," co-directed by Robert Gordon and Oscar-winner Morgan Neville ("20 Feet From Stardom").
ABC approached William F. Buckley Jr.  He was already well-known as the editor of the conservative magazine National Review and the host of the successful syndicated interview show "Firing Line."  When asked if there was any one person whom he did not want to appear with, the only one he could think of was Gore Vidal.  ABC promptly signed Vidal.
As noted in the film by the late Christopher Hitchens, these two guys truly hated each other.  Vidal had recently written the sensational sexual best-seller "Myra Breckinridge," whose transsexual themes encapsulated to the conservative Buckley everything that was wrong with the permissive left.  They were ready to go at each other.  The stage was set.
I'll leave you to discover the most delicious parts of their jousting for yourself.  And the footage certainly delivers.  With the possible exception of "Trainwreck," there hasn't been a funnier film this summer than "Best of Enemies."
That is, until the moment during coverage of the Chicago police beating protestors during the Democratic Convention.  Vidal decried the police attacks and referred to Buckley's position as that of a "crypto-Nazi."  At that moment, Buckley snapped and with a look of sheer hateful disdain, he uttered these words at Vidal on live television:
"Now listen you queer, stop calling me a crypto-Nazi or I'll sock you in the goddamn face and you'll stay plastered."
This moment was television history, but the film posits that it was simply the culmination of a gay subtext that marked the relationship between the two men.  In 1948, Vidal made his mark on American literature with "The City and the Pillar," which treated a gay relationship in a sympathetic way, almost unheard of at the time.  Vidal went on to equate gay and straight relationships on an equal plane, which riled Buckley.  Vidal, however, never came out publicly himself, so Buckley used that fact in many of their skirmishes, making vague allusions to Vidal's "feline" tendencies.
After the ABC debates, Vidal, in response to a newspaper attack by Buckley, suggested that his rival may have had some gay proclivities himself, an allegation that prompted a lawsuit by Buckley which took three long years to be settled.  Still it was that moment in Chicago that forever haunted Buckley and marked a turning point in both men's careers.
Yes, "Best of Enemies" is a talking-heads movie, but what smart talking heads they have chosen to comment on the importance of those debates!  It is not just a history of the politics of the time, but also of television, at a time when TV news was still finding its way, and these debates wound up spinning it in a direction that still impacts the medium today — a direction that we may sometimes regret.
GRADE: B+