JANUARY 21, 2016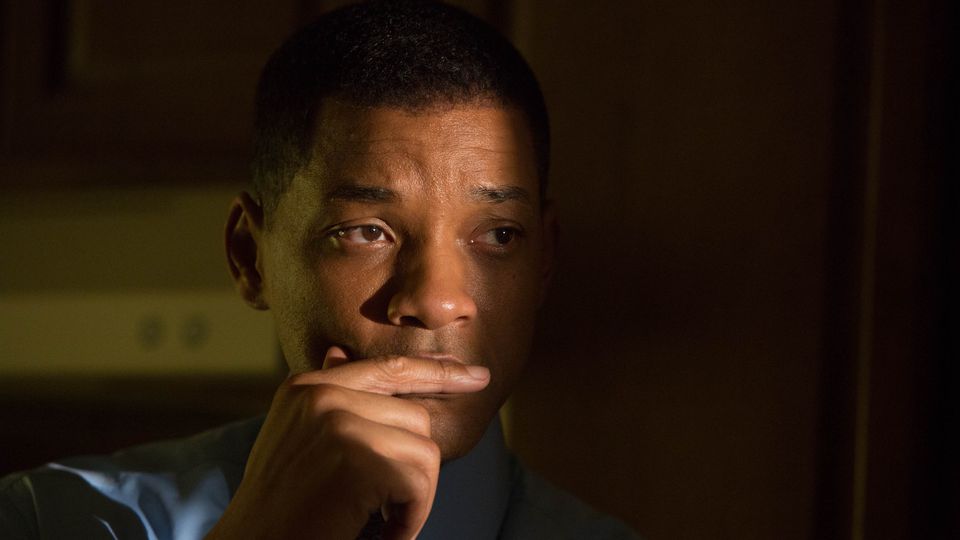 Her name is Dianne Houston, and she is a film director.  In 1996, she received an Academy Award nomination for her short film "Tuesday Morning Ride."  She didn't win, but she did have one important bit of fame — she was the only one of 166 Oscar nominees that year who was African-American.  (She is still, to this day, the only African-American woman ever to be nominated for directing.)
In response, the Rev. Jesse Jackson, with the backing of entertainment guilds and community groups, called for a protest at the March 25 Dorothy Chandler Pavilion ceremony to be hosted by Whoopi Goldberg and produced by Quincy Jones.  Though Jones convinced Rev. Jackson to move the protest to the studios of the local ABC affiliate, the 1996 protest marked the first high-profile recognition of the problem that the Academy has continued to have in voting to recognize the achievements of non-white artists.
And this was in an era before hashtags!  Cut to the current Oscar race, and meet the new boss, same as the old boss.  Last Thursday's Oscar nominations marked the second year in a row that not a single non-white actor was named in the 20 available acting slots.  It's not that standout films made by African-Americans weren't recognized, but among those that were, "Creed" was nominated only for Sylvester Stallone, and "Straight Outta Compton" was honored solely for its four writers (all white).
It wasn't long before the hashtag #OscarsSoWhite, which was born out of last year's all-white acting nominations, made a triumphant return.  Only this time, its profile was raised when two prominent African-American artists, director Spike Lee (who has awarded an honorary Oscar last November) and actress Jada Pinkett-Smith, each stated that they were planning to boycott this year's Oscar ceremony over the inequality.
It was Pinkett-Smith's You Tube video that received the most notice, with supporters noting her passionate arguments and skeptics wondering if she's just angry that her husband Will Smith, who was in the mix as a possible Best Actor nominee, didn't make the final five.  (Smith himself announced this morning on "GMA" that he would join his wife in boycotting the ceremony.)  I had no idea whether Smith deserved a nomination as I hadn't seen his film "Concussion," but I managed to catch it yesterday, and Smith is not the problem with the movie.
"Concussion" is focused on the real-life efforts of Nigerian forensic pathologist Dr. Bennet Omalu (Smith) who, when performing the autopsy of a legendary Pittsburgh Steelers center (an unrecognizable David Morse) comes to the unmistakable conclusion that the football pro died from the effects of repeated blows to the head over the course of his career.  The syndrome, which Omalu terms "chronic traumatic encephalopathy" (CTE), soon shows up in other players whom Omalu autopsies.
He chronicles his findings in a respected medical journal, which is soon brought to the attention of the National Football League, which, seeing a dangerous threat to its billion-dollar enterprise, sets out to destroy the pathologist and those who join him in seeking the truth.  If the story of a few everyday professionals trying to speak the truth to a power that controls the city is familiar, it's the template of "Spotlight."
"Spotlight" was directed and co-written by Tom McCarthy, an accomplished filmmaker.  "Concussion," however, was written and directed by Peter Landesman, a much-heralded journalist who is just that, a journalist.  He approaches screenwriting that way, laying out facts, followed by sweeping conclusions as to what it all means.  What's missing is subtlety and characterization, both of which were the strong points of "Spotlight," and is what makes you care about the characters' fate, an empathy that is sorely lacking here.
In comparison, Smith delivers a very subtle Nigerian-accented performance that might have had a better chance of a nomination if his material was more perceptive.  But in the cut-throat Best Actor category, it's very difficult to be nominated for a good performance in a blah movie.  It's not Smith's race that's the problem, it's his film.
Or, more accurately, it's the film industry, which is largely run by aging white men who greenlight film projects with which they can relate.  Compare this to the state of television today.  Why hasn't there been an #EmmysSoWhite hashtag?  It's because the executive offices in TV are filled with more women and people of color.  Yes, they also greenlight projects with which they can relate, but those projects contain faces and situations that are far more reflective of the tastes of the public at large.
I certainly understand the Smiths' desire to make a statement by boycotting the ceremony.  But one can usually make a stronger political statement by attending (and talking about it on the red carpet) than by simply not being there.  In that regard, I really hope that host Chris Rock doesn't step away.  He's in a much stronger position to make a statement from the stage, using his incisive humor to make the public more aware of this issue and to shame the Academy into doing something about it.
"CONCUSSION" GRADE: C-