FEBRUARY 29, 2016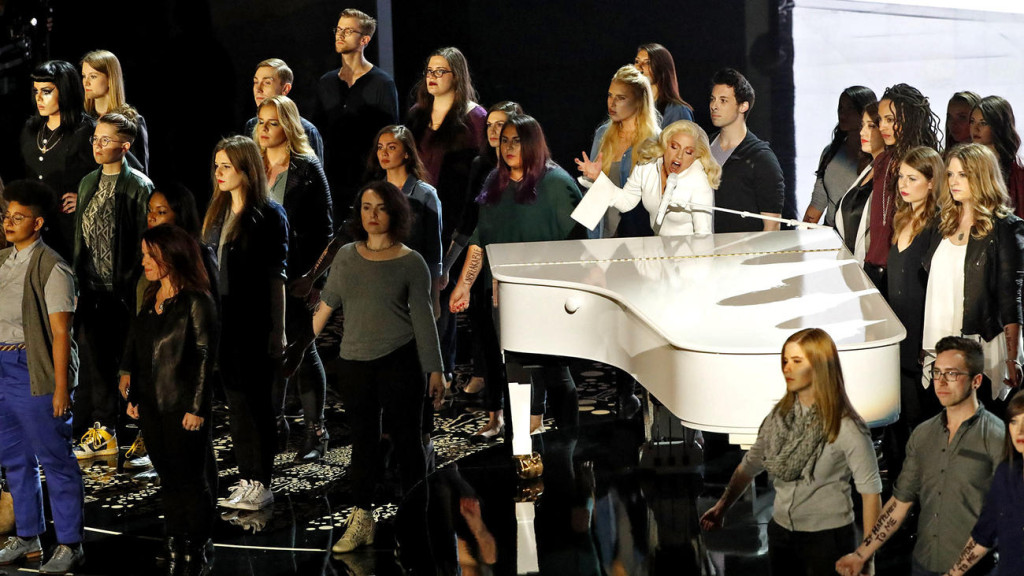 Photo: Los Angeles Times
Well, the Oscar season has finally come to an end with a provocative and upset-filled ceremony on Sunday evening from Hollywood's Dolby Theatre.
Like most recent Oscar ceremonies, the show was overlong, with a number of bits falling flat.  But unlike the past few years, this ceremony had a point, as the elephant in the room of a second straight year of all-white acting nominees was tackled head-on by host Chris Rock, who turned out to be the host the Academy needed this year.
Rather than analyze the often-surprising winners category-by-category, I'd like to share a few impressions of the show itself.
THE MONOLOGUE
Rock is a smart comic who usually knows exactly where the line is before you begin to lose your audience.  Coming onstage to Public Enemy's "Fight the Power" certainly set the tone for the first ten minutes.  Some of his jokes were scathing, but his skill at crafting his verbiage for maximum laughter is what sets Rock apart from many other comics of his generation.
At one point in his monologue, he directly accused Hollywood of being racist, but then explained it by saying it wasn't "cross-burning" racist or "get me some lemonade" racist — it was much closer to "sorority racist.  It's like: 'We like you Rhonda, but you're not a Kappa.'"  By his choice of words, he makes his point strongly, but he still manages to get the laugh.
But Rock, at times, took a much harder edge to the subject.  Noting the upcoming "In Memoriam" segment, he suggested that it would be a montage of black people who were shot by cops on their way to the movies.  Referencing the boycott of the ceremony by some actors in protest of no black acting nominees, Rock asked "Why now?"  Since this is the 88th annual Academy Awards, he observed that this situation must have happened "at least 71 other times."  Particularly in the 1950s and '60s, African-Americans didn't worry about the Oscars because they had bigger battles to fight.  ("When your grandmother's swinging from a tree, it's really hard to care about best documentary foreign short.")  Several #OscarsSoWhite leaders went on record this morning as not being particularly happy with that joke, but Rock successfully sold it.
There were your usual Oscar bits.  Rock asked the black-tie crowd to help his daughter sell the most Girl Scout cookies in her troop this year, and suddenly the Dolby Theatre was swarming with Girl Scouts ready to make a deal.  It was cute, even though it was a little too similar to Ellen DeGeneres' pizza delivery bit a couple of years ago.
Rock had a tricky tightrope to walk, but he managed to reach the other side, with style to spare.
BEST SONG
So many issues here.   Unquestionably the emotional highlight of the evening was Lady Gaga's performance of her nominated song, "Til It Happens To You," from "The Hunting Ground," the acclaimed documentary about the epidemic of rape on college campuses today.  Gaga, a survivor of rape herself, attacked the song (co-written by 8-time nominee Diane Warren) with a fierce intensity that was absolutely chilling, topped only by the appearance of a large group of rape survivors (which significantly included both women and men) who had written on their arms such words as "It happened to me" and "Not your fault."  The sheer power of this performance was rivaled only by the "Selma"-themed "Glory" from last year's Oscars.
The fact that such an important song lost just a few minutes later to Sam Smith's godawful "Writing's On the Wall" (the worst James Bond theme in decades) was a huge emotional comedown.  To make matters worse, Smith proudly proclaimed himself the first out person to ever win an Academy Award, which must come as news to Elton John, actress Linda Hunt, and writers Bill Condon ("Gods and Monsters") and Dustin Lance Black ("Milk").  Next time, Sam, remember that Google is your friend.
Another dark mark in this category was the fact that only those songs set to be performed by stars — Gaga, Smith and The Weeknd — were allowed to be performed on the telecast.  The other two songs, which got the same nomination as those three, were David Lang's gorgeous "Simple Song #3" from "Youth" and from the documentary "Racing Extinction," the song "Manta Ray," written by J. Ralph and Anohni.   Sad for Lang, but especially for Anohni, who would have become the first transgender artist to ever perform on the Oscars.  In a show devoted to diversity, some communities are evidently more welcome than others.  Absolutely disrespectful.
THE SENTIMENTAL FAVORITE FALLS
In 1996, Lauren Bacall was the overwhelming sentimental favorite to win her first Oscar ever for Barbra Streisand's "The Mirror Has Two Faces."  She had previously won every precursor in sight, and the stage was set for a coronation.  But something happened.  The envelope that presenter Kevin Spacey was holding contained the name, not of Bacall, but that of longshot Juliette Binoche for "The English Patient."  Binoche rocked back in her seat, stunned, while Bacall, her eyes shooting darts, began the most uncomfortable golf clap I've ever seen at the Oscars.
Sentimental favorites don't fall short often, but it happened again last night.  The Oscar audience was prepared to give Sylvester Stallone the same warm standing ovation that he got at the Golden Globes for his return as Rocky Balboa in "Creed."  Unlike Bacall, whose reviews were so-so, Stallone got some of the best reviews of his career in "Creed," and nobody can resist a comeback story.  Well, apparently the Academy did.  The name inside presenter Patricia Arquette's envelope as Best Supporting Actor was British actor Mark Rylance for Steven Spielberg's "Bridge of Spies."  Jaws dropped, and the upset was the talk of the night.
What do these two upsets have in common besides the surprise factor?  In each case, the better performance won.  I was transfixed by Binoche's delicate work in the otherwise snoozy "The English Patient."  But while I admired Stallone's performance enormously — like Binoche's, it was a character-driven performance, a far cry from the cartoony figure that the Rocky character had become — Rylance's subtle work as real-life Soviet spy Rudolf Abel was a master class in detailed character work in the kind of quiet mode that draws an audience in to hear more.  This is a quality win of which the Academy voters should be very proud.
THE PRESENTERS
Specifically, one presenter in particular — Louis C.K.  Given the task of presenting Best Documentary Short Subject, the kind of category that usually sends the home audience to the kitchen for another beer, he provided the kind of perspective about the Academy Award short subjects and the people who sweat to make them that you rarely heard spoken from the stage.
"This Oscar means something, because all they do is tell stories that are important.  You all do, but you also get rich…These people — this Oscar is going home in a Honda Civic."
For all the fun we have with the hoopla and the horse race, it is important to remind yourself that these awards for shorts can change someone's life in a second, and that's a facet of the Oscars that's too often forgotten.  Thank you, Louis C.K., for reminding us.
IN MEMORIAM
When I first heard that Dave Grohl was going to perform during the In Memoriam tribute to the artists whom we have lost this year, I questioned whether a Foo Fighters jam would be appropriate.  Instead, he sang The Beatles' "Blackbird," a choice that was both lovely and just right.  I'm very glad that the Academy expanded its horizon on the kinds of artists they wanted to honor, and I was especially happy to see actress Holly Woodlawn included alongside stars like Alan Rickman.
On a personal note, I was moved to see the name and face of my friend Richard Glatzer also among the honored.  Richard and I had been friends back in our struggling New York days, and when I finally made the move to LA, Richard was already here to show me the ropes.  As he was a smart and kind man, I was so delighted that he found happiness with his husband Wash, and together they went on to successful writing/directing careers.  Richard died just weeks after he saw the last film he co-directed with Wash, "Still Alice," lead its star, Julianne Moore, to her first Oscar.  I'm so happy that Richard lived to see that magical moment, and I'm so gratified that the Academy saw fit to honor his achievements last night.  Miss you, Richard.
DIVERSITY
I was delighted to see how Rock and the show's producers handled the diversity issue through Rock's monologue and the pre-produced packages.  They were smart, pointed and, best of all, funny.  The paucity of good roles, particularly dramatic roles for African-American talent, is an issue that has to be addressed, and it has to be addressed now.
But if you just beamed in and knew nothing of the controversy surrounding this year's nominations, you would think, solely on the basis of this broadcast, that DIVERSITY = MORE ROLES FOR AFRICAN-AMERICAN ACTORS.
Did anyone mention the word "Latino" from the stage last night?  Once, at least?  If they did, I didn't hear it.  Sure, Benicio del Toro presented an award.  But who was the sole representative of Latinas?  As, usual, it was Sofia Vergara, the Charo of this generation, trotting out her increasingly-tiresome Latina bombshell schtick one more time.  In what world is this relevant?  With Latinos as the fastest-growing portion of the US population and the frequency in which Latino audiences (particularly families) go to the movies, one would think that the discussion of diversity would include people of color in all ethnicities.  This is an issue that's not going away soon, and the Academy (and most importantly, the studios) need to deal with it both in front of the camera and in the boardrooms of every studio so that they can greenlight meaningful roles for actors of all colors.  And that will change the Oscars.
Today, I am in my annual post-Oscars funk but relieved that the part of my brain devoted to Oscar talk is temporarily free to obsess about something else.  But by the summer, the first contenders of the new year will be clear, and Exact Change Today will be there to cover 2017 Awards Race.  I can't wait to see what's coming!