APRIL 27, 2016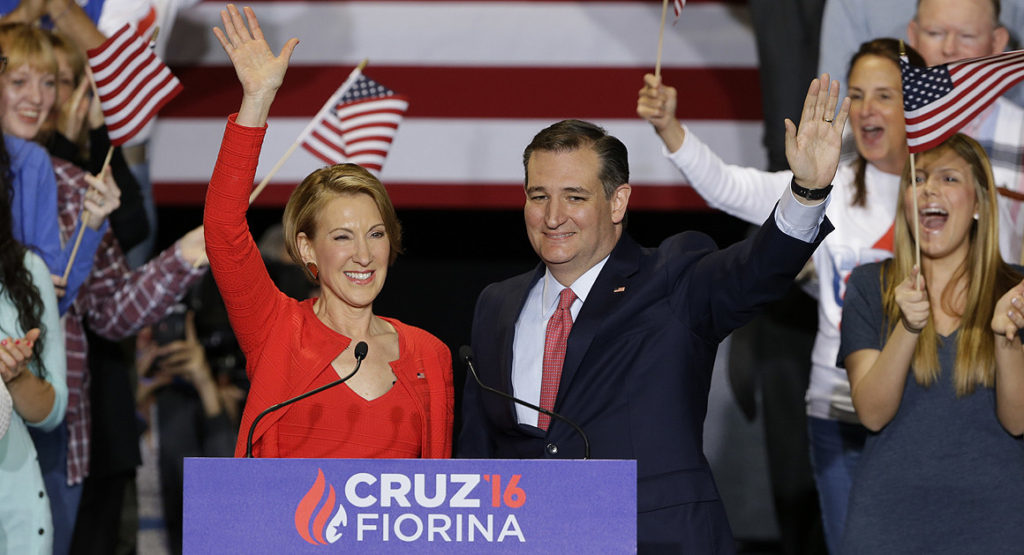 On the day after you lose five state primaries badly, the losing candidate can usually expect to brace himself for 24 hours of horrible press coverage.  Unless somehow you can miraculously change the subject.  Such a miracle happened Wednesday when Ted Cruz, who was absolutely skunked by Donald Trump in Tuesday's Northeast Primary, held a rally in Indianapolis to introduce his pick as his Vice-Presidential running-mate, former rival and failed HP executive Carly Fiorina.
While the move to pick your VP selection even when you're not the nominee is not unprecedented — Ronald Reagan did it in 1976 before losing the nomination to Gerald Ford — it is unusual, and it reflects the desperate straits that the Cruz campaign now finds itself.  After last night's results in Pennsylvania, Connecticut, Maryland, Delaware and Rhode Island, Cruz gained a grand total of 5 delegates and has now been mathematically eliminated from reaching the necessary 1237 delegates to be nominated on the first ballot.  So Cruz has decided to change up the situation, and this "Hail Carly" pass seems to be his best shot.
But what does it get him?  Yes, he took today's news cycle away from Trump, but Trump always seems to find a way to get it back.  Maybe she can help fundraising a little, but I can't see her doing him any good in the important Indiana primary, where Cruz finally gets his one-on-one with Trump.  (John Kasich, in his partnership with Cruz, agreed not to campaign in the Hoosier State.)  But ultimately, it just feels a little desperate.
But Cruz had to do something because what had appeared to be a narrow path for Trump to the 1237-delegate mark suddenly became a four-lane highway after last night's results, where Trump racked up huge margins of victory in all 5 states.  It wasn't so long ago that political experts predicted that Trump would never get 40% of the vote in a primary.  Last night blew that theory out of the water, as Trump won 54% of the vote in MD, 57% in PA, 58% in CT, 61% in DE and 64% of the vote in Rhode Island!  In so doing, Trump won 136 of the available delegates, with Cruz and Kasich only winning 5 apiece.  Trump is now less than 250 delegates away from the magic 1237 number, and with a number of Trump-friendly states still to vote, things are looking much better for the reality-show star.
Trump tried to keep the momentum going with a Wednesday speech that was billed as a major foreign-policy address.  Trump was subdued and read from a teleprompter, but the address was devoid of substance, consisting of little more than "Obama's awful" and vague promises to destroy ISIS and restore America's place in the world.  Blah, blah, blah.  But it was Cruz who got all of the attention.
On the Democratic side, Hillary Clinton nearly accomplished the same electoral feat as Trump, winning 4 of the 5 states in convincing fashion.  Her rival Bernie Sanders, however, took charge of the primary in Rhode Island with a big win there.  But at this point in the race, the number of states you win is not as important as the number of delegates you can gather, and Clinton further extended her lead over Sanders, who is now over 750 delegates behind her with time running out to catch up.
Let's run last night's primary election results:
REPUBLICANS
CONNECTICUT –

(Donald Trump 58% of the vote, John Kasich 29%, Ted Cruz 12%)
DELAWARE –
(Donald Trump 61%, John Kasich 20%, Ted Cruz 16%)
MARYLAND –
(Donald Trump 54%, John Kasich 23%, Ted Cruz 19%)
PENNSYLVANIA –
(Donald Trump 57%, Ted Cruz 22%, John Kasich 19%)
RHODE ISLAND –
(Donald Trump 64%, John Kasich 24%, Ted Cruz 10%)
DEMOCRATS
CONNECTICUT –
(Hillary Clinton 52% of the vote, Bernie Sanders 47%)
DELAWARE –
(Hillary Clinton 60%, Bernie Sanders 39%)
MARYLAND –
(Hillary Clinton 63%, Bernie Sanders 33%)
PENNSYLVANIA –
(Hillary Clinton 56%, Bernie Sanders 44%)
RHODE ISLAND –
(Bernie Sanders 55%, Hillary Clinton 43%)
For you fans of the horse-race, here's where everybody stands, delegate-wise:
THE DELEGATE COUNT
REPUBLICANS  (1,237 needed to win)
Donald Trump   855  (plus 136 pledged delegates won last night) = 991
Ted Cruz           559  (plus 5 pledged delegates won last night ) =   564
The Ghost of Marco Rubio =     172
John Kasich     147  (plus 5 pledged delegates won last night) =   152
DEMOCRATS  (2,383 needed to win)
Hillary Clinton      1,924 (plus 214 pledged delegates won last night) = 2,138
Bernie Sanders    1,198 (plus 163 pledged delegates won last night)  = 1,361
The next big event is next Tuesday's Indiana primary, where Cruz has decided to make his last stand.  Be there or be square!