AUGUST 29, 2016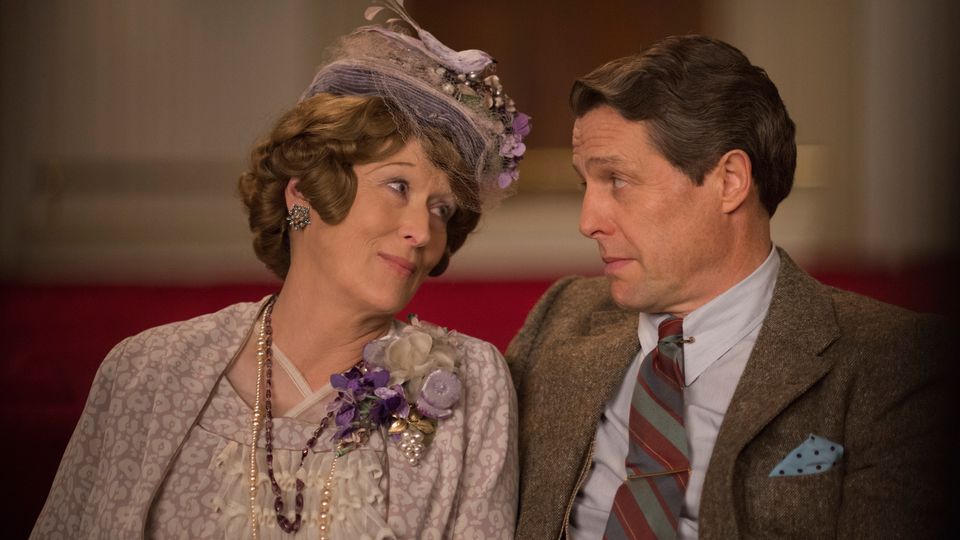 If you had never heard of the remarkable true story of Florence Foster Jenkins, you have no excuse now.  Already the subject of a Broadway drama ("Souvenir"), a West End musical ("Glorious!") and a French-language fictionalized movie ("Marguerite") released earlier this year — you can read Exact Change Today's review of "Marguerite" here — now comes Stephen Frears' aptly-titled biographical film "Florence Foster Jenkins."
Jenkins was a socialite in 1940s New York who adored music so much that she was determined to become an opera singer, and Florence (Meryl Streep) did just that, giving a series of private recitals for her society friends.  The only problem was that her singing voice sounded like a cat whose tail was just run over by a car.
The protector of Florence's fantasy was her husband St. Clair Bayfield (Hugh Grant), an unsuccessful Shakespearean actor who must handpick audiences and buy off critics in order to keep his wife from having her operatic dreams shattered.  Florence and St. Clair have a tacit understanding in their marriage — since she contracted syphilis from her first husband, they don't have a sex life at home, so Florence turns a blind eye to St. Clair's affair with his girlfriend Kathleen (Rebecca Ferguson) across town.
Oblivious to her remarkable lack of talent, Florence hires piano accompanist Cosme McMoon (Simon Helberg from CBS' "The Big Bang Theory," who's is not only terrific but is actually playing the piano), a young musician who had hoped that working for Madame Florence would help to boost his career but is shocked and appalled once he hears the caterwauling that comes out of her mouth.
Events begin to spin out of control, however, when Florence makes a recording and her off-pitch screeching becomes a cult hit on the radio.  Encouraged, Florence, unbeknownst to St. Clair, rents Carnegie Hall for her major-league concert debut, a performance that her husband fears will expose her further to mockery and ridicule.
The tricky line that Frears must walk in "Florence Foster Jenkins" is that of tone.  The film clearly looks down on those characters who snicker and openly laugh at Florence's attempts to sing, but Frears' choice to present the film as a comedy actually encourages us in the very behavior that the film condemns in others.  The fact that the director waits nearly half an hour before letting us hear Florence sing only makes the audience laughter that much stronger when it finally erupts.
However, Frears, working from a script by Nicholas Martin, does manage a number of scenes of great tenderness, particularly between Streep and Grant, as they reveal what they truly mean to one another.  Arguably, the film's best scene is a quiet one where Florence drops in on Cosme in his disheveled apartment and decides to wash the young man's dirty dishes as she confides painful truths about her past in an attempt to become Cosme's friend.
Grant's St. Clair is easily Grant's best performance since 2002's "About a Boy."  Though it plays into Grant's familiar role of being a cad, Grants deepens it here, allowing us to see just how truly he loves Florence, and though his own dreams of stardom have been dashed, he is determined to ensure that her dreams, however deluded, come true.  It's a delicate, satisfying performance.
But unsurprisingly, "Florence Foster Jenkins" is Streep's show from beginning to end.  By now, most everyone knows that, besides being our greatest living screen actress, Streep also possesses a beautiful singing voice, as has been heard in such films as "Mamma Mia!," "Into the Woods" and "A Prairie Home Companion."  And, ironically, I think it takes a superb singer to convincingly play someone who sings consistently off-pitch.  For maximum effect, Streep must hit those off-pitch notes exactly — otherwise, it's just a mess.  Despite what much be exacting work for the actress, Streep looks like she's having a ball.
"Florence Foster Jenkins" is a pretty standard bio-pic — Frears doesn't add any flourishes or insights that we haven't seen before — but it is the joy of the performers that make the film worth watching.  In Jenkins' words, "People can say I couldn't sing, but but no one can say I didn't sing," and there's no arguing with that.
GRADE: B