OCTOBER 28, 2016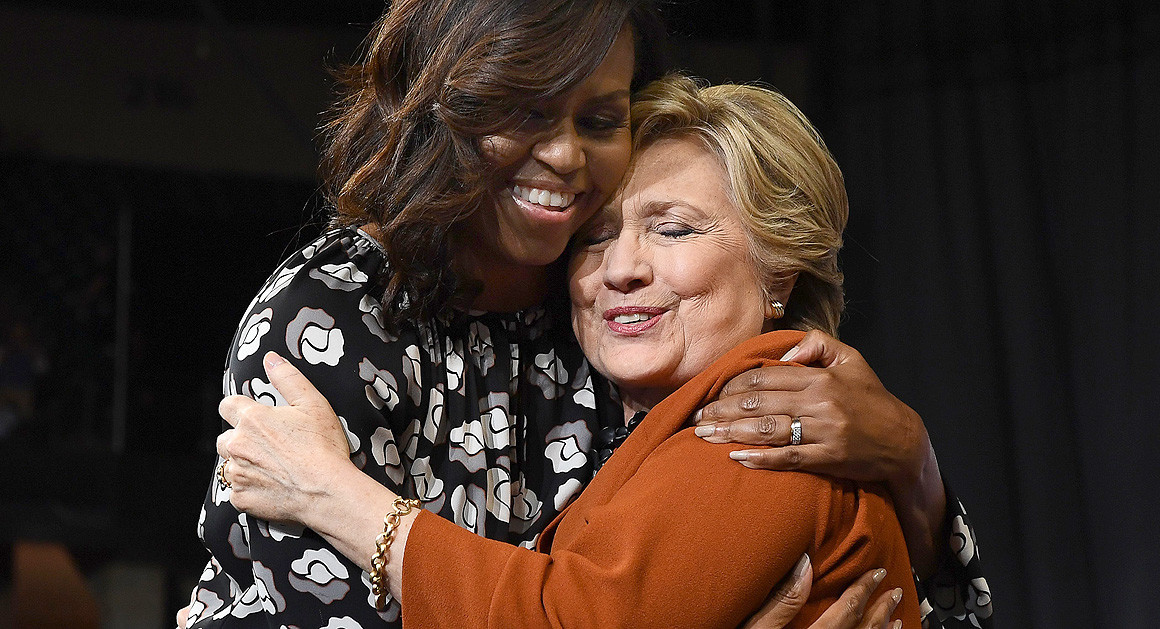 Photo: Getty
Once again, it's Michelle Obama to the rescue.
It's a good thing, too, because the First Lady's first campaign appearance onstage with Hillary Clinton on Thursday in Winston-Salem, NC, turned out to be the saving grace for what was not a particularly good week for the Clinton campaign.
By the end of last weekend, Democrats were so heartened by Clinton's rising poll numbers that there was much talk that they could take over the Senate and, if there's a wave election, even the House of Representatives.  But by the end of this week, events of the past few days have seriously tampered down those expectations.
On Monday, it was announced that premiums for those getting their health insurance from the Affordable Care Act (ACA) were going to go up substantially for next year's coverage depending in which state they lived. Most states only registered relatively small increases, but for a few states, the increase was substantial.  For example in Arizona (a state where Clinton hopes to upset Trump), average premium increases will rise 116%.  For those in Oklahoma, it will be 69%, for Tennessee 63% and for Minnesota 59%.
This was an October Surprise that was expected, given the fact that open enrollment for the ACA begins again on November 1, and increases in premiums were assumed.  But few expected the sharp increases registered in this week's reports, and coming as they did just two weeks before Election Day, this news may cause some voters to think twice in voting to keep the status quo.
Not that Clinton, as Secretary of State, had much to do with the ACA, but anything tied to President Obama will be tied to Clinton, for better or for worse, and, for many voters, this week's insurance premium increases are definitely for the worse.
That news would be bad enough for the week, but on Wednesday, the daily WikiLeaks data dump of the hacked e-mail accounts of Clinton aide John Podesta finally uncovered something that personally touched the Clinton campaign and could be potential trouble down the road.
The Clinton Foundation, the charitable arm of the Clinton empire, has long been attacked by Republicans as merely being a front for back-room deals that only served to enrich the Clintons.  Defenders of the Foundation have rightly argued of the effective charity work (particularly involving the fight against the AIDS epidemic in Africa), that the Foundation funds all over the world.
But Wednesday's WikiLeaks data dump revealed several disturbing e-mails that linked Foundation donors with pressure being put on them to provide Bill Clinton with speaking engagements for big bucks that Bill could then pocket.  Again, nothing that ties Hillary directly to this practice (and the contents of the hacked e-mails themselves are suspect), but any malfeasance at the Foundation only plays into the Republican argument that the Clintons are corrupt, and if they get the keys to the Oval Office, that kind of behavior will continue, just on a bigger scale.  A halfway-competent GOP nominee would be able to make a potentially damaging case against Clinton using this information.  Fortunately for her, she's running against Trump.
Enter Michelle Obama.
These two women have had at times a difficult relationship with one another.  Reportedly, Michelle took a lot longer than Barack to forgive Hillary for some of the things she said against her husband during the 2008 campaign.  Over the years, the relationship reportedly warmed from frosty to civil, which makes her full-throated embrace of Clinton's candidacy today even more meaningful.
In all my years of observing politics, I have never seen a public figure be more disdainful of the political process, yet be so damn good at it.  There is an ease with which Michelle Obama communicates — she doesn't give a speech so much as she communicates ideas to her audience.  And she shares with her husband that ability to lift up audiences, to provide hope even when the national mood turns darkest.
Clinton has made an effective case as to why Trump should not be elected President, but she has been less effective in making a case as to why she should.  In fact, in Winston-Salem on Thursday, Mrs. Obama made a better argument on behalf of Clinton than the candidate ever has for herself.
Clinton's not-so-great week got worse on Friday when FBI Director James Comey, who had previously said that his investigation had found that Clinton had not done anything illegal in her use of her private e-mail server, announced that his team has uncovered several e-mails that have led him to ask that the Clinton e-mail investigation be reopened.  Not good.
This is going to be a stressful last 11 days for the Clinton campaign, and let's hope that Clinton can channel some of Michelle Obama's hope and optimism in how she weathers it all.  She's going to need it.