FEBRUARY 27, 2017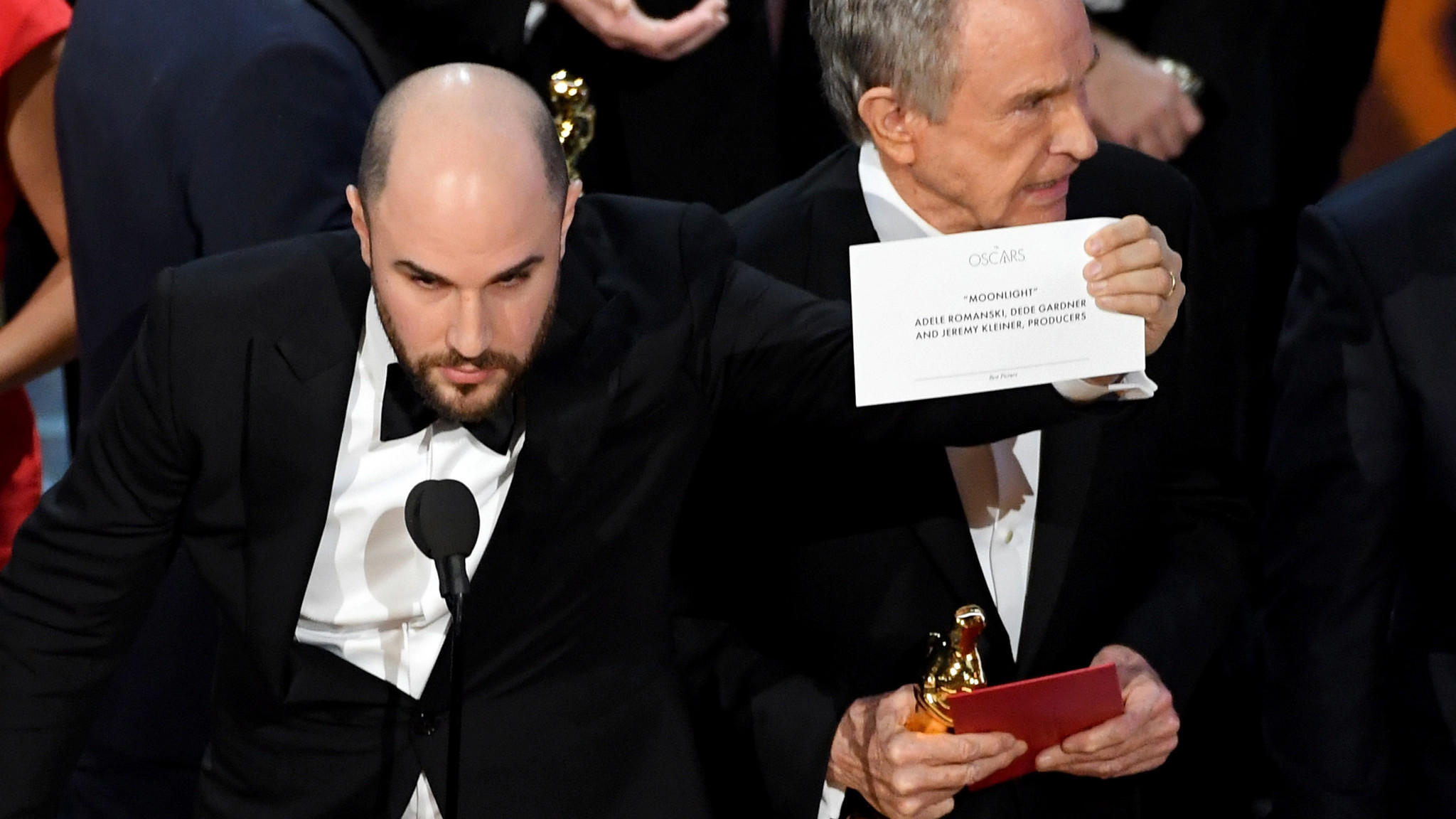 Photo: Washington Post
Well….that was different.
Oscar history was made on the stage of the Dolby Theater on Sunday night but for all the wrong reasons.  As you probably have already seen, Warren Beatty and Faye Dunaway announced that the winner for Best Picture was "La La Land."  The overjoyed producers and cast gathered onstage and were about 2 minutes into their acceptance speeches when host Jimmy Kimmel and production crew members rushed onstage to tell the excited winners that they hadn't actually won — Beatty had been given the wrong envelope (close-up photographs released on Monday morning clearly show that the category envelope he has given was labeled "Actress in a Leading Role.").  So when Beatty gave the card for Dunaway to read, she naturally announced the name of the only movie on the card, which read Emma Stone for "La La Land."
The actual winner of the Best Picture Oscar turned out to be "Moonlight," director Barry Jenkins' poignant look at the challenges of growing up in Miami when you're poor, black and gay.  "Moonlight" made Oscar history as the first Best Picture winner with both an all-black cast and a predominant LGBT storyline.  (How far the Academy has come from the "Brokeback Mountain" days!)
It's a shame that the Best Picture snafu made for a trainwreck of an ending (that nevertheless made for riveting television) because the hours and hours that preceded it arguably PRODUCEDthe most entertaining Oscar show in recent memory.  A large part of the credit for that was host Jimmy Kimmel, who really surprised me at how skillfully he kept the show running.  I was skeptical when he was announced for the job — the Academy has had some bum luck with hosts from late-night talk-shows (Jon Stewart? David Letterman??), but Kimmel managed just the right balance of snark and sincerity that has proven to make for an effective Oscar host.
Almost all of his bits worked, making for a pretty high batting average.  The riskiest by far involved a group of real-life tourists who were promised a tour of glamorous gowns worn by movie stars.  The doors to the Dolby Theater then suddenly opened and the tourists found themselves in the middle of the live telecast where they indeed got to see glamorous gowns, only with the likes of Nicole Kidman and Meryl Streep wearing them.  It's always dangerous surprising civilians on live television, but Kimmel's deftness in handling each tourist helped make the bit work.
And his ongoing "feud" with nominee Matt Damon (producer, Best Picture nominee "Manchester by the Sea") was hilarious as always (particularly when Kimmel commandeered the orchestra to play Damon off the stage as he was presenting).  Damon's slow-burn as Kimmel's foil was particularly funny tonight.
The only bit that I think bombed was parachuting movie theater candy from the ceiling above.  NO MORE FOOD GAGS, PLEASE!  The first year with Ellen delivering pizzas was funny and fresh, last year with Chris Rock and Girl Scout cookies less so, and this year?  Put it to rest.  Though if they ever decided to drop pizzas on the celebrities, now that I would watch!
The music performances all scored, particularly Justin Timberlake's opening number, his bouncy nominated song "Can't Stop the Feeling" that began in the lobby and danced its way to the stage.  (Hey, if Kimmel can't come back in the future to host the Oscars, how about this guy?)  And "La La Land" co-star John Legend offered a beautiful rendition of "Audition (The Fools Who Dream)" and even made eventual Best Song winner "City of Stars" endurable.
Political speeches were kept to a minimum, with most winners having gotten it out their system earlier at the Golden Globes, SAG Awards and Independent Spirit Awards.  Instead, there was more of a spirit of "we're all in this together," which provided a breather from some of the more political speeches from awards shows past.
While this ceremony will undoubtedly be remembered as the "Best Picture mix-up" Oscars, I will choose to remember three particular moments of grace from Sunday's ceremony.
First, the standing ovation given to 98 year-old Katherine Johnson, the mathematician and American hero portrayed by Taraji P. Henson in Best Picture nominee "Hidden Figures."  How beautiful to see the story of her invaluable contribution to the NASA space program finally brought to the attention of us all, and it called to mind Supporting Actress winner Viola Davis' moving acceptance speech urging Hollywood, which is always searching for material, to look to the untold stories of those who may no longer be with us but whose stories need telling as well.
Second of all (speaking of astronauts), there was the grace of Iranian astronaut and engineer Anousheh Ansari, who accepted the Best Foreign Language Film Oscar for Iran's entry, "The Salesman," written and directed by Asghar Fahradi, who wrote an acceptance speech delivered from the stage by Ansari.  Now if anybody has a right to deliver a rant against President Trump's travel ban, it's this guy, who, before the ban was put on hold by a legal stay, would have been barred from traveling to the U.S. to accept his Oscar.
Fahradi stayed away in protest of the ban anyway, and wrote in his acceptance speech that "dividing the world into 'us' and 'enemies' categories creates fear between us and others" and called for "an empathy that we need today."
(By the way, I will be reviewing "The Salesman" in Tuesday's Exact Change Today.)
Finally, there was that moment of class.  (More than a moment, really.)  For me, the hero of the evening was "La La Land" producer Jordan Horowitz who, after having been told midway through his team's acceptance speeches that they had actually lost the Best Picture Oscar to "Moonlight," stepped up to the microphone and, seeing the chaos onstage that was beginning to grow, became the adult in the room.
After the announcement was made, Horowitz reassured the confused audience that this was not another Kimmel prank, held up the correct envelope (pictured above) proving that the winner was indeed "Moonlight" and turned toward his colleagues and said
"I'm gonna be really proud to hand this to my friends from 'Moonlight.'"
From an industry that has been unfairly caricatured as elitist and out of touch, that one moment can provide America (and especially America's kids) an important lesson.  This is how you behave when you lose, with class and with dignity.  If that lesson is the only takeaway that we get from this year's Oscars, the evening will have been valuable indeed
Here are the winners of the 89th Annual Academy Awards:
BEST PICTURE — MOONLIGHT

ACTRESS IN A LEADING ROLE — EMMA STONE  ("La La Land")

ACTOR IN A LEADING ROLE — CASEY AFFLECK ("Manchester by the Sea")

ACTRESS IN A SUPPORTING ROLE — VIOLA DAVIS ("Fences")

ACTOR IN A SUPPORTING ROLE — MAHERSHALA ALI ("Moonlight")
DIRECTING — LA LA LAND (Damien Chazelle)
WRITING (ADAPTED SCREENPLAY) — MOONLIGHT
Screenplay by Barry Jenkins; Story by Tarell Alvin McCraney
WRITING (ORIGINAL SCREENPLAY) — MANCHESTER BY THE SEA
Written by Kenneth Lonergan
ANIMATED FEATURE FILM — ZOOTOPIA
Byron Howard, Rich Moore and Clark Spencer
FOREIGN LANGUAGE FILM — THE SALESMAN
Iran
CINEMATOGRAPHY — LA LA LAND
Linus Sandgren
FILM EDITING — HACKSAW RIDGE
John Gilbert
VISUAL EFFECTS — THE JUNGLE BOOK
Robert Legato, Adam Valdez, Andrew R. Jones and Dan Lemmon
PRODUCTION DESIGN — LA LA LAND
Production Design: David Wasco; Set Decoration: Sandy Reynolds-Wasco
SOUND MIXING — HACKSAW RIDGE
Kevin O'Connell, Andy Wright, Robert Mackenzie and Peter Grace
SOUND EDITING — ARRIVAL
Sylvain Bellemare
DOCUMENTARY (FEATURE) — O.J.: MADE IN AMERICA
Ezra Edelman and Caroline Waterlow
COSTUME DESIGN — FANTASTIC BEASTS AND WHERE TO FIND THEM
Colleen Atwood
MAKEUP AND HAIRSTYLING — SUICIDE SQUAD
Alessandro Bertolazzi, Giorgio Gregorini and Christopher Nelson
MUSIC (ORIGINAL SONG) — CITY OF STARS
from La La Land; Music by Justin Hurwitz; Lyric by Benj Pasek and Justin Paul
MUSIC (ORIGINAL SCORE) — LA LA LAND
Justin Hurwitz
SHORT FILM (ANIMATED) — PIPER
Alan Barillaro and Marc Sondheimer
SHORT FILM (LIVE ACTION) — SING
Kristof Deák and Anna Udvardy
DOCUMENTARY (SHORT SUBJECT) –THE WHITE HELMETS
Orlando von Einsiedel and Joanna Natasegara
THE 89th ANNUAL ACADEMY AWARDS
GRADE: A-