MAY 23, 2017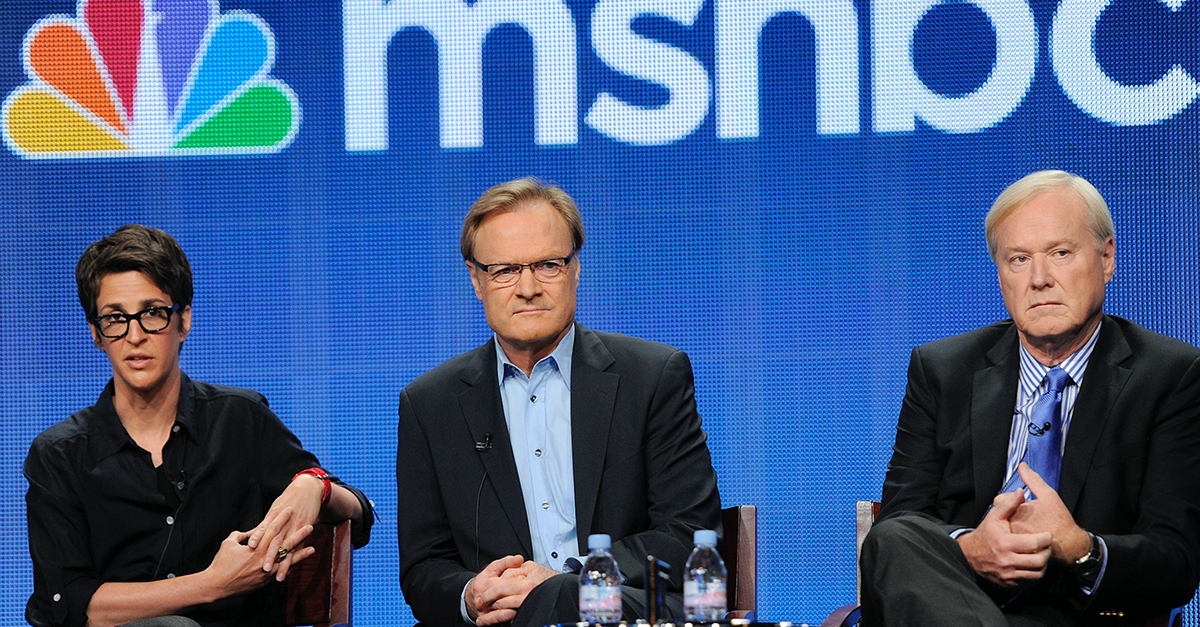 Photo: AP
If you're a fan of MSNBC's prime-time line-up, circle June 4 on your calendar, because that's the date where that line-up as we know it may disappear.
Ever since the firing of Bill O'Reilly on April 19, the world of cable news as been turned upside down.  For 17 years, Fox News has dominated prime-time cable news, achieving ratings that often surpassed its competitors' numbers combined.
So when Fox News went all out to defend O'Reilly's behavior in order to be kept from having to fire him, they may have suspected that there would be a downside if they did let him go — droves of O'Reilly fans switching over to CNN for their news commentary.
After O'Reilly's firing, that downside prediction came through.  By the end of April, primetime ratings for Fox News after O'Reilly's firing began to deflate like a ruined souffle.  But the beneficiary of that ratings plunge wasn't CNN.
It was MSNBC.
Suddenly, the invincible Fox News juggernaut no longer found itself #1 anymore among cable news networks in what's called "the demo," TV lingo for the most advertiser-friendly group (viewers aged 25-54), which Fox News has ruled for what seems like forever.  In ratings information released on Monday, last week generated the worst ratings ever for Fox News in the demo, placing last among the three major cable news networks.
After years of "The O'Reilly Factor" sitting safely on top as the most-watched program on cable news, that honor is now bestowed on MSNBC's "The Rachel Maddow Show," which probably make some conservatives' heads explode.  And solidly right behind Maddow is her lead-out show, "The Last Word with Lawrence O'Donnell," which is now the #2 show in all of cable news.
So how does MSNBC celebrate its success?  Well, if all goes to plan on June 4, MSNBC will let Lawrence O'Donnell go and toss aside the second-biggest show in all of cable news.
Wha?  Excuse me?
Reports leaked from inside the network indicate that NBC News President Andrew Lack (who also oversees MSNBC) was been trying to move the cable network away from championing progressive politics to a focus on views much closer to the center since he took over in 2015.  He began with the daytime line-up, letting go numerous anchors and correspondents of color (Tamron Hall, Alex Wagner, Touré, and Melissa Harris-Perry among others).  African-American journalist Joy Reid had her weekday show moved to weekend mornings, and openly gay anchors Steve Kornacki and Thomas Roberts have had their shows taken away from them, although they still appear on the network.
In their place, Lack has brought in Greta van Sustren and George Will from Fox News, Nicole Wallace, ex-communications chief for George W. Bush, and will share the news stylings of Fox News' Megyn Kelly, who will also appear on NBC with two new shows.
The main obstacles to Lack's dream of an all-centrist line-up have been MSNBC's prime-time anchors Maddow and O'Donnell, as well as Chris Hayes, whose series "All In" has garnered MSNBC's sole News Emmy.  All three have earned strong followings, and the recent ratings boomlets for their shows after the Fox News collapse can only make it more difficult to justify getting rid of them.
Still, the main focus has been on O'Donnell and the looming end of his contract, so activist fans plan a protest march on 30 Rock on Thursday afternoon, urging MSNBC to keep "The Last Word."
Just a word of advice to the NBC News President:  Andy baby, last week was a ratings phenomenon that MSNBC has never before seen in its 21 years of existence.  Believe me, your primetime line-up ain't broke (at least for now), so don't fix it.  Just renew Lawrence O'Donnell's contract, and enjoy the great ratings and reporting to come.
And that's The Last Word.