AUGUST 3, 2017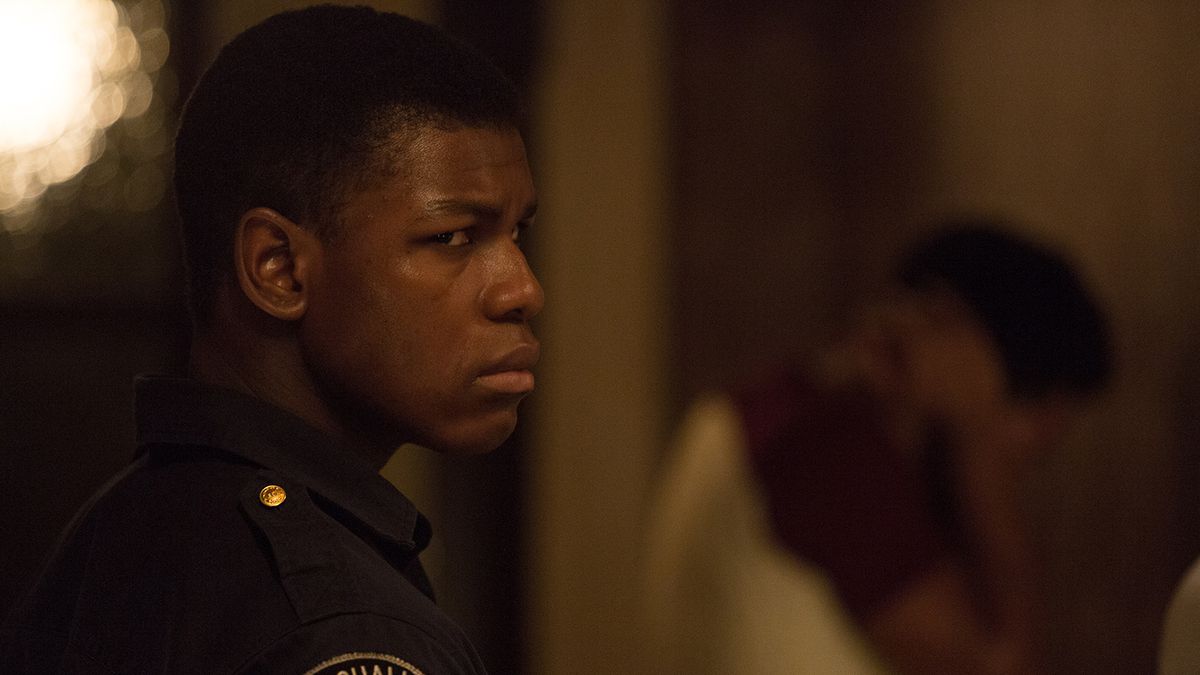 I have to admit that I wasn't exactly looking forward to reviewing Oscar-winner Kathryn Bigelow's latest film "Detroit," which opens nationwide tomorrow.
Not that I thought that it wouldn't be good — the reviews from its week-long limited release were quite strong — but I knew that, given the thoroughness with which Bigelow and her screenwriter Mark Boal examined explosives in "The Hurt Locker" and the use of torture in "Zero Dark Thirty," "Detroit" which examines the 1967 Detroit racial riots in which 43 people died, would not be a walk in the park.
And it isn't.  So if you're looking for a delightful night out at the movies, you have plenty of excellent alternative choices — "Baby Driver," "The Big Sick," "Wonder Woman" and "War For the Planet of the Apes" among them.
But, as difficult as it might be to sit through, "Detroit" is the most vital and relevant movie out there now and really must be seen if you care about race relations in America.
One of the approaches about which I was most curious was how Boal, who notoriously is an avid researcher before writing his scripts, was going to dramatize the sprawling events of the riots, which lasted five days.
He decided to begin with a macro version of the civil unrest, brilliantly breaking down point-by-point how civil unrest can begin, sometimes over such a trivial thing as a locked door.  African-American celebrants are welcoming home a friend returning from the military at an unlicensed after-hours club when police raid it.  Police procedure dictates that patrons would be searched behind the building but when the chained exit won't open, they are forced to search the patrons on the street in full view of the growing crowds, who at first hurl words, then rocks at the police, who decide to flee.  The rocks are then thrown at the windows in neighborhood stores, and a full-fledged riot is on.
Here's where Bigelow kicks into high gear — one of her many skills is to take a documentary-style approach in placing the viewer in the middle of chaotic action, and as shots are fired and bystanders desperately look for a way out, so do we.  In that sense, Bigelow is a descendant of noted cinematographer Haskell Wexler, whose landmark film "Medium Cool" (1969) placed actors in the middle of the very real Chicago police riot at 1968's Democratic National Convention.  Though Bigelow's riot is staged, it feels no less real than Wexler's.
In the midst of the chaos, Bigelow at this point shifts from a cinéma vérité "you're in the middle of it" style to one that more resembles that of Robert Altman in "Nashville," introducing characters who we suspect have some connection to each other wandering through the mayhem with one direction in mind — the nearby Algiers Motel.  They include Melvin Dismukes ("Star Wars'" John Boyega, pictured above), a nearby security guard; Larry Reed (Algee Smith) ambitious lead singer of the pop-soul group The Dramatics; Fred Temple (Jacob Latimore), Larry's young right-hand man;  Greene (Anthony Mackie of Bigelow's "The Hurt Locker"), a military veteran; and Off. Philip Krauss (Will Poulter), a high-strung, trigger-happy Detroit PD cop.
Spoilers stop here, but I will tell you at this point the viewpoint of "Detroit" changes from a macro to a micro vision, condensing the action in one stairwell, and that Bigelow changes genres from a very scary documentary to a very scary horror movie.
"Detroit" is a strong piece of direction by Bigelow, whose work was first introduced to me in 1982, when she co-directed the biker drama "The Loveless," co-produced by Grafton Nunes [FULL DISCLOSURE: Grafton is a longtime friend of mine] and introduced to the world the talents of star Willem Dafoe.  Bigelow thrived in genre films for the next 25 years until "The Hurt Locker" changed everything.  And "Detroit" may change that again.
The cast offers powerful performances, particularly Poulter, believably terrifying as the psycho cop, and Smith, whose angelic voice provides the heart and soul of "Detroit."
We'd like to think that America has come so far in race relations since the days depicted in "Detroit," but watching the unrest triggered by the deaths of Michael Brown in Ferguson, MO and Freddie Gray in Baltimore, we have to realize that we have so so much farther to go.
GRADE: B+