SEPTEMBER 28, 2017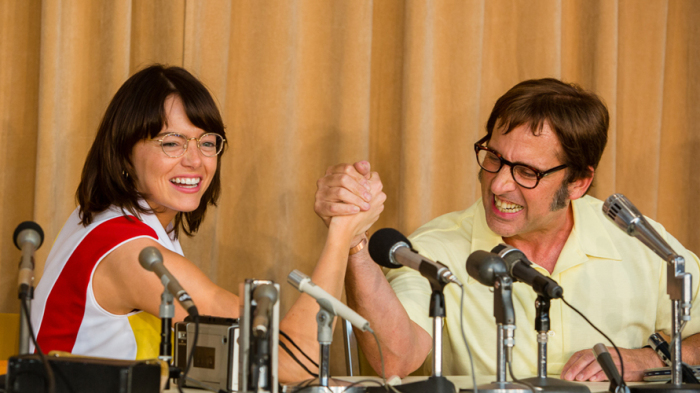 It all seems so quaint now, but in 1973, it was a circus.
If you were there at the time, you'll never forget the spectacle in the Houston Astrodome that had little to do with tennis and everything to do with showmanship.  And directors Jonathan Dayton & Valerie Faris ("Little Miss Sunshine') absolutely nail the details of that carnival sideshow in their hugely entertaining new movie "Battle of the Sexes."
But that hoopla doesn't show up until the film's climactic half-hour and the actual battle itself.  Up until then, "Battle of the Sexes" consists of two different but parallel stories of the battle's protagonists — Billie Jean King (Emma Stone) and Bobby Riggs (Steve Carell).
Screenwriter Simon Beaufoy (Oscar winner for "Slumdog Millionaire") takes the time to tell the details of the stories of both of the participants.  Another writer, for example, might have made Riggs into a clownish villain, but Beaufoy chooses another tack.  After hitting the heights by winning Wimbledon, Riggs' career diminished to the point where he married the enormously wealthy Priscilla Wheelan Riggs (Elisabeth Shue), whose daddy set Bobby up in a dead-end office job and whose money bankrolls Bobby's gambling addiction.  It's not a loveless marriage, but Priscilla is at the end of her rope with Bobby's gambling.
Seeing the acclaim that women's champion Billie Jean King is receiving, attention that he is missing dearly, he proposes a "Battle of the Sexes" match to King, who thinks he's drunk and hangs up on him.  But circumstances intervene to make King to reconsider agreeing to Riggs' unusual proposal.
It is, in fact, the King story that delivers the main emotional thrust throughout the film.  She is happily married to her manager Larry (Austin Stowell, in a sympathetic performance) but both know that she's really married to tennis.  When King protests that women pros are being paid 1/8th of what men earn even though they draw an equal amount of ticket buyers to the stadium, she's thrown out of the tennis association by chauvinist Jack Kramer (Bill Pullman, very good as the film's real villain).  So Billie Jean starts her own Women's Tennis Association and takes all the major female pros with her.
Needing to face the press while on the road, the women decide to get their hair styled, and Billie Jean finds that she has great chemistry with her stylist, Marilyn (Andrea Riseborough), so much so that Billie Jean offers her a ticket to her next match.  To her surprise, Andrea shows up, and after going to a club, one thing leads to another and the two women wind up in bed.  (Yes, the sex scene is rather vanilla, but anything more explicit would lend a jarring note to the film around it.)
Stone is particularly good in these scenes, communicating the conflicting emotions experienced by Billie Jean — apprehension that she's actually going through with this, fear that discovery that would end her career and a growing realization that this is the person whom she really is.
Unfortunately, her liaison is discovered by Larry who is heartbroken, devastating Billie Jean.  Her marriage is threatened, her game is off, and then she gets a call from Bobby Riggs.
Fresh off her Oscar in for "La La Land," Stone is as good or even better here, as Billie Jean juggles the demands of her public life with the inner turmoil she's experiencing privately.  Kudos too to Steve Carell, whose Bobby effectively plays the clown in public but must deal with the aftereffects of his addiction and his crumbling marriage privately — it's one of Carell's best performances as well.
If I have any gripe about "Battle of the Sexes," it's that its goal to be a crowd-pleaser (at which it succeeds completely) might have gotten in the way of a deeper, darker story of the match that may be lurking inside.  As I recall with my sometimes-faulty memory, the real-life Riggs wasn't quite the lovable schnook in real life — his interviews were never done with a wink, and I believed that he believed that women were truly not worthy of having the same status of male tennis players.  But that's another movie that will likely never be made.
Back to the one that has been made.  This is how effective "Battle of the Sexes" is — even if you know how the match turns out, it is shot in such a way that you're still hanging on every serve, hoping against hope that Billie Jean will win the point and the match.  That's good filmmaking.
GRADE: B+