SEPTEMBER 18, 2017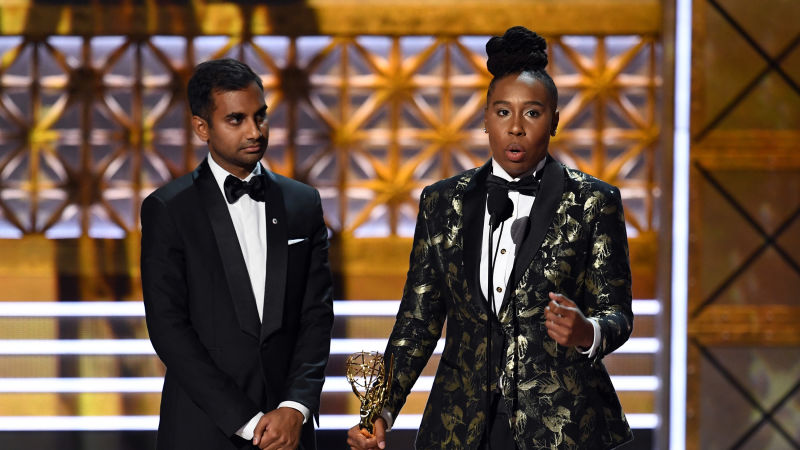 Photo: Getty
As much as I like to bitch about the Emmy Awards (as an Emmy voter myself, I can dish my own kind), Sunday night's ceremony was not only good, it was really good.  Stephen Colbert was a fine (if not inspired) host, having the vocal chops to carry off the opening musical number and delivering enough Trump-centric jokes without really overdoing it.
In a year where five of the seven Best Drama nominees were first-year shows, anything could have happened.  By the conclusion of last week's Creative Arts Awards, top Drama Series contenders "Westworld" and "Stranger Things" were tied at 5 Emmys apiece and appeared to be the favorites going into this Sunday's Emmy ceremony.  But after Sunday's ceremony, let's just say that things changed.
When it came to the top categories on the big show, the dystopian series "The Handmaid's Tale" proved to be dominant, with Hulu becoming the first streaming service to win that coveted honor of Best Drama Series, winning 5 Emmys in the big ceremony, plus 3 more in the Creative Arts ceremony, including wind or Best Drama Series, Best Actress (Elizabeth Moss, finally!), Best Writing and, last week, a Best Guest Actress win for Alexis Bledel.  The only show to top it in terms of awards is "Saturday Night Live," which garnered 9 more Emmys, including Best Sketch Series and Supporting Emmys in a Comedy for Alec Baldwin and Kate McKinnon and Dave Chappelle and Melissa McCarthy in the Guest in a Comedy Series slots.
On the limited series front, it was all "Big Little Lies," winning Limited Series, Actress (Nicole Kidman), Supporting Actor (Alexander Skarsgård), Supporting Actress (Laura Dern) and Directing, tying "The Handmaid's Tale," adding 5 more awards for a total of 8 Emmys.
On the comedy front, "Veep" won its third Emmy as Best Comedy Series, with Julia Louis-Dreyfus winning her 6th consecutive Emmy as Best Actress in the same role, a new record.  She had won 2 more for "Seinfeld" and "The New Adventures of Old Christine" to bring her total Emmy haul to 8, tying the legendary Emmy winner Cloris Leachman.  With one more season of "Veep" ahead, we may have a new all-time champion.  In addition, comedy-wise, Donald Glover (I'll always think of him as Troy on "Community") won two Emmys, as the year's Best Comedy Director and Best Comedy Actor (besting two-time incumbent Jeffrey Tambor) for his direction and performance in FX's "Atlanta."
But among the many moving acceptance speeches (and way up there is Ann Dowd's for Supporting Drama Actress for "The Handmaid's Tale," in which she spoke for hard-working character actresses everywhere), I have to take note of the acceptance speech of Lena Waithe (pictured above with co-winner Aziz Ansari), the co-writer of the Emmy-winning script "Thanksgiving" from "Master of None."  Ansari, the show's creator, graciously stepped aside while the gay woman of color talked about what the episode meant to her.  "Thanksgiving" dealt with a childhood friend of Aziz's character, over a series of Thanksgivings, trying to tell her mother (Emmy nominee Angela Bassett) that she is coming out as a lesbian.  It was so beautifully written (as an Emmy voting member, that script was my #1 choice), but Waithe's speech really brought home how important that television provides that kind of voice to people of color who are LGBT.
Look, I'm not sure that anyone will say that this was a great Emmy ceremony, but it was more than good, and considering recent Emmy history, that's good enough.  Now we can all wait for the Emmy onslaught that will be "Game of Thrones" nest September.
Here are your winners:
COMEDY
BEST COMEDY SERIES
"Atlanta"
"Black-ish"
"Masters of None"
"Modern Family"
"Silicon Valley"
"Unbreakable Kimmy Schmidt"
X — "Veep"
BEST COMEDY ACTRESS
Pamela Adlon, "Better Things"
Jane Fonda, "Grace and Frankie"
Allison Janney, "Mom"
Ellie Kemper, "Unbreakable Kimmy Schmidt"
X — Julia Louis-Dreyfus, "Veep"
Tracee Ellis Ross, "Black-ish"
Lily Tomlin, "Grace and Frankie"
BEST COMEDY ACTOR
Anthony Anderson, "Black-ish"
Aziz Ansari, "Master of None"
Zach Galifianaks, "Baskets"
X — Donald Glover, "Atlanta"
William H. Macy, "Shameless"
Jeffrey Tambor, "Transparent"
BEST COMEDY SUPPORTING ACTRESS
Vanessa Bayer, "Saturday Night Live"
Anna Chlumsky, "Veep"
Kathryn Hahn, "Transparent"
Leslie Jones, "Saturday Night Live"
Judith Light, "Transparent"
X — Kate McKinnon, "Saturday Night Live"
BEST COMEDY SUPPORTING ACTOR
Louie Anderson, "Baskets"
X — Alec Baldwin, "Saturday Night Live"
Tituss Burgess, "Unbreakable Kimmy Schmidt"
Ty Burrell, "Modern Family"
Tony Hale, "Veep"
Matt Walsh, "Veep"
BEST COMEDY DIRECTING
X — "Atlanta" ("B.A.N.")
"Silicon Valley" ("Intellectual Property")
"Silicon Valley" ("Server Error")
"Veep" ("Justice")
"Veep" ("Blurb")
"Veep" ("Groundbreaking")
BEST COMEDY WRITING
"Atlanta" ("B.A.N.")
"Atlanta" ("Streets on Lock")
X — "Master of None" ("Thanksgiving")
"Silicon Valley" ("Success Failure")
"Veep" ("Groundbreaking")
"Veep" ("Georgia")
DRAMA
BEST DRAMA SERIES
"Better Call Saul"
"The Crown"
X — "The Handmaid's Tale"
"House of Cards"
"Stranger Things"
"This is Us"
"Westworld"
BEST DRAMA ACTRESS
Viola Davis, "How to Get Away with Murder"
Claire Foy, "The Crown"
X — Elisabeth Moss, "The Handmaid's Tale"
Keri Russell, "The Americans"
Evan Rachel Wood, "Westworld"
Robin Wright, "House of Cards"
BEST DRAMA ACTOR
X — Sterling K. Brown, "This is Us"
Anthony Hopkins, "Westworld"
Bob Odenkirk, "Better Call Saul"
Matthew Rhys, "The Americans"
Liev Schreiber, "Ray Donovan"
Kevin Spacey, "House of Cards"
Milo Ventimiglia, "This is Us"
BEST DRAMA SUPPORTING ACTRESS
Uzo Aduba, "Orange is the New Black"
Millie Bobby Brown, "Stranger Things"
X — Ann Dowd, "The Handmaid's Tale"
Chrissy Metz, "This is Us"
Thandie Newton, "Westworld"
Samira Wiley, "The Handmaid's Tale"
BEST DRAMA SUPPORTING ACTOR
Jonathan Banks, "Better Call Saul"
David Harbour, "Stranger Things"
Ron Cephas Jones, "This is Us"
Michael Kelly, "House of Cards"
X — John Lithgow, "The Crown"
Mandy Patinkin, "Homeland"
Jeffrey Wright, "Westworld"
BEST DRAMA DIRECTING
"Better Call Saul" ("Witness")
"The Crown" ("Hyde Park Corner")
"The Handmaid's Tale" ("The Bridge")
X — "The Handmaid's Tale" ("Offred")
"Homeland" ("America First")
"Stranger Things" ("Chapter One: The Vanishing of Will Byers")
"Westworld" ("The Bicameral Mind")
BEST DRAMA WRITING
"The Americans" ("The Soviet Division")
"Better Call Saul" ("Chicanery")
"The Crown" ("Assassins")
X — "The Handmaid's Tale" ("Offred")
"Stranger Things" ("Chapter One: The Vanishing of Will Byers")
"Westworld" ("The Bicameral Mind")
MOVIE/LIMITED SERIES
BEST LIMITED SERIES
X — "Big Little Lies"
"Fargo"
"Feud: Bette and Joan"
"Genius"
"The Night Of"
BEST TV MOVIE
X — "Black Mirror: San Junipero"
"Christmas of Many Colors"
"The Immortal Life of Henrietta Lacks"
"Sherlock: The Lying Detective"
"The Wizard of Lies"
BEST MOVIE/MINI ACTRESS
Carrie Coon, "Fargo"
Felicity Huffman, "American Crime"
X — Nicole Kidman, "Big Little Lies"
Jessica Lange, "Feud: Bette and Joan"
Susan Sarandon, "Feud: Bette and Joan"
Reese Witherspoon, "Big Little Lies"
BEST MOVIE/MINI ACTOR
X — Riz Ahmed, "The Night Of"
Benedict Cumberbatch, "Sherlock: The Lying Detective"
Robert De Niro, "The Wizard of Lies"
Ewan McGregor, "Fargo"
Geoffrey Rush, "Genius"
John Turturro, "The Night Of"
BEST MOVIE/MINI SUPPORTING ACTRESS
Judy Davis, "Feud: Bette and Joan"
X — Laura Dern, "Big Little Lies"
Jackie Hoffman, "Feud: Bette and Joan"
Regina King, "American Crime"
Michelle Pfeiffer, "The Wizard of Lies"
Shailene Woodley, "Big Little Lies"
BEST MOVIE/MINI SUPPORTING ACTOR
Bill Camp, "The Night Of"
Alfred Molina, "Feud: Bette and Joan"
X — Alexander Skarsgard, "Big Little Lies"
David Thewlis, "Fargo"
Stanley Tucci, "Feud: Bette and Joan"
Michael Kenneth Williams, "The Night Of"
BEST MOVIE/MINI DIRECTING
X — "Big Little Lies"
"Fargo" ("The Law of Vacant Places")
"Feud: Bette and Joan" ("And the Winner Is")
"Genius" ("Einstein: Chapter One")
"The Night Of" ("The Art of War")
"The Night Of" ("The Beach")
BEST MOVIE/MINI WRITING
"Big Little Lies"
X — "Black Mirror: San Junipero"
"Fargo" ("The Law of Vacant Places")
"Feud: Bette and Joan" ("And the Winner Is")
"Feud: Bette and Joan" ("Pilot")
"The Night Of" ("Call of the Wild")
VARIETY/REALITY
BEST REALITY COMPETITION PROGRAM
"The Amazing Race"
"Amercan Ninja Warrior"
"Project Runway"
"RuPaul's Drag Race"
"Top Chef"
X — "The Voice"
BEST VARIETY TALK SERIES
"Full Frontal with Samantha Bee"
"Jimmy Kimmel Live"
X — "Last Week Tonight with John Oliver"
"Late Late Show with James Corden"
"Late Show with Stephen Colbert"
"Real Time with Bill Maher"
BEST VARIETY SKETCH SERIES
"Billy on the Street"
"Documentary Now"
"Drunk History"
"Portlandia"
X — "Saturday Night Live"
"Tracey Ullman's Show"
BEST VARIETY SERIES DIRECTING
"Drunk History"
"Jimmy Kimmel Live"
"Last Week Tonight with John Oliver"
"Late Show with Stephen Colbert"
X — "Saturday Night Live"
BEST VARIETY SERIES WRITING
"Full Frontal with Samantha Bee"
X — "Last Week Tonight with John Oliver"
"Late Night with Seth Meyers"
"Late Show with Stephen Colbert"
"Saturday Night Live"