OCTOBER 30, 2017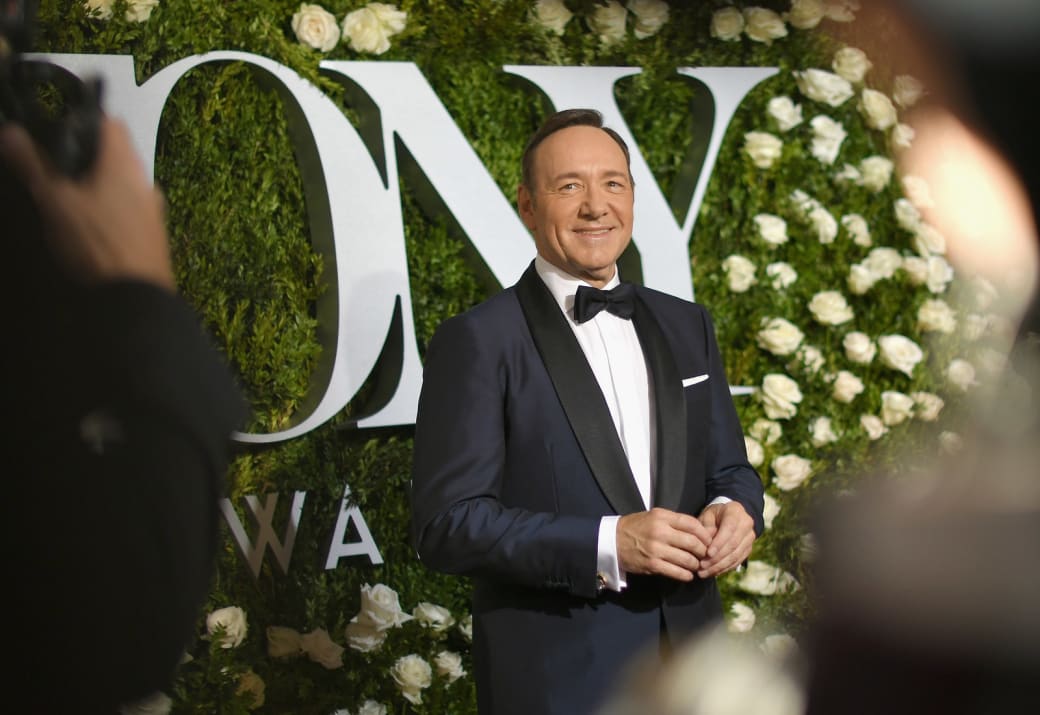 Photo: Getty
Other than Harvey Weinstein being a major perv, it was the worst kept secret in Hollywood, the suspicion that Kevin Spacey was gay.
In the beginning of his career, he denied it ferociously, even threatening lawsuits against publications that suggested such a horrible thought.  Still year after year, he brought his mother as his guest to the Oscars, so tongues never stopped wagging.
In recent years, the two-time Oscar winner seemed to come to terms with the whisper campaigns, and he even told several "closet" jokes as the host of this year's Tony Awards, turning it into a tiresome "is he or isn't he?" kind of schtick.
Then on Sunday, the walls came crashing down.
Broadway actor Anthony Rapp ("Rent"), 46, who is now appearing in CBS' "Star Trek: Discovery" was interviewed by the online news site Buzzline and alleged that, when Rapp was only 14 and appearing on Broadway, he attended a party and met Spacey, then 26, who was in a nearby theater acting in "Long Day's Journey Into Night" with Jack Lemmon.  Spacey then later invited him to a party at his apartment, where Rapp claims that Spacey, who seemed to Rapp to be drunk, picked him up the way a groom carries a bride over the threshold.  Spacey is said to have laid down on top of Rapp in an attempt to have sex with him.
Rapp was able to squirm away from Spacey and get out of his apartment safely.  He never told his mother or the police, though in later years he did confide in others the details of the incident.  And in 2001, the recalled the incident in an interview with The Advocate, though the magazine declined to name the actor involved.
Rapp's sole commentary on the interview came on Monday via Twitter:
"I came forward with my story, standing on the shoulders of the many courageous women and men who have been speaking out to shine a light and hopefully make a difference, as they have done for me.  Everything I wanted to say about my experience is in that article, and I have no further comment about it at this time."
For his part, Spacey commented as well:
"I have a lot of respect and admiration for Anthony Rapp as an actor.  I'm beyond horrified to hear his story.  I honestly do not remember the encounter, it would have been over 30 years ago.  But if I did behave then as he describes, I owe him the sincerest apology for what would have been deeply inappropriate drunken behavior, and am sorry for the feelings he describes having carried with him all these years.
The story has encouraged me to address other things about my life.  I know that there are stories out there about me and that some have been fueled by the fact that I have been so protective about my privacy.  As those closest to me know, in my life I have had relationships with both men and women.  I have loved and had romantic encounters with men throughout my life, and I choose now to live as a gay man.  I want to deal with this honestly and openly and that starts with examining my own behavior."
– Kevin Spacey
So Kevin Spacey has finally come out.  Whoop-dee-do.  I've made it a point not to criticize other's journeys in coming out — it takes as long as it takes.  But to do it so as to become some kind of sideshow distraction to a pedophilia accusation is, at least to me, cowardly and disgusting.
In other news, Netflix unexpectedly announced Monday that it will end Spacey's series "House of Cards" after Season 6.
Sleep soundly, Kevin.