DECEMBER 6, 2017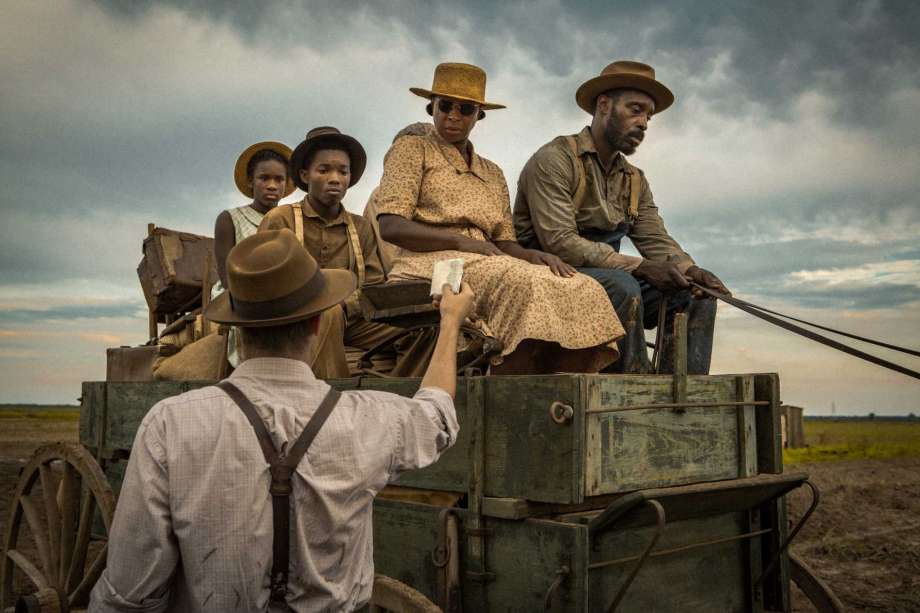 One of the more pleasant surprises of this moviegoing year has been the growing quality of Netflix original films.  Already we have had Noam Baumbach's wonderful "The Meyerowitz Stories (New and Selected)" with top performances from Adam Sandler and Dustin Hoffman, as well as one of the year's best films, Bong Joon-Ho's award-worthy "Okja."
Now we have Dee Rees' powerful film, "Mudbound," that displays an scope much wider than previous Netflix films but, thanks to Rees' sensitive direction, also works as an intimate character study.
Based on the novel by Hillary Jordan, "Mudbound" focuses on two families — one white, one African-American — who live as neighbors in rural Mississippi in the days during and after World War II.
Laura (Carey Mulligan), a 31 year-old virgin in Memphis, accepts the marriage proposal of Henry McAllan (Jason Clarke), and after having two daughters, Henry surprises her with the news that he has bought a home for them in rural Mississippi.  Though she's not thrilled with the idea, she packs up and leaves her happy home with the family, including Henry's racist father Pappy (Jonathan Banks) and his handsome younger brother Jamie (Garrett Hedlund).
Once they arrive, however, Henry learns that he has been swindled and the house is not his.  The only house available to the family is among the sharecroppers farming the local mud-filled lands.
The McAllans' neighbors are members of the Jackson family, led by sharecropper father Hap (Rob Morgan) and his devoted wife Florence (Mary J. Blige, pictured above in sunglasses).  The families get along reasonably well, but while Henry makes it clear to Hap that he's the boss, Laura and Florence become friends.  Suddenly, however, with the outbreak of World War II, both Jamie and the Jacksons' eldest son Ronsel feel the obligation to enlist.
At this point, Rees and her co-screenwriter Virgil Williams divide the action between the families back home and their sons fighting in Europe — Jamie in the air as a fighter pilot and Ronsel on the ground as a sergeant in Belgium.  The technique widens the scope of the story, which gives "Mudbound" much more weight.
Both young men survive the war, but it's only when they return home that the meat of "Mudbound" really kicks in.  Ronsel finds the adjustment to be huge — in Europe, he was treated as a liberator and an equal, a respect he does not receive when he returns to his Mississippi town.  However, that taste of respect still lingers within him.  And Jamie, traumatized when he is the sole survivor of his doomed plane, develops what we now know as PTSD and becomes a raging alcoholic, which tears at his relationship with his family.
Rees is fortunate (and smart) enough to be blessed with a stellar cast.  Clarke ("Zero Dark Thirty") embodies Henry as a man who had a dream and tries (but fails) to become what he imagined.  Oscar nominee Mulligan ("An Education") makes Laura a heartbreaking figure who is now forced to live a life for which she did not bargain.  Hedlund is superb as the tortured Jamie, determined to endure the horrors of his past even if it means self-medication.  Emmy nominee Jonathan Banks ("Breaking Bad") is terrifying as the racist Pappy without ever losing his humanity.  And Rob Morgan ("Stranger Things") as Hap never loses the bite behind which is present behind his every "Yes, suh" and "No, suh," which he is forced to endure.
Yet there's two great performances that stand out among the ensemble.  Jason Mitchell, who was so good as Eazy-E in "Straight Outta Compton" surpasses himself here as Ronsel, a black man who once was given respect in Europe, only to have to give it up at home in order to be with his family.
Then there's Mary J. Blige.  The fascinating thing about Blige's performance as Florence is that the more she de-glams herself from the Mary J. Blige musical icon whom we have come to know, the more we can't take our eyes off this plain-looking but mesmerizing character.  Her few scenes with Mitchell truly constitute the heart and soul of "Mudbound."
Yes, there are a few problems.  The film could easily lose at least 10 minutes and there are a few spots in the pre-war section that could be tightened up.  However, although this is only Rees' third film (she's probably best known for her Queen Latifah-starring biopic "Bessie" for HBO), her direction here is rock solid, particularly with her actors, and her work here suggests a long, successful career ahead.
If you subscribe to Netflix, "Mudbound" is ready for you in your living room or on your computer.
GRADE: B+