DECEMBER 26, 2017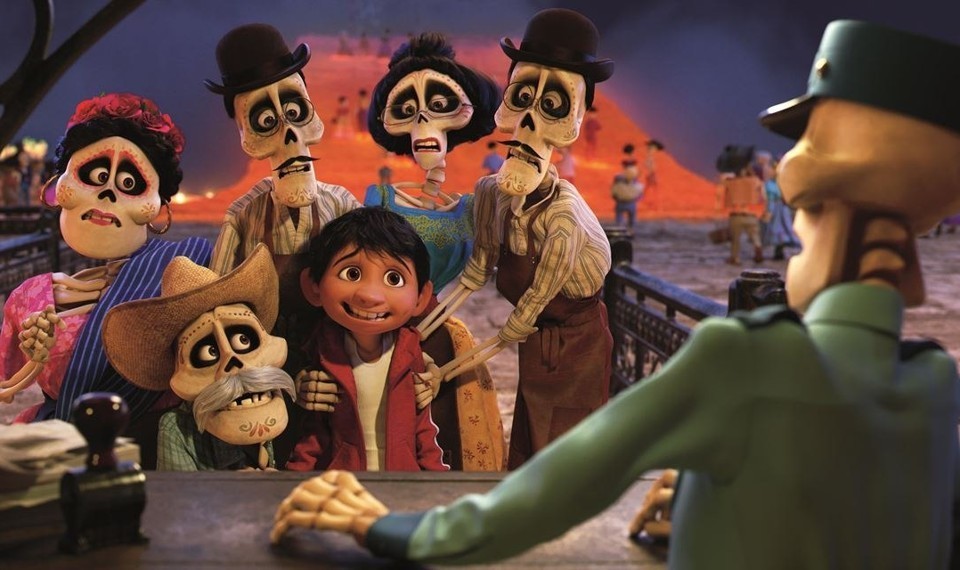 The week between Christmas Day and New Year's is traditionally the biggest at the nation's theaters, and there's an especially large number of movies this year from which to choose.  There's "Star Wars: The Last Jedi" if you haven't seen it for the fourth time, as well as a number of new films opening nationwide, such as the Hugh Jackman musical "The Greatest Showman" and the Ridley Scott-directed thriller "All the Money in the World" (reviews to come).  And if you're living in New York or Los Angeles, there's Steven Spielberg's newspaper drama "The Post" as well as Daniel Day-Lewis's final performance in Paul Thomas Anderson's "Phantom Thread."
If you looking for a movie that's a little more substantial than "Jumanji 2," however, I've selected ten films, still playing nationwide in theaters, that reach for something more than mere holiday cheer.  A few are great, a few are duds, but they were all made by artists trying to reach for something different.  And most are worth your holiday dollar.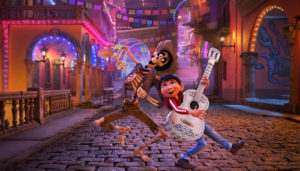 COCO – The latest from Pixar and director Lee Unkrich ("Toy Story 2" and "TS3"), is a Mexico-based fable of a young boy whose love for music forces him to buck his family's traditions.  The set-up, set in modern day, is well done but familar, but once "Coco" gets to the Land of the Dead, its visual storytelling soars.  (SET-UP Sequence: B;  LAND OF THE DEAD Scenes: A-)  OVERALL GRADE: B+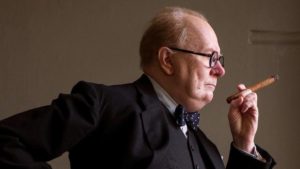 DARKEST HOUR — An interesting companion piece to the summer's "Dunkirk," this well-told Winston Churchill biopic is at times a bit over-directed by Joe Wright to give the familiar material some pizzazz, but it's largely worth seeing for Gary Oldman who, as Churchill, is likely to bellow his way to this year's Best Actor Oscar.  GRADE: B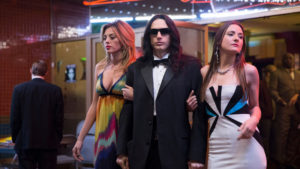 THE DISASTER ARTIST — James Franco's really delightful film about the making of a really dreadful movie.  Franco, who produces and directs as well as stars, captures the bizarre essence of Tommy Wiseau, who had the same three jobs for the 2003 film catastrophe, "The Room," widely considered the "Citizen Kane" of bad movies. Surprisingly good-natured in its treatment of Wiseau, it's Franco's best performance in years.  GRADE: B+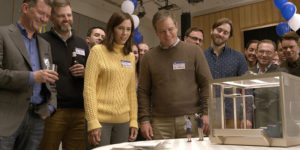 DOWNSIZING — You can't say that this futuristic comedy from Alexander Payne ("Sideways") isn't ambitious.  The concept is that future technology can shrink humans down to 5 1/2″ tall, allowing them to live in luxurious communities for far less money regular-sized people could.  It's a bizarre concept, sadly not very well executed.  And I haven't even gotten to the one-legged Vietnamese political activist.  GRADE: C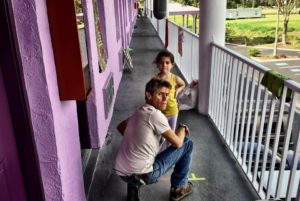 THE FLORIDA PROJECT — Set in a Florida residential motel in the shadow of Disney World's Magic Kingdom, Sean Baker's look at American families who are never the subject of movies — those who are earning barely enough to scrape by and who are one paycheck or layoff away from total financial ruin.  Baker's great idea is to tell the story from the point of view of those families' children, which makes the film's political points go down easier.  As the motel's manager, Willem Dafoe delivers one of his best performances and may win the Oscar for it.  GRADE: B+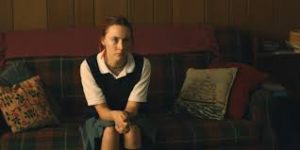 LADY BIRD — If you describe the plot of "Lady Bird" — Sacramento Catholic high school student has boy issues and conflicts with her mother — you'd think you'd seen it a thousand times, and you have.  But you haven't seen the way that writer/director Greta Gerwig tells it, with great performances by Saoirse Ronan and Laurie Metcalf to boot.  If "Lady Bird" is playing near you, run, don't walk, to catch it.  GRADE: A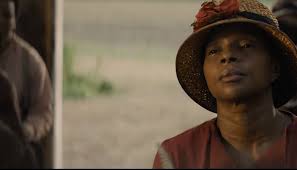 MUDBOUND — Though only playing in a few theaters (to qualify for Oscar consideration), Dee Rees' impressive film is also playing in your living room on Netflix.  Her depiction of two families — one white, one black — who are sharecropping neighbors in rural Mississippi makes for compelling storytelling.  The performances are terrific across the board, particularly by Mary J. Blige, who proves here that she is a serious actress as well.  Why are you bothering reading me now?  Turn on your TV and watch "Mudbound."  GRADE: B+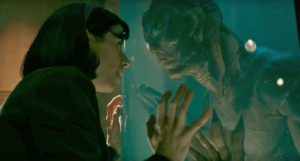 THE SHAPE OF WATER — Guillermo del Toro's beautiful Valentine to the power of romantic images in the movies stars Sally Hawkins as a mute cleaning woman in a government facility who falls in love with its latest specimen, a creature that's half-man, half-fish, also an outsider who, like her, doesn't speak.  The premise may sound ludicrous, but in del Toro's hands, it's a thing of beauty.  Hawkins delivers one of the year's very best performances.  GRADE: A-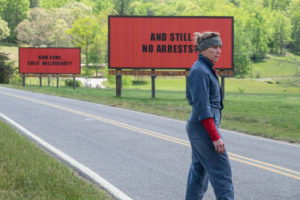 THREE BILLBOARDS OUTSIDE EBBING, MISSOURI — Clearly Irish playwright Martin McDonagh could not have anticipated the zeitgeist when he wrote his script about an angry woman, whose daughter was raped and murdered, standing up to take action against the authorities who don't take her complaints seriously.  Yes, the film is violent at times, but it's also hilariously funny, a blend that's a McDonagh trademark.  Frances McDormand, Woody Harrelson and Sam Rockwell lead an ensemble cast that is one of the year's best.  GRADE: A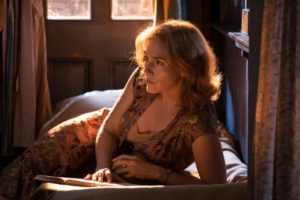 WONDER WHEEL — Woody Allen's latest is one of his serious, crazy lady movies in the manner of "Blue Jasmine,"  but "Wonder Wheel" is not nearly in the same league as the Cate Blanchett film, despite Kate Winslet trying as hard as she can to pull this off.  The material, set in Coney Island (a favorite Allen setting) in the 1950s, is overwrought and the performances so-so, especially Justin Timberlake who delivers his first unconvincing screen performance.  Yes, it's Woody Allen, but you can skip this one.  GRADE: C
Go have fun at the movies this week!