FEBRUARY 13, 2018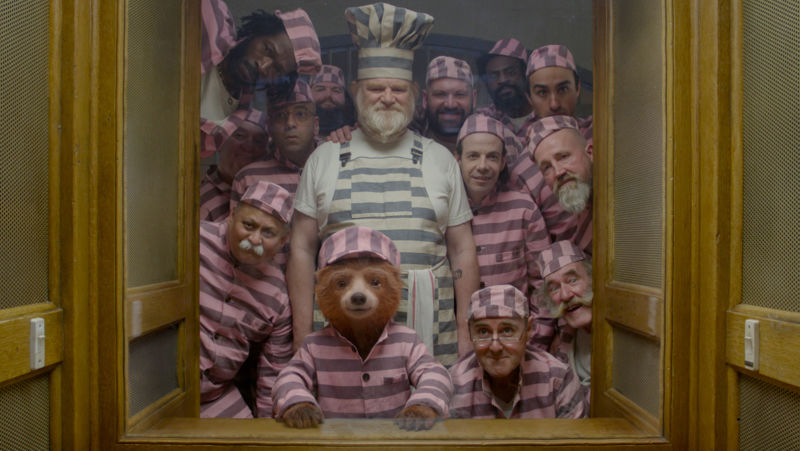 If you had to guess, what do you think was the best-reviewed wide-release film ever?  "Lawrence of Arabia"?  "The Godfather"?  "Schindler's List"?  " Not even close.
It's "Paddington 2."
According to the review aggregate website Rotten Tomatoes, "Paddington 2" has received 100% favorable reviews.  In their survey of 185 of the world's top critics, "Paddington 2" has received 185 favorable reviews, with zero negative reviews. No film has ever had that many favorable reviews without a single dissent ever.
Let me take a moment to make it 186 favorable.
Yes, it's a sequel to a movie about a talking bear, and while it's not quite "Godfather 2," like that acclaimed sequel, "Paddington 2" improves on his predecessor.  That first "Paddington" movie was an out-of-left-field surprise with its wit and style, and it unexpectedly wound up in my list of the 20 best films of 2015.
But you needn't have seen "Paddington" to catch up with the action in the sequel.  The marmalade-loving bear is still living with the Brown family in Windsor Gardens, having come to London after being raised in Peru by his Uncle Pastuzo (voiced by Michael Gambon) and Aunt Lucy (voiced by Imelda Staunton).  Aunt Lucy, who has always wanted to come to London, is about to turn 100, and Paddington (wonderfully voiced again by Ben Whishaw) wants to give her a pop-up book of London that he saw in the antique shop run by Samuel Gruber (Jim Broadbent).
Also eying that pop-up book is fading actor and ultimate hambone Phoenix Buchanan (Hugh Grant), who is now reduced to performing in dog food commercials.  Buchanan believes that the very same pop-up book contains clues which will lead him to a secret treasure that could make him the toast of London again.  The actor steals the book and manages to frame Paddington for the crime, and the little bear is sent off to prison.
Believing that Paddington was framed, the Browns, led by patriarch Henry ("Downton Abbey's" Hugh Bonneville), his wife Mary (Sally Hawkins from "The Shape of Water") and housekeeper Mrs. Bird (Julie Walters), begin a campaign to overturn the verdict and free Paddington, particularly when they stumble across evidence that appears to implicate Buchanan.
The prison scenes are among the film's best.  Don't worry, Paddington isn't sent to an "Oz"-like prison, it's more like "movie prison."  The convicts all look fearsome at first, particularly the lock-up's cook Knuckles McGinty (Brendan Gleeson, delightful) who falls for Paddington's marmalade sandwich recipe and takes him under his wing.
To have a central character who believes in the importance of kindness and good manners and not make the whole enterprise cornball is quite a feat, but somehow writer/director Paul King and co-writer Simon Farnaby pull it off.  As in any genre (but especially in family films), it's all in how you do it.  In an era where family films have recently taken a cynically topical edge, there is a sweetness to the "Paddington" series that is never saccharine but can still appeal to our better natures.
King's other key weapon is great casting with Oscar winners (Broadbent, Peter Capaldi), Oscar nominees (Grant, Hawkins, Staunton, Walters), SAG winners (Bonneville, Gambon), and Golden Globe nominees (Gleeson) giving it their all.  It's a murderer's row of acting talent.
But here the plum role is given to Hugh Grant, and he makes the absolute most of it.  As a once-popular actor whose career is quickly careening downhill, Grant's Buchanan still feels that he's British acting royalty (he still refers to Sir Laurence Olivier and and Sir John Gielgud as "Larry and Johnny") and is desperately trying to keep up the facade.  (You haven't lived until you've seen Grant lead a group of pink-suited convicts perform Stephen Sondheim's "Rain on the Roof" from "Follies" in the cellblock.)  For his performance in "Paddington 2" (which was released in the UK in 2017), Grant recently was named the year's Best Supporting Actor over rivals Willem Dafoe and Sam Rockwell.
Yes, the world of "Paddington 2," one in which bears talk, wear clothes and fly from Peru to London, is one of pure fantasy.  But it's one in which kindness and good manners prevail, and in these days, what a refreshing world that can be.
GRADE: B+