FEBRUARY 7, 2018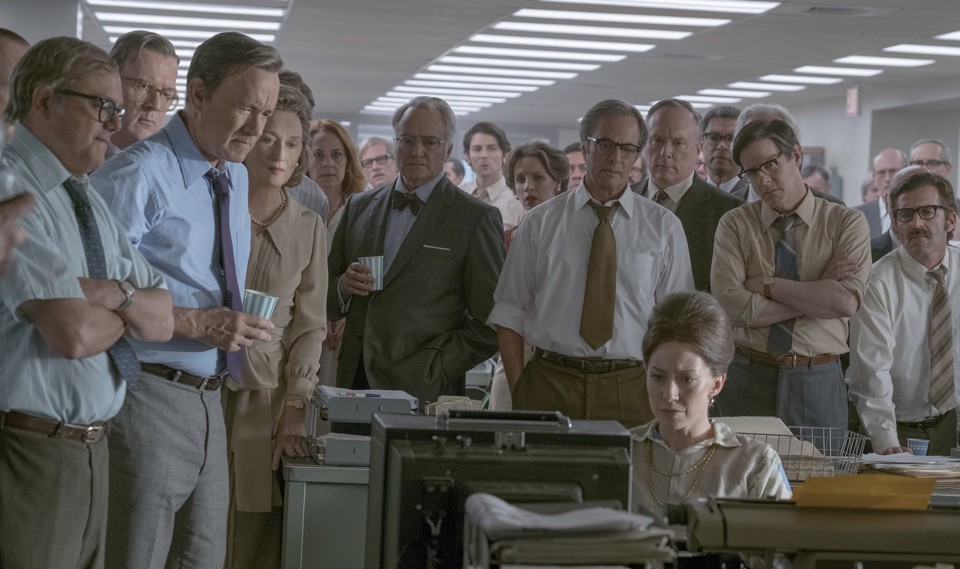 Steven Spielberg!  Meryl Streep!  Tom Hanks!  The Pentagon Papers!  When production began on "The Post" with these film legends and this subject matter, it seemed like a match made in Oscar heaven.  Now that we've seen it…well, maybe not so much.
Don't get me wrong.  Spielberg's "The Post" is a good film, arguably a very good film.  And if you did not live through these tumultuous events, it might even seem revelatory.  But if you witnessed the events depicted through print and television, Spielberg's approach to the material makes them seem familiar, and what is most disappointing for this often-daring filmmaker, it makes them feel safe.
"The Post" in question is The Washington Post, which in 1971 is owned by Katharine "Kay" Graham (Streep), widow of the paper's previous owner.  While Kay is preparing the Post for an initial public offering, the paper's executive editor Ben Bradlee (Hanks) is on a mission of his own.  He's learned that the rival New York Times is about to publish something big, which turns out to be the Pentagon Papers, documents that contradict President Richard Nixon's rosy scenario about the status of the Vietnam War.
As the reporters at the Post try to play catch-up, a Federal judge places an injunction on the Times from publishing any more of the Pentagon Papers, giving Bradlee a window of opportunity.  Thanks to a connection between Post reporter Ben Bagdikian (Bob Odenkirk) and the suspected leaker of the papers, Daniel Ellsberg (Matthew Rhys), the documents soon fall into the hands of the Washington Post.  Now that the Post has them, what do they do with them?
And that decision rests solely in the hands of one woman.
If Kay decides to publish the documents, she would be disobeying a judge's orders, a move that would not only blow up her public offering, but it might mean her arrest and even prison time.  But if she doesn't publish, would she be bowing to the intimidating tactics of the Nixon Administration?
It's a provocative moral dilemma, brought to life thanks to Spielberg's directorial skills and an enormous cast, with some of the best character actors in the business, including Michael Stuhlbarg (who is in two other Best Picture nominees, "The Shape of Water" and "Call Me By Your Name"), Tracy Letts (the dad in "Lady Bird") and Bradley Whitford (in Best Picture nominee "Get Out").  Plus Carrie Coon, Sarah Paulson, David Cross, and Bruce Greenwood (who is a dead ringer for Robert McNamara).  As I said…the best character actors in the business.
Hanks is fine as Ben Bradlee, but even if Spielberg has him roll up his sleeves and smoke countless cigarettes, he just doesn't have the edge that Jason Robards brought to his definitive Bradlee in "All the President's Men" (1976).
Thankfully, "The Post" is Streep's show from beginning to end.  Hannah and Singer give her the story's main character arc, from starting off as a woman who doesn't think she has earned the power to run the newspaper that she has inherited to one who who firmly grasps the responsibility of running the newspaper she loves.
Several years ago, I read Katharine Graham's autobiography "Personal Story" (which I would highly recommend), and Streep perfectly captures Graham's voice and the low-key approach that Graham takes to getting what she wants in business.  It's a beautifully modulated performance without Oscar-style histrionics that ranks as one of her most subtle.
Unlike such great newspaper films as "Spotlight" (2015) or "All the President's Men," there is very little actual…reporting going on in "The Post."  This is not the fault of Spielberg or the screenwriters — this is the story that they have chosen to tell.  However, unlike those other films where its reporters wore out their shoe leather trying to get witnesses to talk, in "The Post," their scoop is just plopped into the reporters' laps.  Nothing wrong with that, but it robs "The Post" of that extra layer of characterization that raised those other films to the next level.
By all means, see "The Post," if, for nothing else, Streep's performance.  But don't be surprised if you walk away from it feeling that the filmmakers somehow missed an opportunity to create something greater.
GRADE: B