FEBRUARY 22, 2018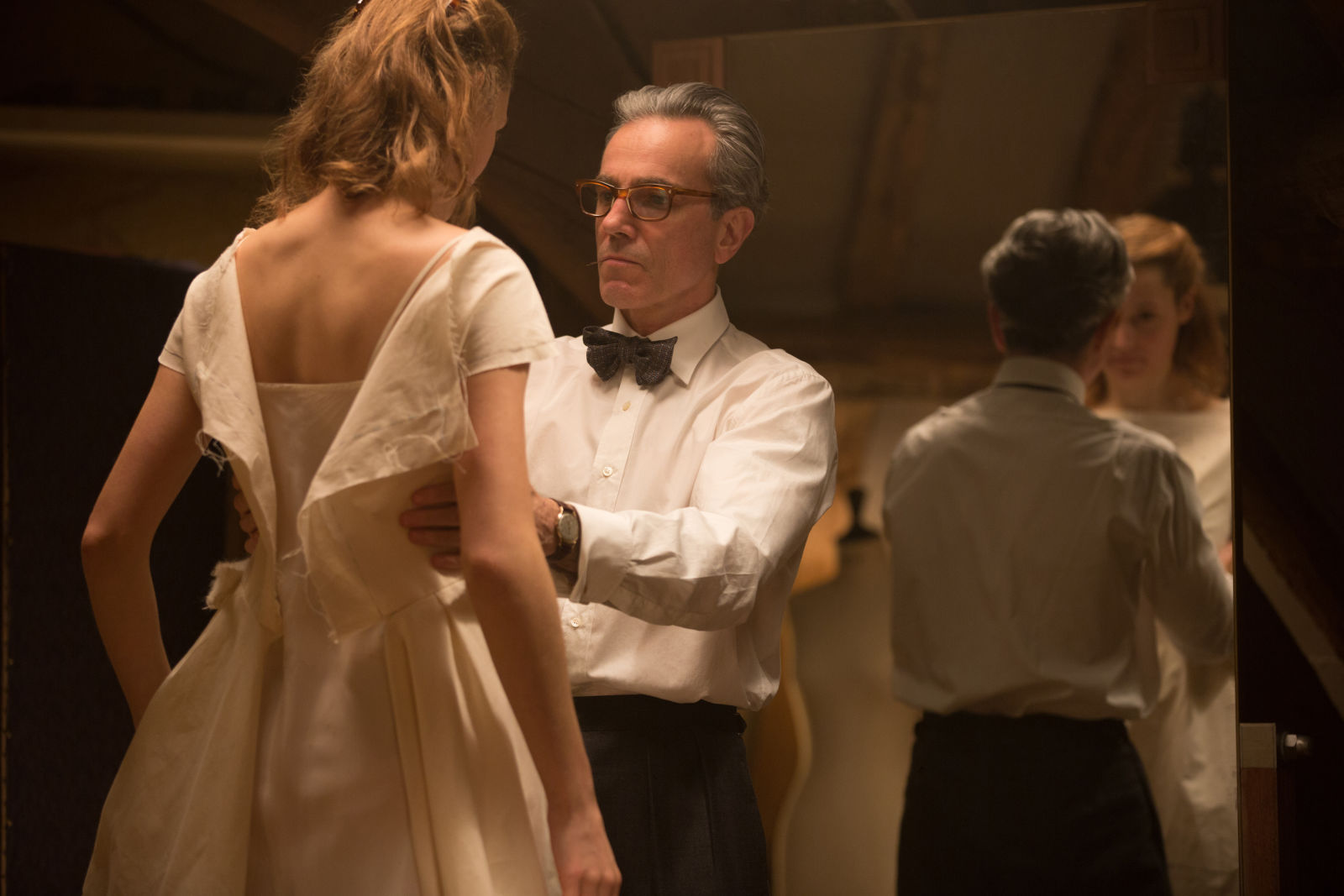 I miss Daniel Day-Lewis already.
His role as couturier Reynolds Woodcock in Paul Thomas Anderson's latest film, "Phantom Thread," is said to be Day-Lewis' final appearance on screen.  The only person to have won three Best Actor Oscars ("My Left Foot," "There Will Be Blood," "Lincoln"), Day-Lewis announced last June that after this film, he will be retiring from acting.  We'll see if that really comes to pass, but if Day-Lewis does follow through on his threat, he's going out on a very high note with Anderson's "Phantom Thread."
It's 1950s London, and among fashion houses, the House of Woodcock reigns supreme.  Celebrities and, more importantly, royalty flock to the townhouse where Reynolds Woodcock (Day-Lewis) works his magic, transforming not-runway-ready clients into red carpet stunners with his sartorial creations.  Reynolds' greatest weakness, however, is women, many of whom he mistakenly believes are his muse, who stay in favor until they don't.
The job of disposing of the discarded muses falls to his sister Cyril (Oscar nominee Lesley Manville), who is really the power behind the throne of the House of Woodcock.  You do not want to mess with Cyril.  Consider her delightful response to some pushback from her brother:
"Don't pick a fight with me, you certainly won't come out alive. I'll go right through you and it'll be you who ends up on the floor. Understood?"
Most of us would say "Yes, ma'am."  Not Reynolds, who believes that he has found his new muse in the form of a clumsy countryside waitress named Alma (Vicky Krieps), whom he meets at an extravagant breakfast.  (Be warned: breakfasts are extremely important in "Phantom Thread.")  Upon meeting her, Cyril is ready to escort this newcomer out the door, but somehow Alma seems different from all the other girls.  Reynolds still maintains his reprehensibly aloof behavior, criticizing any one of Alma's actions that distracts from Reynolds' daily routine.
So Alma comes up with a plan to gain the upper hand.  Uh-oh.
As befitting his character, Day-Lewis' performance is fastidious — as a character, Reynolds is attuned to every stitch in his creations, even using a "phantom thread" to include a message in each of his creations.  As an actor accustomed to big performances (how much bigger could you ever get than his Bill the Butcher in Martin Scorsese's "Gangs of New York?"), Day-Lewis pulls waaay back with Reynolds, his fussiness coming through in even the smallest gesture.  Reynolds is also capable of rage, but it is never in a plate-smashing kind of way.  It's more of a rapier-like cut to his prey's weakest part.  It's a cool, darkly funny performance that's one of Day-Lewis' best.
Krieps is quite a find.  The Luxembourgian actor introduces us to Alma as a woman who appears to be baffled at why a famous designer would be interested in her, but once she does, her smarts come into play as she begins to wrest control of Reynolds from Cyril.
In many ways, it's the character of Cyril who's the most fascinating in "Phantom Thread."  There's little doubt that she is the controlling mirror image of her brother, but with Manville's implacable demeanor, it's clear that she knows that she the one who has the power.  And she's going to make sure that this new usurper is not going to threaten her position.  Manville, who was so good in Mike Leigh's "Another Year" in 2010, is even better here and so deserving of her this Oscar nomination.
To be honest, Anderson, though worshiped by many critics, has never been one of my favorite filmmakers.  "Boogie Nights" and "Magnolia" probably came closest to the kind of masterpiece that his fans claim that he regularly produces, but for me nothing he has made so far has been a solid home run.  There's always some element to an Anderson film that keeps it from meeting its full potential potential, and "Phantom Thread" is no exception.
If he had followed through on the darkly comedic elements that Day-Lewis had hinted at in his performance, he might have had his first truly great film.  But in "Phantom Thread," he has still made a really good movie, one that any filmmaker would be proud to call his own.
GRADE: B+