OCTOBER 24, 2018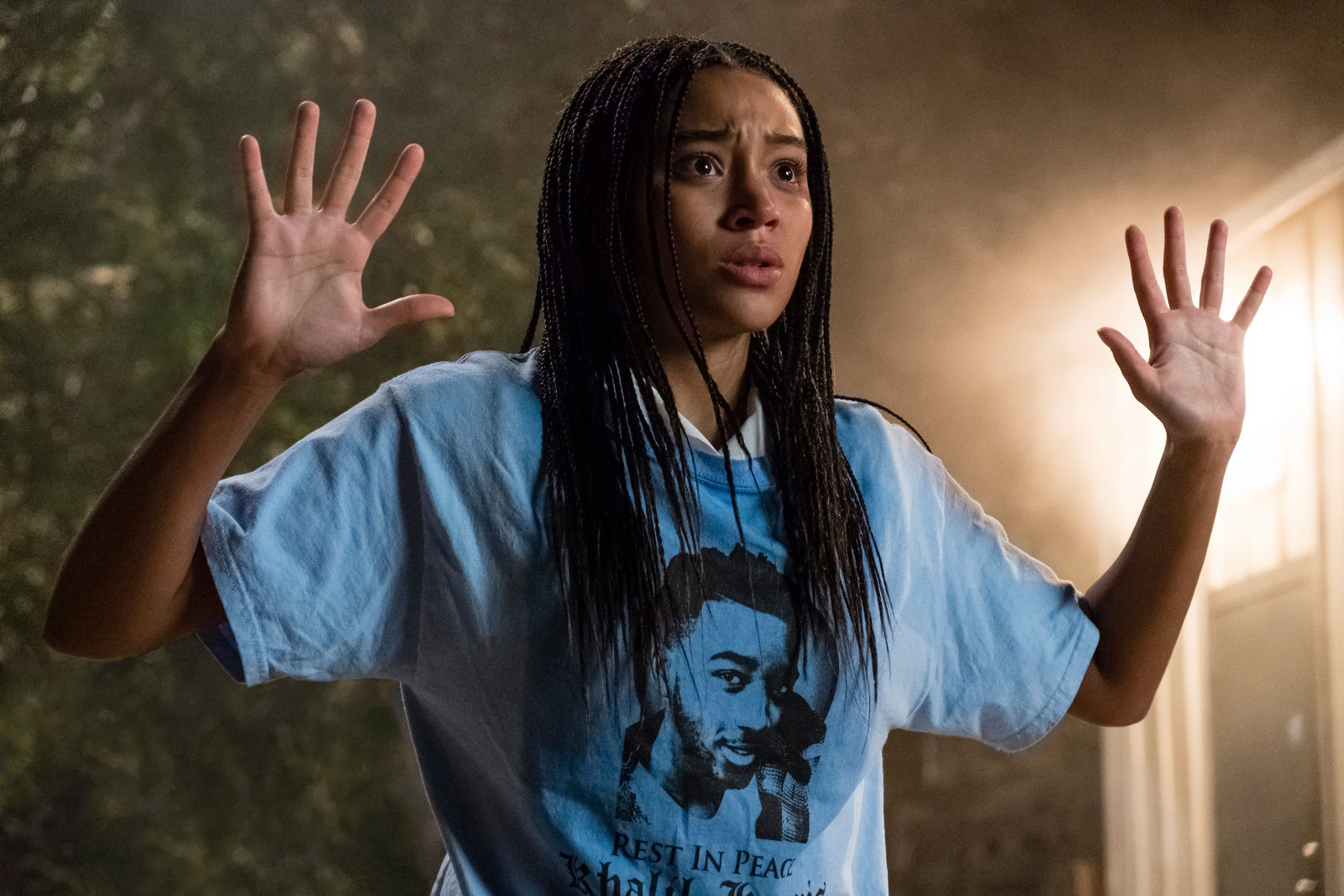 Director George Tillman, Jr. has made a beauty of a film in "The Hate U Give."
There may be the word "hate" in the title, but the story, based on the best-selling novel by Angie Thomas, is drenched in love, thanks to a strong screenplay by Audrey Wells, who died earlier this month on the day before "The Hate U Give" was released in theaters.
In a pre-credit sequence, a family conference is taking place.  Maverick Carter (Russell Hornsby) and his wife Lisa (Regina Hall) have sat their kids down to have "The Talk," wherein black children are taught that, if they are stopped by the police for Driving While Black, they should put their hands on the dashboard and be deferential to the police.
Several years later, their daughter Star (Amandla Stenberg) is now in high school.  Rather than have her daughter attend the crime-ridden public high school in their largely African-American town of Garden Heights, Lisa insists that she attend a conservative high school (complete with school uniforms) in a town farther away.  There Star takes on the persona of Star 2.0, who won't respond in kind when her white classmates try to act black, causing Star to remark that they're behaving like they just watched "Straight Outta Compton" again.
At a party, Star is reunited with Kahlil (Algee Smith), her childhood best friend and first romantic crush.  When shots ring out at the party, he grabs Star, and they escape to safety in his car.  After reminiscing about playing Harry Potter games together, Kahlil is pulled over for changing lanes without signaling.  When the white cop approaches, it becomes clear that Kahlil hasn't been given The Talk, because he starts giving the policeman lip.  When he reaches inside the car to get his hairbrush, Kahlil is shot dead, traumatizing Star who is taken into custody.
When it soon becomes evident that she witnessed the shooting, which has caused a big political stink, she is approached by activist lawyer April Ofrah (Issa Rae of HBO's "Insecure") urging her to testify against the policeman to a grand jury, a step that Star is reluctant to take.  There is a side of her to want things to go back to the way they were before the shooting, so that she can keep her school friends, especially her boyfriend Chris (KJ Apa) who is kind, caring and white.
Star finally agrees to a television interview in which she lets it slip that Kahlil was running drugs for the town's drug lord King (Anthony Mackie at his most menacing).  King declares war on Star's family (including Maverick who once worked for King) to keep her from testifying.  One ride in a car has turned Star's world upside down and now threatens the lives of her family.
"The Hate U Give" is adapted from a young adult novel, but it has a depth of characterization missing from most YA stories.  Or perhaps it just feels that way here because the quality of the acting here is so high.
Stenberg is simply terrific as Star, managing to balance the fun and friends of adolescence with the growing responsibilities of adulthood that are facing her far too soon.  It's a tricky role to pull off tonally, but Stenberg is pitch perfect every time.  So too is Regina Hall as Lisa, a mother who only wants the best for her children and will fight for that, a performance that only enhances her growing body of impressive work
But I think the performance of the film (and one of the best supporting performances of the year) is Russell Hornsby as Star's dad, Maverick, a former drug dealer who once agreed to take the fall for King and served a three-year prison sentence in exchange for getting out of King's clutches.  His Maverick is a tough but loving guy who is determined to keep his kids far away from the life that he once led.  Creating a believable character who combines kindness with toughness is a tall order, but Hornsby pulls it off masterfully.
It may sound weird to describe a film centered on a police shooting of an unarmed black man as "heartwarming," but Tillman, in his direction, and Wells, with her final script, have created characters about whom you care so much that they do the right thing, and when they do, one's heart becomes full.
GRADE: B+