DECEMBER 20, 2019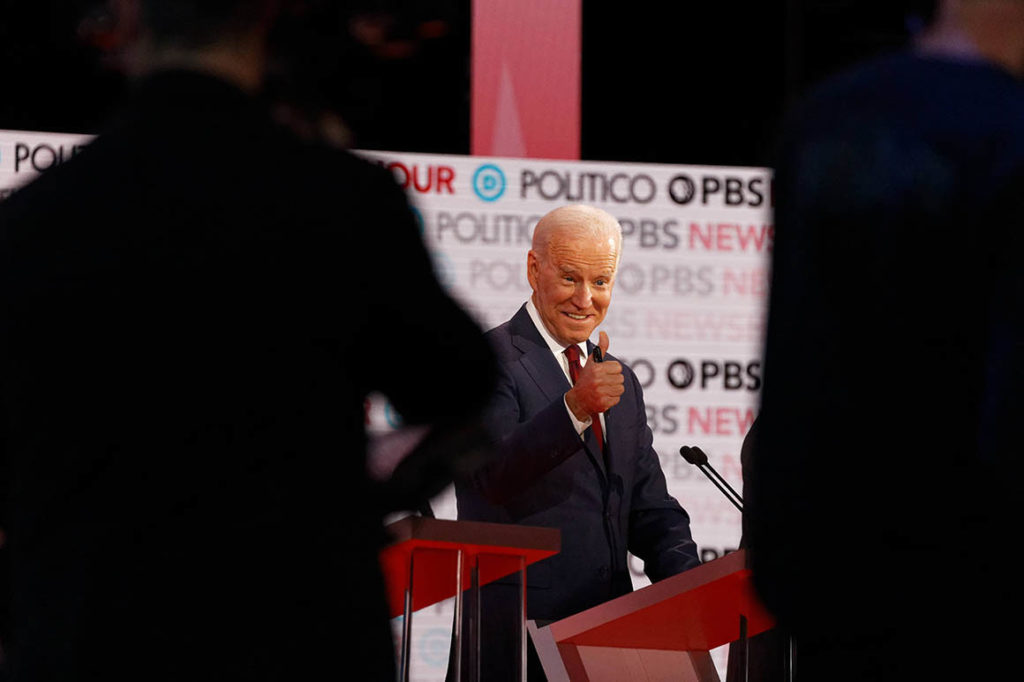 Photo: Politico
Wine cave.
That phrase was the takeaway from Thursday night's considerably-smaller stage at Marina del Rey's Loyola Marymount University for the sixth Democratic Presidential debate.  Standards for qualifying for this debate were raised considerably higher, and only seven candidates qualified — Joe Biden, Bernie Sanders, Elizabeth Warren, Pete Buttigieg, Amy Klobuchar, Andrew Yang and Tom Steyer.  That left two candidates of color — Cory Booker and Julián Castro — off the stage, which is not a good look for a party that prides itself on diversity.  (African-American Sen. Kamala Harris, who did qualify but who ran out of money, left the race weeks ago.)
As missed as Booker and Castro's voices were, it did give the remaining candidates more time to speak, even Andrew Yang, the only candidate of color on the stage, whose perceived lack of onstage speaking time at the last debate led him to attempt a boycott of the debate host, MSNBC.  (It trended, but it didn't work.)  But who made the best use of that extra time?
Though no one delivered a terrible performance, let's look at our chart of debate winners and losers:
WINNERS:
JOE BIDEN — When he was running for Vice-President, he had great debate performances each time.  During this campaign?  Not so much.  Whenever there weren't outright gaffes, there were lackluster performances that only fed the narrative that Biden was old and tired.  Not Thursday night.  His answers were clear and concise for a change and just the kind of debate performance that would befuddle Trump, particularly his strong defense of bipartisan cooperation.  For the first time in a debate, he acted like the front runner and escaped unscathed.
AMY KLOBUCHAR — Probably more than any other candidate, Klobuchar has delivered solid debate performances time after time.  Rightly seeing Buttigieg as her main rival for the Midwest vote in Iowa, she went after the Indiana mayor over the fact that, aside from the mayoralty, he has never won an election that he has run for, while Klobuchar has won every election which she has entered.  She argued in her "Minnesota nice" voice, but because it was based on facts, it registered.
LOSERS:
PETE BUTTIGIEG — Buttigieg took over the lead in Iowa polling just before the November debate, and, possibly believing it was just a fluke, his rivals gave him a pass.  Now the he has only solidified his lead there, the gloves are off, so Warren and Klobuchar, both of whom are threatened by his rise, went after him on different fronts — Warren on financing, Klobuchar on winnability.  To Buttigieg's credit, he came back at Warren hard on fundraising, noting that all six of the others (including Warren) are millionaires (which Buttigieg is not) and adding that "this is the problem with purity tests you cannot yourself pass."
ELIZABETH WARREN — Here's where the wine cave comes in.  Warren sought to paint Buttigieg as an elitist by citing a fundraiser he held for big donors in a wine cave where $900 bottles of wine were poured.  Warren, whose drop to third place in national polls has brought her closer to fourth-place Buttigieg than to second-place Sanders, sought to dispatch Buttigieg with a frontal attack (as opposed to the more subtle criticism by Klobuchar), and while it did damage to the mayor, the bluntness of it seemed a little out of character for Warren, which perhaps did not help her in the way that she might have hoped.
The first-in-the-nation Iowa caucuses are only six weeks or so away, and the race is still fluid.  The Democratic National Committee has raised the qualifications for inclusion in the next debate, to be held on January 14 in Des Moines.  As of this moment, only Biden, Sanders, Warren, Buttigieg and Klobuchar have already met those qualifications, so we'll see if the stage will get even smaller.  See you all on January 14!