AUGUST 6, 2015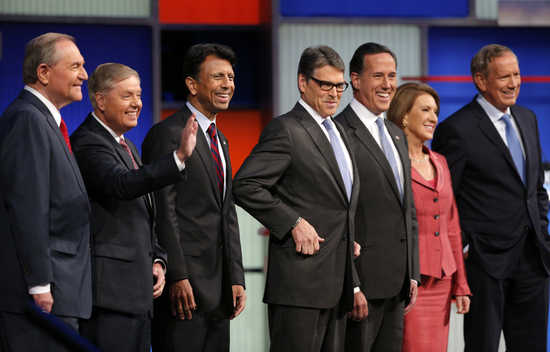 Well that didn't amount to much.  The seven GOP Presidential contenders who didn't make it into tonight's Fox News Top 10 primetime debate met this afternoon for what was labeled a "candidate's forum" but was essentially a JV game.
In a near-empty arena, Fox News' B-team of Martha MacCallum & Bill Hemmer asked the candidates a variety of questions, several of which had a tone of barely-disguised contempt.
The first question to each was essentially "Why are you even here?" and the second was a variation of "Why is Donald Trump kicking all of your collective asses?"  If that approach was designed to throw the contenders off their game…well, mission accomplished.
Who won?  If there was a winner this afternoon, it was probably Carly Fiorina, who delivered a smooth, confident performance on a variety of topics.  And she got off the day's only effective zinger, referring to Bill Clinton's mysterious phone call to Donald Trump,
"I didn't get a phone call from Bill Clinton before I jumped in the race. Did any of you get a phone call from Bill Clinton? I didn't. Maybe it's because I hadn't given money to the foundation, or donated to his wife's Senate campaign."
Rick Perry spoke forcefully in his answers, particularly when asking how the GOP could nominate someone (Trump) who once favored single payer health care.  But he had a couple of "oops" moments when he referred to president "Ronald Raven" and in extolling his record as Texas governor, asserting that nobody's done it like Rick Perry has done it over the last eight years.  (Perry has served as governor for 15 years.)
The rest?  Forget it.  Lindsey Graham appeared to be very nervous and fell back on one-liners he's overused in the past.  Bobby Jindal promised to send the IRS to raid Planned Parenthood.  Rick Santorum proudly declared that "when we treat everyone equally under the law, that's when people feel good about being Americans."  Does that include LBGT Americans too, Rick?
George Pataki and Jim Gilmore also attended.
Bottom line is that, unless someone in tonight's Top 10 really blows it, no one did well enough this afternoon to supplant them.  But stranger things have happened.