AUGUST 5, 2015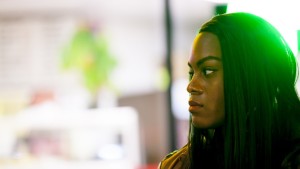 If your average art-house moviegoer knows anything about "Tangerine," it's probably the fact that the entire film was famously shot on an iPhone 5s.  You'd never know it by its look though.  For someone who has taken mostly disastrously shaky home movies on his own iPhone, I marvel at the depth of images that director Sean Baker has managed to achieve here.  He has not only captured the look of a stretch of Santa Monica Blvd. that I know well (it's about 5 minutes from my house), but he has captured the mood of it as well.
"Tangerine" takes place over Christmas Eve as two transgender sex workers, Sin-Dee Rella and Alexandra (trans actresses Kitana Kiki Rodriguez and Mya Taylor), share a holiday donut celebrating Sin-Dee's recent release from jail.  However, when Alexandra happens to mention that Sin-Dee's pimp/boyfriend Chester (James Ransone) has been cheating on her with another woman…well, hell hath no fury.  And so the chase begins.
What's refreshing about "Tangerine" is that it's not an after-school special for adults on the transgender life.  Though it does touch on the dangers of the sex trade (and the particular danger for transgender sex workers), "Tangerine" is at heart a screwball comedy, which helps greatly to broaden its appeal.
If I do have a concern with the film, it's that, even at 89 minutes, it tends to meander at times.  The conventions of screwball comedy require very tight writing, and every scene must sustain the momentum and propel the story forward.  "Tangerine" takes some detours along the way, not uninteresting detours but off-ramps nonetheless, and they slow the forward motion of the narrative, which works against the film's overall effectiveness.
For its subject matter and the way it was shot, "Tangerine" marks a breakthrough.  I only wish it was just a little bit better.
GRADE: B-