AUGUST 3, 2015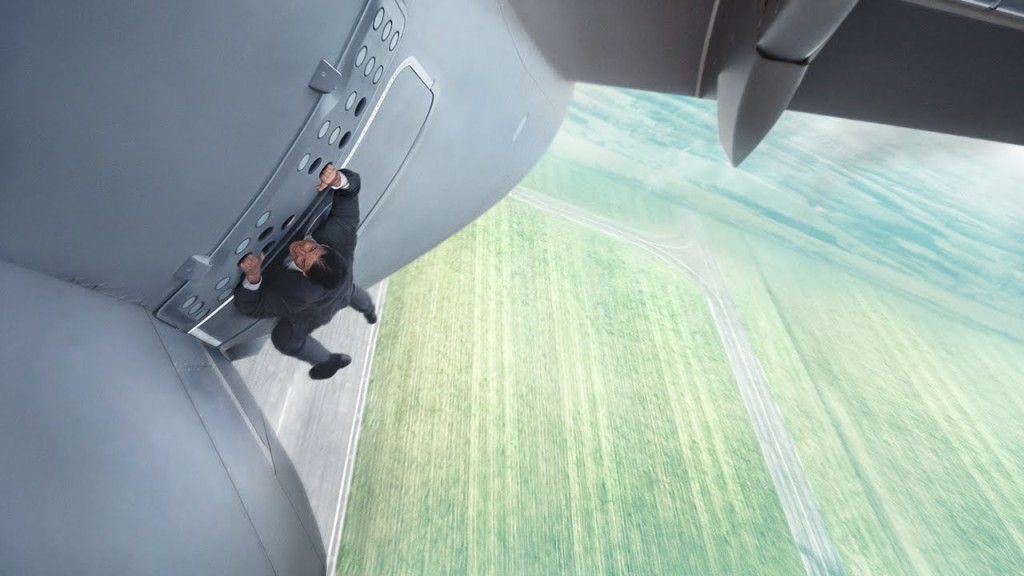 Does Tom Cruise have a death wish?  He's 53, and seeing him hang off the side of a jetliner as it's taking off, it does make me wonder.  And did I mention that Tom Cruise is 53 YEARS OLD!!!  So begins the utterly preposterous but undeniably entertaining "Mission: Impossible — Rogue Nation," the 5th installment in the 19-year series of films based on the 1960s television classic.
"Rogue Nation" is written and directed by Christopher McQuarrie, who won the Oscar for writing "The Usual Suspects" and who last worked with Cruise in last summer's vastly underrated sci-fi romp "Edge of Tomorrow."
 McQuarrie works well with Cruise, who even got to display a gift with light comedy in "Edge."  The comedy here, though, is handled expertly by Simon Pegg, who returns along with fellow IM-forcers Jeremy Renner and Ving Rhames. Add Alec Baldwin as a bureaucratic asshat, Sean Harris as a particularly creepy villain mastermind, and Swedish actress Rebecca Ferguson, who brings a refreshing Catherine Zeta-Jones-style kickass vibe, and you've got a pretty strong cast in support of Cruise's derring-do.
The stunts, however, are the real stars here.  They approach (though do not surpass, though not for wont of trying) the very high bar set this year by "Mad Max: Fury Road" — still these two films together make a very persuasive case for the Academy to finally add an Oscar category for stunts.  Following the airplane hang opening, much of the film's entertainment value comes from three top-notch stunt scenes — an attempted assassination at the Vienna State Opera (very Hitchcockian), an underwater caper that had me squirming, and a motorcycle chase with Cruise clearly driving the bike at reckless speeds and breathtaking near-misses.  Academy, take note.
If you'd argue that "Rogue Nation" is not high on character development, you'd have an undeniable point.  Neither is a Six Flags park.  But you go for the rides and come away with a thrill.  That's enough for me this summer.
GRADE:  B