AUGUST 27, 2015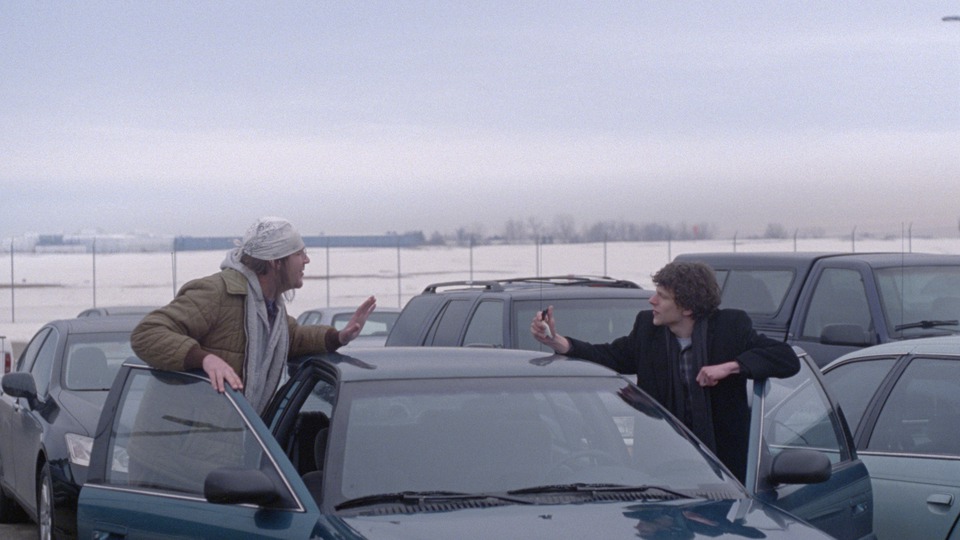 On September 12, 2008, novelist David Foster Wallace hanged himself in his garage.  The author of the acclaimed novel "Infinite Jest" was 46.
Wallace went on an extensive book tour in 1996 to promote that book, and during the last five days of that tour, he was shadowed and interviewed by Rolling Stone writer David Lipsky.  The interview was never published at the time but became the basis for Lipsky's book "Although Of Course You End Up Becoming Yourself" that has now been adapted by playwright Donald Margulies as "The End of the Tour."
The film is a gabfest — two men (Jason Segel as Wallace and Jesse Eisenberg as Lipsky) sitting, smoking and talking about life.  The direction by James Ponsoldt, who did such a good job with "The Spectacular Now," is servicable, but in a talky movie, that's enough.  He gets some fine work from his cast — Joan Cusack is a particular hoot as a bubbly tour guide — although Jesse Eisenberg is a bit of a letdown as Lipsky.  I liked Eisenberg in "The Social Network," but I've never gotten his appeal in other roles.  Here he comes across as Acting (emphasis on the capital A).  Eisenberg's every move seems calculated, and I don't think it's for the character — it's the actor.  He even smokes a cigarette as if he just learned how to do it.
There are, however, two very big reasons to see "The End of the Tour."  First is the script by Pulitzer Prize-winning playwright Margulies ("Dinner with Friends").  This is a terrific piece of writing — never overly theatrical in the manner that playwrights sometimes lean on when writing for film.  His writing for the Wallace character in particular is striking because his dialogue sounds like the way a writer would talk — not overly showy but extremely precise in the words he chooses.
The other big reason is the performance of Jason Segel as Wallace.  When I first learned he was cast in this part, I thought "Oh great, another sitcom star trying to show that he's a serious actor."  But Segel totally surprised me with his multi-layered performance.  He portrays Wallace as a man who is wary of this interloper into his life but open to new viewpoints, a tricky acting choice, but Segel manages to accomplish it smashingly.
By any standard, "The End of the Tour" is a small film, but in its own way, it manages to present one of the biggest portraits of an artist in recent memory, and for that it should be celebrated.
GRADE:  B