JUNE 13, 2016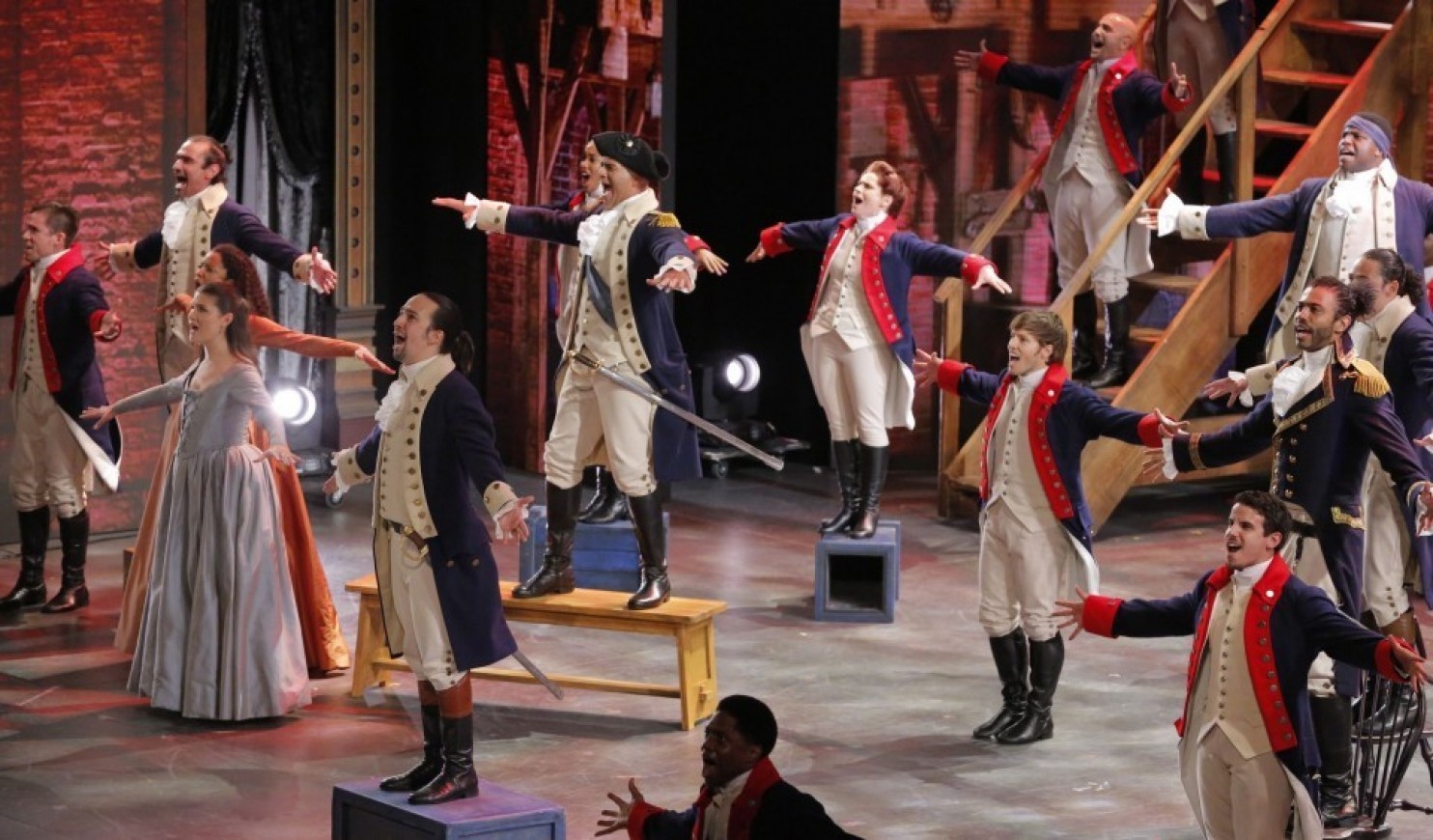 Photo: Reuters
It was probably the year's most challenging pivot, trickier than anything to date in this year's presidential campaign, and it happened Sunday night at the 70th annual Tony Awards.
Just hours after 49 people were shot to death at a gay nightclub in Orlando FL, CBS, faced with the dilemma of mounting a happy-go-lucky musical show to a grieving nation, turned to the strength of the show's writers and to its host, James Corden.  And since the LGBT community is such a key part of the Broadway theater world, the tone had to be just right.  Corden and the writers came through.
"All we can say is you are not on your own right now. Your tragedy is our tragedy," said Corden with his back to the large audience at the Beacon Theater in New York.  "Theater is a place where every race, creed, sexuality and gender is equal, is embraced and is loved. Hate will never win. Together, we have to make sure of that."
The pivot came with the number immediately following, a "Hamilton" parody that celebrated Corden, followed by a clever number aimed at demonstrating to kids all over the country of "every color, class and race and face and shape and size, as well as boys, girls and transgender kids too," to follow their dream if their dream is theater.  In a coup de theatre, the 20 representative theater kids onstage are suddenly transformed into the 20 actors nominated his year for acting in a musical.  The grief that began the evening slowly began to turn into inspiration.
Of those 20 actors in that number, the four performers who took home Tonys are all actors of color.  (Oscars, are you watching?)  Three are African-Americans from "Hamilton" — Leslie Odom, Jr. (Best Actor), Renée Elise Goldsberry (Best Featured Actress) and Daveed Diggs (Best Featured Actor).  The fourth is a Brit, Cynthia Erivo (Best Actress), who stopped the show midway with her number "I'm Here" from "The Color Purple," which also picked up a Tony as the year's Best Musical Revival.
The other big news of the evening was, of course, "Hamilton."  Nominated for a record 16 Tony Awards, the show won 11 (a pesky upset in the Scenic Design category kept it from tying 2001's "The Producers" for the most wins ever).  In addition to the three acting wins, "Hamilton" picked up trophies for its lighting, costumes, choreography, orchestrations, direction, musical book, musical score, and (the big one), Best Musical.
"Hamilton" seemed to permeate the entire ceremony.  (Corden even quipped, "I promise you, tonight's show will not be all about 'Hamilton.' There will also be commercial breaks.")  But "Hamilton" did produce one of the most moving moments of the night when the show's writer/composer/star and Best Score winner Lin-Manuel Miranda, who is known for his rapping acceptance speeches, instead offered an emotional sonnet to his wife and to the people of Orlando:
When senseless acts of tragedy remind us
That nothing here is promised, not one day.
This show is proof that history remembers
We lived through times when hate and fear seemed stronger;
We rise and fall and light from dying embers, remembrances that hope and love last longer
And love is love is love is love is love is love is love is love cannot be killed or swept aside.
I sing Vanessa's symphony, Eliza tells her story
Now fill the world with music, love and pride.
Though several presenters noted the sadness of the day, the most direct mention was from Best Drama Actor winner Frank Langella ("The Father") who threw out his acceptance speech and instead addressed the people of Orlando directly:
"When something bad happens we have three choices: we let it define us, we let it destroy us, or we let it strengthen us. Today in Orlando we had a hideous dose of reality, and I urge you Orlando to remain strong," adding, "We will be with you every step of the way."
Other winners on the drama side included first-time nominee Jessica Lange (Best Actress) for her nearly four-hour performance in "Long Day's Journey Into Night," and veteran character actors Reed Birney (Best Featured Actor) and Jayne Houdyshell (Best Featured Actress) as parents of an economically-stressed and dysfunctional family in "The Humans," writer Stephen Karam's new work that won the Tony for the year's Best Play. And in a slight upset, Best Director went to Belgian avant-garde helmer Ivo van Hove for his visually-striking revival earlier in the season of Arthur Miller's "A View From the Bridge."
Helping to keep the mood light was Corden, who seemed like a big kid in a candy store on stage.  Even though a Tony winner himself in 2012, he seemed overjoyed at the sight of the many theatrical luminaries he introduced, even comically staggering into the wings at the mere sight of presenter Barbra Streisand.  Most of the musical numbers and comedy bits worked well, particularly when Corden singled out acting presenters and nominees in the audience, citing their acting pinnacle as their appearances (complete with unflattering photo) on "Law & Order," an obligatory credit for any Broadway actor.
The only bits that missed were a lame Trump/Clinton bit with Andrew Rannells and Glenn Close, and a musical number from "On Your Feet" which, despite the presence of Gloria Estefan, came off as pretty cheesy in a style that belonged more in downtown Las Vegas than on Broadway.
The Tony telecast may not have been the show that CBS and producers imagined, but the one they gave us last night was the one that we needed after the day of horror of Orlando.  The show did go on, and we're glad it did.
Here are the winners of the 2016 Tony Awards:
Best Musical: "Hamilton"
Best Play: "The Humans"
Best Book of a Musical: Lin-Manuel Miranda, "Hamilton"
Best Original Score (Music and/or Lyrics) Written for the Theater: "Hamilton"
Best Revival of a Play: "Arthur Miller's A View From the Bridge"
Best Revival of a Musical: "The Color Purple"
Best Performance by an Actor in a Leading Role in a Play: Frank Langella, "The Father"
Best Performance by an Actress in a Leading Role in a Play: Jessica Lange, "Long Day's Journey Into Night"
Best Performance by an Actor in a Leading Role in a Musical: Leslie Odom Jr., "Hamilton"
Best Performance by an Actress in a Leading Role in a Musical: Cynthia Erivo, "The Color Purple"
Best Performance by an Actor in a Featured Role in a Play: Reed Birney, "The Humans"
Best Performance by an Actress in a Featured Role in a Play: Jayne Houdyshell, "The Humans"
Best Performance by an Actor in a Featured Role in a Musical: Daveed Diggs, "Hamilton"
Best Performance by an Actress in a Featured Role in a Musical: Renee Elise Goldsberry, "Hamilton"
Best Scenic Design of a Play: David Zinn, "The Humans"
Best Scenic Design of a Musical: David Rockwell, "She Loves Me"
Best Costume Design of a Play: Clint Ramos, "Eclipsed"
Best Costume Design of a Musical: Paul Tazewell, "Hamilton" 
Best Lighting Design of a Play: Natasha Katz, "Long Day's Journey Into Night"
Best Lighting Design of a Musical: Howell Binkley, "Hamilton"
Best Direction of a Play: Ivo Van Hove, "Arthur Miller's A View From the Bridge"
Best Direction of a Musical: Thomas Kail, "Hamilton"
Best Choreography: Andy Blankenbuehler, "Hamilton"
Best Orchestrations: Alex Lacamoire, "Hamilton"