OCTOBER 24, 2016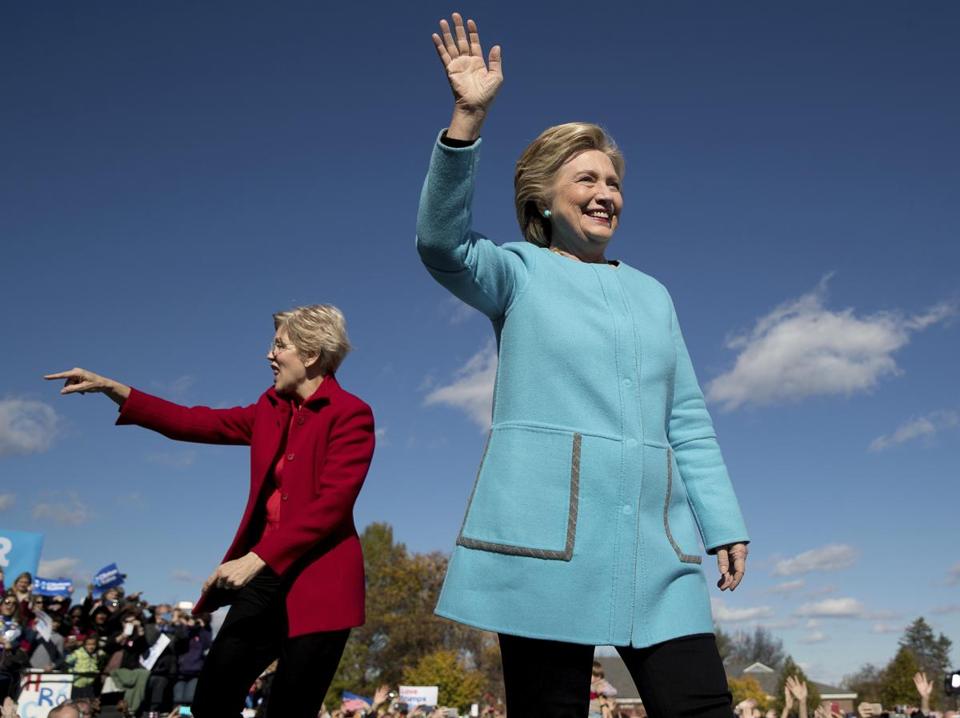 Photo: The Boston Globe
This week's "Saturday Night Live" kicked off with a scathing satire of Wednesday's third Presidential debate.  Off the top, Kate McKinnon's brilliant (and sometimes mad) Hillary Clinton summarized the debate results so far:
"In the first debate, I set the table. In the second debate, I fired up the grill."  Then brandishing what looked to be two very sharp carving knives, she added with a gleam in her eye, "And tonight, I feast."
That will likely be the last time that any Hillary Clinton, whether the real one or the fictional one, will have any further interaction with Donald J. Trump.  This weekend, while aboard her campaign plane, the candidate herself essentially closed the door behind the Republican nominee, dismissing his pleas for attention with a simple "I don't even think about responding to him anymore."  Bye, Felicia.
Instead, Clinton and her campaign appear to be turning their attention to those down-ballot races where Democrats are trying to unseat incumbent Republican Senators.  The GOP currently controls the Senate, holding 54 seats compared with 46 for the Democrats (plus 2 Independent Senators who usually caucus with the Democrats).  This year 34 Senate seats are up for grabs — 24 currently being held by Republicans, and 10 held by Democrats.  If Clinton wins the Presidency, the Democrats will have to flip just four of the GOP seats (VP Tim Kaine would serve as the tie-breaking vote in the Senate), or if Trump wins, the Dems will have to flip five.  Challenging, but not impossible.
Holding either (or both) houses of Congress is crucial for Clinton, as she needs to avoid the legislative obstruction from the GOP Congress that Obama faced during his past four years.  If she can help turn the Senate blue, Clinton will have a far easier time getting cabinet members, Federal judges and most importantly, Supreme Court justices approved.
Remember poor Merrick Garland, the judge whom President Obama nominated to fill the Supreme Court seat left vacant by the death of Antonin Scalia?  Obama nominated Garland on March 16!!! and the Republican majority in the Senate still hasn't lifted a finger to vote up or down on this moderate jurist.  (But you can just bet that if the Democrats take over the Presidency and the Senate, those same obstructionist Republicans are going to be falling all over themselves to approve the moderate Judge Garland in the lame-duck session before a President Hillary gets the chance to appoint and get approved one of her wild-eyed leftie judges.  Count on it.)
That's why winning back the Senate is so important and is one of the reasons why Clinton is calling on her deep bench of surrogates to make the case, not for her, but for Democratic Senate candidates.  On Sunday night, it was President Obama stumping in Nevada for candidate Catherine Cortez Masto, who hopes to retain retiring Harry Reid's seat.  Late this week, Joe Biden will be scouring the country in support, and Bernie Sanders, as well as Bill Clinton, will be used where they can do the most good.  This leads up to the marquee rally of the week on Thursday where surrogate extraordinaire Michelle Obama will join Clinton onstage for the first time together at a rally in North Carolina.
Today was no slouch in the star power department, however, where in Manchester, NH, Clinton's new favorite cheerleader, Sen. Elizabeth Warren, joined the candidate onstage to support the Dem's Senate candidate, NH Gov. Maggie Hassan, who holds a narrow lead over incumbent GOP Sen. Kelly Ayotte, who has been struggling in her support of Donald Trump.  After listing all the horrible things that Trump has done and said and noting that Ayotte had still supported him, Warren went in for the kill:
"But now, Donald Trump's not doing so well, and Kelly is running as fast as she can away from him. I will say one thing. Donald Trump sure has made Kelly Ayotte dance. Day one she loves him. Day two, hates him. Day three she's back with him. Boy, spins around and around. But one of the things I love about the people from new Hampshire that you value guts. You make the right decision and then you stick with it. Donald Trump is right. Kelly is weak. And that's why a tough, smart fighter like your governor Maggie Hassan is going to win on November 8th."
But, of course, Warren has most famously served as the one Clinton surrogate who knows how to get under Donald Trump's skin most deeply, and even though the day was about Hillary Clinton and Maggie Hassan, Warren couldn't help herself getting in one last dig at Trump:
"Women have had it with guys like you.  Nasty women have really had it with guys like you. Nasty women are tough. Nasty women are smart. And nasty women vote.  We nasty women are going to march our nasty feet to cast our nasty votes to get you out of our lives forever."
Just 15 days to go before the election, and if any of them are as wild as Monday on the campaign trail, it will two of the most memorable weeks in recent political history.  Buckle up.