OCTOBER 21, 2016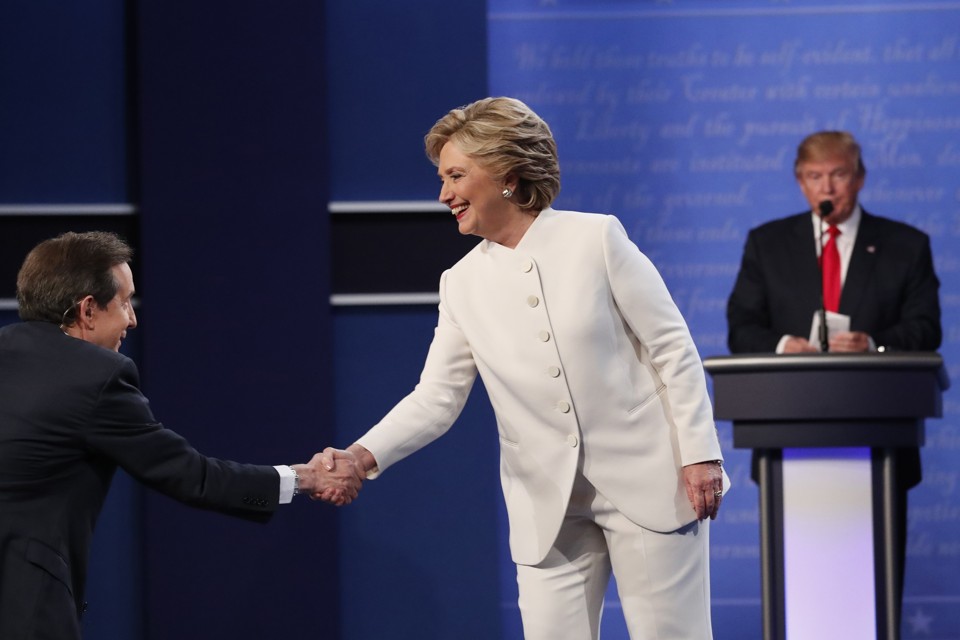 That whrrring noise you heard all over cable news on Thursday morning was the sound of Donald Trump surrogates spinning their wheels trying to create a believable justification for their candidate's disastrous statement during Wednesday's final Presidential debate that he would not pledge to accept the results of the election should he lose on November 8.
If your early-morning drinking game phrase was "What Mr. Trump meant to say…," you'd be sloshed before the end of "Good Morning America."  What arguments could his surrogates possibly come up with to justify his violating one of the most sacred tenets of American democracy?
Their first tactic was to say that Trump's statement that the election was "rigged" did not refer to "widespread voter fraud" (another myth), despite hours and hours of videotape proving otherwise.
When that didn't work, they moved onto the idea that the word "rigged" was really referring to the media trying to throw the election to Hillary Clinton, which would be fine except for the miles of clips showing Trump blaming "widespread voter fraud."  Next.
Tactic #3 was basically a whiny "Well, Al Gore did it too in 2000!"  Presidential historians were quickly dispatched to explain that one had nothing to do with the other.  In 2000, Gore was leading in the nationwide popular vote, and the only state left unresolved was Florida, where the vote count was so close that it mandated an automatic recount.  Gore held off until the recount was complete and the Supreme Court declared George W. Bush the winner, whereupon Gore conceded immediately.
That's very different than charging that the entire electoral process is rigged and that you would not pledge to accept the results of the election.  With their arguments shot to bits, the surrogates somehow disappeared before lunchtime, leaving the explanations to the candidate himself.
And when you leave it up to Donald Trump to make things right, you're in trouble.
After a morning filled with urgings from Republican leaders to accept the election results, Trump, at a Ohio rally said that he had a major announcement.  Finally, many thought, he had come to his senses.
"I would like to promise and pledge to all of my voters and supporters and to all of the people of the United States that I will totally accept the results of this great and historic presidential election…[long pause]…IF I WIN!"
It's a joke to him.  He's treating his key rejection of a fundamental principle of American democracy as some sort of sick teaser for a big reveal somewhere down the line.  It's not about the party.  It's not even about the country.  It's only about Trump.
Trump had one final chance to make matters better (if not right) on Thursday night at the 71st annual Al Smith dinner, an event benefiting charities supported by the Catholic Church.  A very high-society, white-tie affair held at New York's Waldorf-Astoria Hotel, the dinner, named after the nation's first Catholic nominee for President, regularly attracts high-level political types, but in a tradition that happens every four years, the Presidential candidates from both major parties also attend the dinner to gently gibe each other from the dais.
If you had any doubt about the civilized nature of the evening, just You Tube the Obama/McCain dinner from 2008 and the Obama/Romney dinner from 2012.  While Obama had the expert timing of a professional comic even then, both McCain and Romney were absolutely charming and very funny.  The key is to tell a few self-deprecating jokes, land a few soft gibes against ones opponent and then sit the hell down, leaving the audience with the impression that, at the end of the day, everybody gets along in politics.
Clinton appears to have gotten the memo.  She joked about taking a break from her "rigorous nap schedule" to attend, and had a laugh at Trump citing how, to most of us the State of Liberty" is a beacon of freedom, but to Trump, "she's a 4."
Trump, however, appears not to have gotten the memo.  Since "self-deprecating" is not a part of his vocabulary, he made a few jokes about other people, then began to lay into Clinton, saying she's so corrupt that she got kicked off of the Watergate Commission.  The laughter in the room pretty much stopped there.  But as he does every time, Trump dug the hole even deeper, observing that, to Clinton, "it's vital to deceive the people by having one public policy and a totally different policy in private."
Then the boos and catcalls began.
Trump, not used to hearing boos and catcalls, went into full attack mode against Clinton:  "Here she is tonight, in public, pretending not to hate Catholics."
At that the boos escalated, and Clinton and Timothy Cardinal Dolan of the Archdiocese of New York simply watched as the first Presidential candidate in the dinner's history got booed off the stage.  As in the final debate on Wednesday night, Trump took an opportunity that could help stop the political freefall in which his campaign finds itself, and again he threw it away with both hands.
Trump has had a shitstorm of a week (entirely of his own doing), but it's not over yet.  There's still the weekend to go.