DECEMBER 23, 2016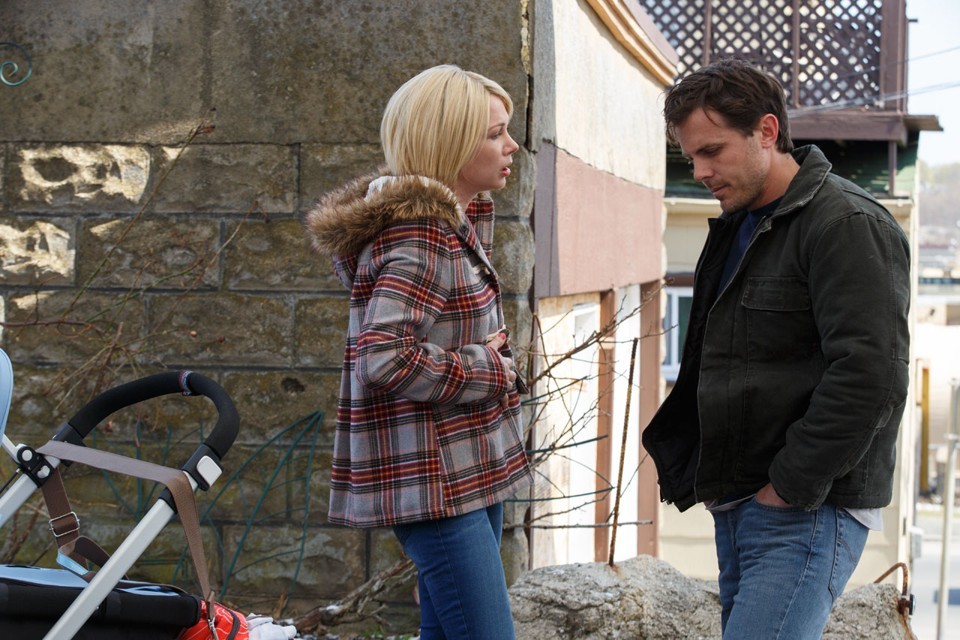 Every morning, Lee Chandler (Casey Affleck) wakes up in his subterranean flat in Quincy, MA to spend his day shoveling sidewalks & scrubbing toilets in his job as a janitor, while his nights are spent drinking and instigating bar fights.  No wonder Lee is depressed.  Matters only get worse when he learns that his brother Joe (Kyle Chandler) has just had a heart attack, and Lee must quickly return to his home town of Manchester-by-the-Sea to be by his brother's side.
Upon arriving in town, Lee is shocked and saddened to learn that Joe died while he was on his way to the hospital.  But a bigger shock soon comes Lee's way when he learns that Joe has designated him to be the legal guardian of his 16 year-old nephew Patrick (Lucas Hedges, who's an amazing find).  Lee wants no part of guardianship, and Patrick, whose high-school experience has been a breeze up to now, feels that the less he has to do with his uncle, the better.
That was the moment where I momentarily began to worry about "Manchester by the Sea."  You could probably predict the kind of story that a lesser film would follow — uncle butts heads with his headstrong nephew, who runs off on his own and finally gets tracked down by sullen uncle.  They fight, but then realize that, hey, they're family.  Hugs.  The end.  Ugh.  We've seen that set-up a hundred times before.
But then I remembered that I was absorbing a script written by Kenneth Lonergan.
Lonergan, one of the most esteemed playwrights of our generation, began dabbling in movies some time ago, co-writing such hits as "Analyze This" and Scorsese's "Gangs of New York."  His first film as a writer/director was "You Can Count on Me," a drama about an uneasy reunion between a sister (Laura Linney, who garnered an Oscar nomination for the role) and brother (Mark Ruffalo, in the part that put him on the map).
His second and most controversial film, "Margaret," was the one that cemented my admiration for Lonergan's writing.  That risky film about the aftermath of a New York traffic accident started shooting in 2005 and was supposed to be released in 2007, but a legal argument about final cut kept "Margaret" from being released until 2011, when Fox Searchlight Pictures dumped the film in a few theaters and wrote it off as a flop.  Meanwhile, critical debate about the merits of the film went on for months afterward, with some critics loathing it and others (the more insightful ones) hailing it as a masterpiece.  (You won't be surprised to learn that I'm definitely in the "masterpiece" camp.)
So that when Lonergan faced the "sullen uncle vs. headstrong nephew" crossroads in "Manchester," he once again declined the easy way out and had the artistry to take the film in an entirely unexpected direction.
Enter Michelle Williams.
To this point, there has been an undercurrent of disdain for Lee after his return to Manchester — lots of "Is that THE Lee Chandler?" murmured about (and not in a good way), which might explain Patrick's reluctance to be linked to his uncle.  That mystery comes to a head with the appearance of Lee's ex-wife Vicki (Williams) at Joe's funeral and the aftermath of the tragic truth behind their divorce.  Though only in a few scenes, Williams makes an indelible impression, helping to ground the finale, and her short but sensational performance would have to be considered Oscar-worthy.
But acting-wise, "Manchester" belongs to Casey Affleck as Lee.  It's an extremely interior performance that normally may not have garnered much attention.  But as to the truths that Lonergan has given Lee to express draw us into Affleck's character, and the actor holds back just enough to make us want to know more, a brilliant choice.
In a holiday season filled with bright shiny tentpole distractions, please give "Manchester by the Sea" a shot.  Faithful readers might have noticed that I'm a very stingy critic with the A grades — there always seems to be something off in even the best films.  But look below.  "Manchester by the Sea" is definitely an A and worthy of your moviegoing dollar.
GRADE:  A