DECEMBER 13, 2016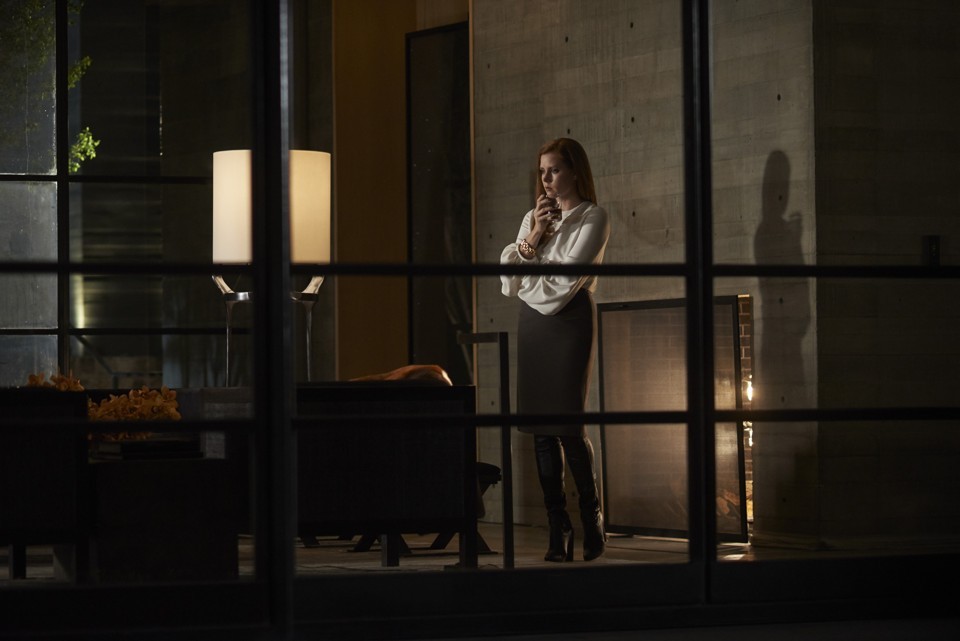 It's just not fair.
You're Tom Ford, one of the most famous fashion designers in the world, with your own fabulously successful clothing line.  You're a style icon, forever showing up in impeccably-tailored tuxedos, with perfect stubble and aviator sunglasses.  You have a handsome husband, adorable child and homes in Los Angeles, London and Santa Fe.
And you get to write, produce and direct movies.
It's just not fair.
To be honest, he's quite good at that directing business, too.  (Must he do everything well?)
His first film, 2009's "A Single Man," based on a novel by Christopher Isherwood, focused on a gay English college professor living in Southern California in the early 1960s.  As one would expect from Tom Ford, "A Single Man" had style for days, but what was a revelation in Ford's direction was his work with actors, particularly Colin Firth, who, under Ford's direction, nabbed an Oscar nomination for Best Actor.
It's been seven years since "A Single Man," and there was much speculation among film fans that there might not be a second film from Ford.  That doubt was erased at this September's Venice Film Festival when "Nocturnal Animals" appeared and promptly won the Golden Lion, the festival's grand prize.  With that win, word spread that the new film might equal or even surpass the quality of  "A Single Man."
No such luck.
Which is not to say that Ford isn't ambitious in "Nocturnal Animals," juggling several stories in several different timelines that makes my head hurt just thinking about it.  The question then becomes "Does Ford's way of telling the story help the audience understand it better, or does he get in his own way?"
"Nocturnal Animals" opens just the way you might expect a Tom Ford film to begin — except, of course, for the opening credits where several very obese older women dance naked on pedestals while they wave sparklers.  Other than that…
Lonely L.A. gallery owner Susan Morrow (Amy Adams, spectacularly dressed, naturally) wanders through her cold glass-and-stone mansion alone, now that her philandering husband Hutton (Armie Hammer) is getting ready to go yet again on another "business trip."  Suddenly, Susan is handed an unexpected package — the galleys of a new novel, dedicated to her, written by her ex-husband Edward Sheffield (a clean-shaven Jake Gyllenhaal).
As Susan slips into her bed (and later her bath) with her ex-husband's novel, our story shifts from Susan to the story told in the actual novel she's reading, and the tone couldn't be more different.
Edward's literary protagonist is named Tony Hastings (played this time by Bearded Jake) who is driving his wife Laura (Amy Adams look-alike Isla Fisher) and teenage daughter India (Ellie Bamber) across West Texas late at night when they get stopped and hassled by a hillbilly thug — Ray Marcus (Aaron Taylor-Johnson) — and his two henchmen.  After mocking for Tony for being "weak," — a charge that was once lodged in real life by Susan's society mother against Edward — Ray and his goons abduct a screaming Laura & India and take them away to rape and murder them.
From this point on, Edward's story becomes a kind of backwoods version of "Death Wish" with Tony seeking revenge and/or justice with the help of dying detective Bobby Andes (Michael Shannon, as usual the best thing about the movie).  As the novel's story comes to its predictably bloody conclusion, the question arises as to what this story has to do with Susan, and why Edward comes out of nowhere to give it to her to read.
OK, both real-life Edward and fictionalized Tony suffer for being called weak.  But why tell this particular story, which seems to have nothing to do with their lives, and why direct it at Susan?
Throughout the film, Susan makes vague references to something awful that she had done to Edward before she left him for Hutton.  (When the finally reveals the secret…yeah, it's pretty horrible.)  Is the novel supposed to dramatize the feeling of loss that Edward must have felt when Susan turned on him?  Who knows?  Who cares?  By the end of "Nocturnal Animals," I certainly didn't.
Ford's skill with actors is a little less successful here compared with "A Single Man."  Susan and Edward/Tony are characters who are almost totally reactive, thereby giving Adams and Gyllenhaal less flexibility, so there's little opportunity for them to provide the character details that they're both so adept at.  That leaves the bulk of the acting opportunities to Shannon and to Johnson (who scored a surprise Golden Globe nomination for Best Supporting Actor as the head thug, a rare acting nod for a bad guy role), and who both score despite the shortcomings of the script.
I can certainly see the appeal of glamorous movie stars in a psychological thriller.  But if you're looking for the thrill of experiencing stars performing at the top of their game, "Nocturnal Animals" is not the one to check out.  Go see Amy Adams in "Arrival" instead.
GRADE: C+