DECEMBER 12, 2016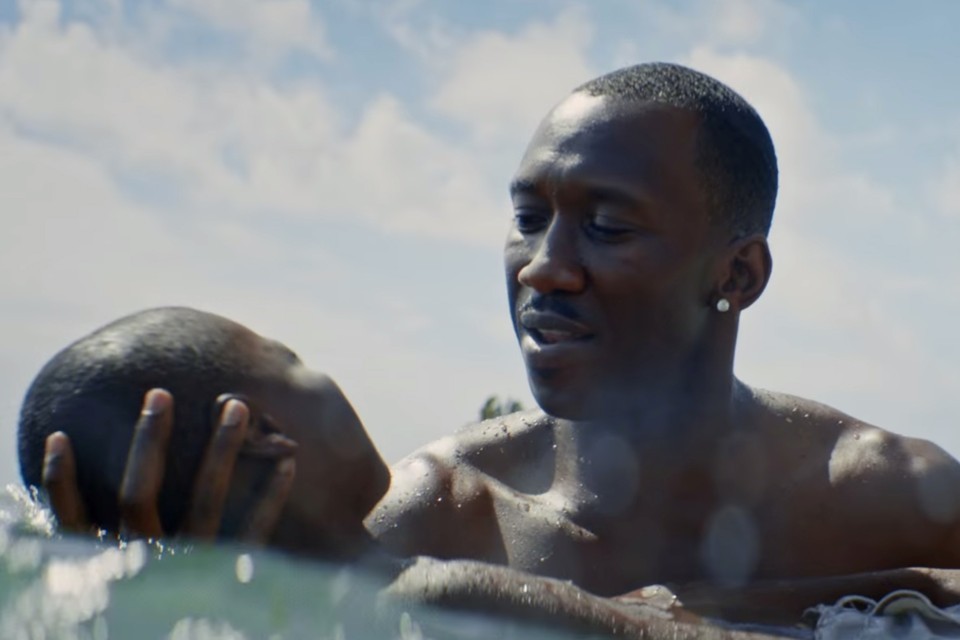 "Moonlight" is the kind of great film that doesn't announce itself at the door as a Great Film.  It sneaks up on you quietly, and just when you're ready to give up on it as an overpraised mess,  you realize the enormity of the mosaic that writer/director Barry Jenkins has put together with all the story tiles that he has provided.  And the picture of a life that he has drawn is mighty impressive.
Jenkins' film, based on Tarell Alvin McCraney's play, "In Moonlight Black Boys Look Blue," is like no other movie that I've seen this year.  Unlike stories that grab you by the lapels and drag you away on their journeys, "Moonlight" takes a very different route.
"Moonlight" is the story of the first 20 or so years of the life of a gay black youth in Miami named Chiron who struggles through poverty and homophobia to try to make a decent life for himself.
Unlike Richard Linklater's "Boyhood" where that director followed the same young actor for 12 years, Jenkins has chosen to cast three different young actors to portray Chiron at three different stages of his life, and even though the three young actors look nothing alike, there is a stillness about Chiron that they all manage to capture in what sometimes feels like one seamless performance.
Let's set the stage.
It's afternoon in one of the African-American communities in Miami and, as it happens every day, a small shy boy named Chiron (Alex Hibbert in Act 1) finds himself evading bullies en route home and must hide out in an abandoned tenement for safety.  He is rescued by a drug dealer named Juan (Mahershala Ali, who is likely to win the Oscar for this performance), and immediately we fear the worst.  "How is Juan going to exploit Chiron or otherwise make his life miserable?" is the question that immediately comes to mind.
And one of the great surprises of "Moonlight" is that Juan and his girlfriend Teresa (Grammy nominee Janelle Monáe) not only do not exploit the young man but manage to give him the kind of parental love that Chiron desperately needs, as he otherwise must come home to his abusive crack-addicted mother Paula (a powerful Naomie Harris, who was nominated for a Golden Globe on Monday for her performance).
The only other brightness in Chiron's life is his relationship with his best friend Kevin (Jaden Piner in Act 1) with whom Chiron first began to explores his gay sexuality.  (The film is pretty frank about sexuality, even among younger kids.)  It's a relationship that stays with Chiron throughout the length of the film.
Act 2 is Chiron's high-school years, and they are, not surprisingly, pretty brutal, particularly when Kevin (now Jharrel Jerome) who has to undergo a hazing ritual from the school bully Terrel (Patrick Decile), who demands that Kevin beat the crap out of his best friend, Chiron (now Ashton Sanders).  The pain on the faces of Kevin (who desperately wants to avoid doing this) and Chiron (willing to be the sacrificial lamb so that his friend can survive bullying in school) is absolutely heartbreaking.  Anyone who has undergone any kind of bullying themselves will relate to Chiron's situation, and Jenkins nails the pain of Kevin's dilemma magnificently.
I'll leave the third act for you to discover, but it concludes Chiron's story with an emotional wallop.  It's not so much through action — through there's always the threat of violence just around the corner — but instead largely through the power of dialogue, in which Jenkins truly excels.
Given the rave reviews that "Moonlight" has received, I was a little surprised when the film began so slowly, but when the whole picture of Chiron the person began to become come together, my impatience disappeared, and I realized that I wasn't being told a story.  Instead, I was being shown a life.
Lives like Chiron's are rarely depicted onscreen these days, and while it's a pleasure to see it, it's a revelation to see it done so well.
GRADE: A-