FEBRUARY 2, 2017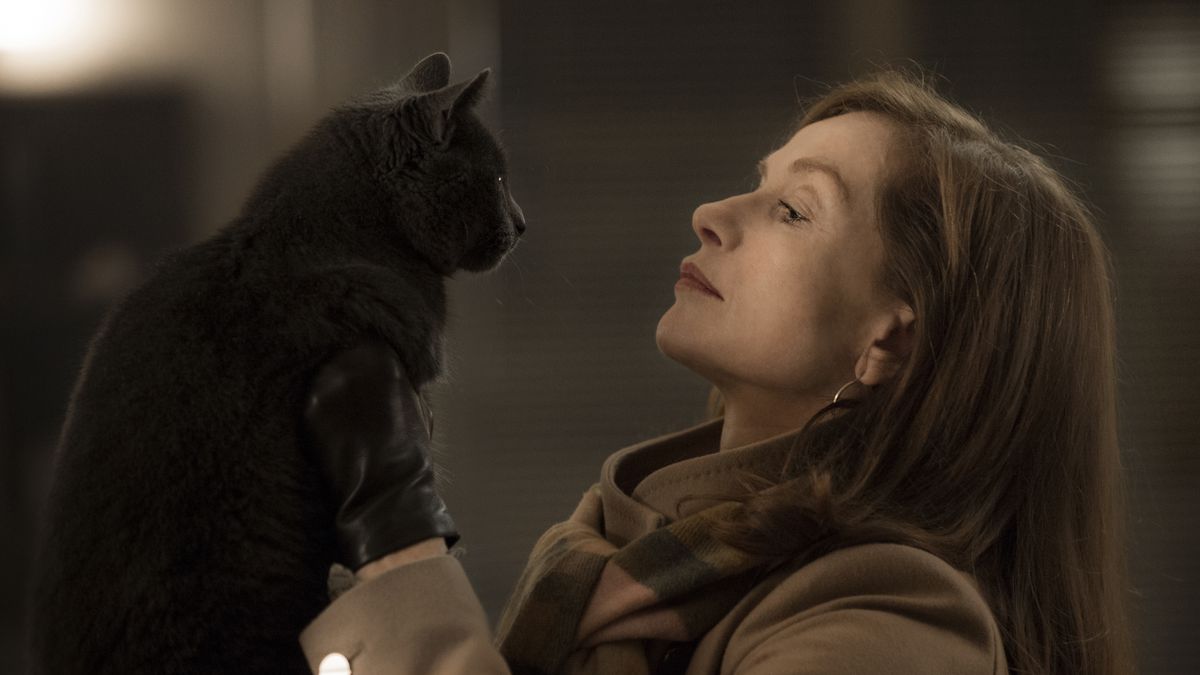 Don't let the nice lady with the kitty cat fool you.  She is a woman with whom you do not want to mess.
In fact, that kitty cat is our way into the world of "Elle," in which the feline looks on in the very first scene as we can hear the cat's owner Michèle Leblanc (Best Actress Oscar nominee Isabelle Huppert) being brutally raped on a sunny French afternoon.  As her black-clad assailant flees, Michèle staggers to her feet, sweeps up the broken glassware, tosses her soiled dress into the trash and orders takeout.
Huh?  Wha…?  Watching these scenes unfold, I thought that "Elle" was either one of the most insensitive depictions of rape that I'd ever seen onscreen or a wickedly perceptive satire of French mores.  Turns out, it's a little bit of both.
We quickly find out that Michèle is a fairly complicated woman.  As the hard-as-nails boss of a small-time video-game company, she is constantly pushing her disgruntled staff to up the ante of sex and violence in their gaming content.  (The ironies are just getting started here.)  At the same time, she's having an affair with her best friend's husband, her spineless son is being bullied by his pregnant girlfriend, she's being spied on by her ex-husband, her mother is still addicted to botox and gigolos, and Michèle is beginning to have eyes for her handsome neighbor Patrick (Laurent Lafitte) who's stuck with a holy roller of a wife.
As I said, Michèle is pretty complicated.  Then her rapist returns, and matters begin to get really twisted.
Written by David Birke from the novel "Oh…" by Philippe Dijan, "Elle" is the first French-language film directed by Paul Verhoven, who has made a few twisted films himself, including "Total Recall," "Basic Instinct" and the classic "Showgirls," so he knows the territory well.  Primarily known as an action director in such films as "RoboCop," Verehoven has often displayed a cheeky side, lacing in humor even while the bullets are flying.
Though a bit on the long side, "Elle" is structured as a classic rape revenge story, and anyone taking on the role of Michèle would have to walk a very fine line between emotional drama and dark dark comedy, a challenge that would require a great actress.
Fortunately for Verhoven, he cast an extraordinary one.
If you were among the many Americans who woke up to the Oscar nominations and asked "Isabelle WHO?," you'll never ask that again after seeing her performance in "Elle."  Regarded by many film critics as the greatest film actress now working, she has often been called "the French Meryl Streep," which is quite a compliment to Ms. Streep.
One hallmark of Huppert's acting is its fearlessness.  If "Elle" was simply a rape revenge movie, with her character limited to an "I'm going to get back at that guy" storyline, any number of fine actresses could handle that role in their sleep.
However, where Birke's script and Verhoven's direction take the character of Michèle would give any film star pause and cause them to think twice about accepting the role.  Huppert, however, dives in with both feet with a commitment to the part that is the only way that audiences might accept that Michèle is actually doing what she's doing.  (There, is that enough of a tease?)
Winner of more Best Actress awards (including this year's Golden Globe) than any of her Oscar competition, it really won't matter if she wins the big prize later this month.  Though she was clearly giddy when she won the Globe last month, I suspect that Huppert is the kind of actress for whom the work is the prize.  And in "Elle," she has created a singular character who will be remembered by film fans for decades to come.
GRADE: B+