FEBRUARY 15, 2017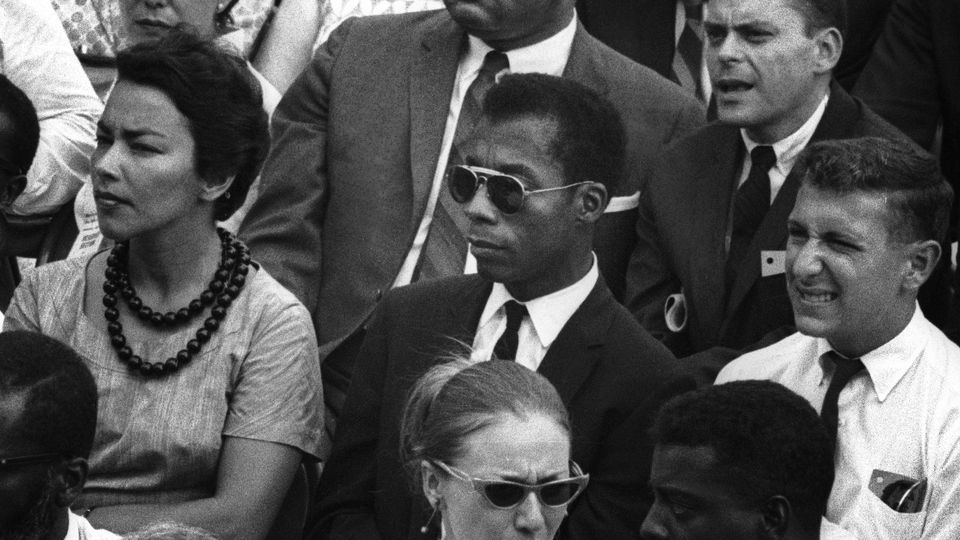 I envy any moviegoer who sees writer James Baldwin on screen for the very first time.  The esteemed writer had a presence when speaking before a crowd or on late-night television that was unlike anyone I had seen before or since.  (And students, after finishing this review, you are obligated to You Tube episodes of "The Dick Cavett Show" to see how powerful late-night television was and could still be.)
But it was the thought and perceptiveness of his writing that made Baldwin so arresting.  So what director Raoul Peck has done in his Oscar-nominated documentary on Baldwin, "I Am Not Your Negro," is to remove all outside commentary and instead fill the soundtrack with Baldwin's own words, either from the subject himself or via readings from his writings, spoken by a virtually unidentifiable Samuel L. Jackson.
Though he spent his early life in Harlem, Baldwin saw what was happening to both black and gay people in America, and, being both, he became an exile and moved to Paris when he was 24.  Aiming to distance himself from being just "a Negro writer" or "a homosexual writer," Baldwin did some of his best work in France, including "Go Tell It On the Mountain" and "Notes of a Native Son," to become a major literary figure  worldwide.  But in 1957, seeing his fellow African-Americans put their neck on the line to fight the battle for civil rights, Baldwin just knew that he had to go back home to join the movement.
This is where "I Am Not Your Negro" picks up, as Baldwin returns and soon becomes an erudite spokesman for the civil rights movement.  In doing so, Baldwin begins to cross paths with Malcolm X, Medgar Evers and Rev. Dr. Martin Luther King Jr. and became a first-hand witness to how their distinct approaches to black liberation helped to shape the movement's progress.
In 1979, Baldwin wrote his agent with a proposal for a book to be called "Remember This House" which he would chronicle his relationships with Medgar, Malcolm and Martin.  However, Baldwin had written only 30 pages in the book before he died.  In one way, "I Am Not Your Negro" might be seen as a way for Peck to finish it.
The idea of simply pairing Baldwin's (and Jackson's) voices to historical is a bold one, and the juxtaposition of both often adds an extra dimension to the words being spoken.  Peck also brings present-day footage such as violent clashes with police in Ferguson to prove that the struggle continues on to this day.  Baldwin was not a lollipops and rainbows kind of guy when looking the chances of full equality for black Americans — his pieces were often a sober reflections of the challenges ahead, and his picture was not always rosy.
At times, however, Peck's melding of word with image in the film is too on the nose, and his handling of the differences between black and white culture of the period seems a bit clumsy, as with Peck's decision to mock Doris Day coming off as cruel and personal.
My only serious gripe with the film is in the treatment of Baldwin's sexuality, which is only suggested here once in passing.  When he was living in Paris, where he wrote some of his most important works where sexuality is at the center, being gay wasn't a big deal, though it was an important part of who he was.  But returning to the U.S. and joining a civil rights movement that owed much of its base to anti-gay churches was a little more difficult.  (Dr. King himself wrote of homosexuality that it was a mental illness that the individual himself could overcome.)
Sadly, two of the most important African-Americans in the movement — Baldwin and Bayard Rustin, who was the architect for the legendary March on Washington — were gay, yet when the history books were written on the movement, they (and their key contributions) were largely shunted off to the side.  That's a movie that should be made, and it's sad that "I Am Not Your Negro" barely touches the subject.
Still, there is so much eye-opening material in "I Am Not Your Negro" that the film performs a service to audiences who know little about the time or, more importantly, know little about the man.
GRADE: B