MARCH 7, 2017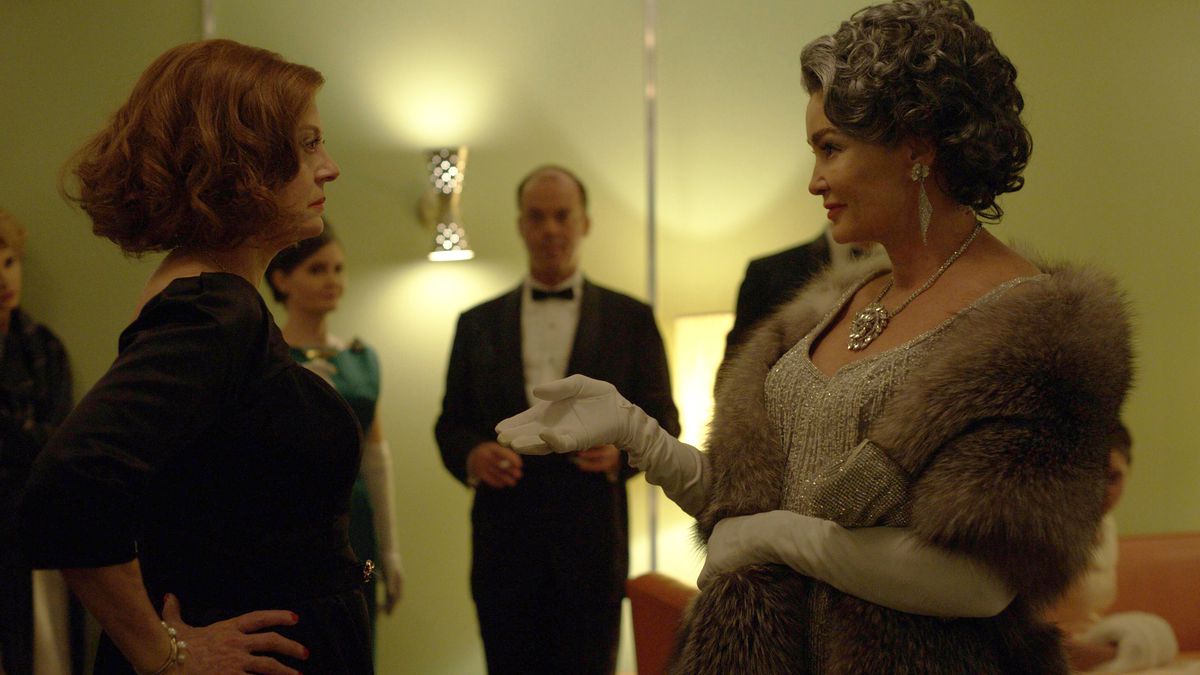 TVs in gay bars all over America were likely turned to FX on Sunday night for the premiere of Ryan Murphy's latest all-star extravaganza, "Feud: Bette and Joan," which chronicles the legendary rivalry between fading screen legends Bette Davis and Joan Crawford on the set of director Robert Aldrich's 1962 horror classic "What Ever Happened to Baby Jane?"
"Baby Jane" is one of the few movies that is simultaneously a critically respected film and at the same time, a camp classic.  My best guess as to why gay filmgoers in particular have embraced "Baby Jane" over the years is that the film pairs two strong iconic actresses in an extreme situation that exaggerates the public personae that made them both stars.  Countless Bette Davis impersonators have made good money spoofing Davis' line readings to her wheelchair-bound sister in the film ("But y'are Blanche, y'are in that chair!").
But if bar patrons were expecting "Feud" to be a similar campfest, they probably came away sorely disappointed.  Because the series, created by out TV mogul Ryan Murphy, has a lot more than just camp on its mind — the series premiere uses the filming of "Baby Jane" to tackle head-on the issue of disposability of women of a certain age in the work force, a situation that still has resonance even today.
No one can accuse Murphy of not walking the walk as well as talking the talk on this issue.  With his series "American Horror Story," "Scream Queens" and "American Crime Story: The People vs. O.J. Simpson," Murphy has brought to television such stellar actresses over 40 as Jessica Lange, Kathy Bates, Angela Bassett, Sarah Paulson, Jamie Lee Curtis and in "Feud," such Murphy newcomers as Susan Sarandon, Catherine Zeta-Jones and Judy Davis.
More than just casting older actresses, however, Murphy provides them with big meaty roles that they can sink their teeth into and display the acting chops that made them stars.  And he has certainly done it again in "Feud."
It's the early 1960s, and finding herself working less and less, Crawford (Lange) comes upon a novel entitled "What Ever Happened to Baby Jane?" which she believes could be the comeback vehicle for which she has been desperately looking.  But she realizes that the only actress of her generation that could get the picture green-lit is her nemesis, Bette Davis (Sarandon), who is having difficulty finding roles herself.  Murphy's script gives the story (and both characters) a real spine — Crawford, the glamorous movie star, is desperate for respect for her acting from Davis, who can't offer a compliment without adding a backhanded swipe.
Neither Lange nor Sarandon attempt an impersonation of the stars they portray, since both clearly still look like themselves.  Instead each manage successfully to capture the essence of those stars, a much smarter move, and one which makes "Feud" feel like less of a stunt.  The pilot episode is very Crawford-heavy, so Lange's work is the one you are likely to remember most, but Sarandon has Davis down cold and will likely get to shine in future episodes.  Murphy has also given a big chewy role as gossip columnist Hedda Hopper to Judy Davis, who steals every scene she's in and plants her marker as an early favorite for this year's Emmy for Supporting Actress in a Drama Series.
Murphy also gives strong material to the men in the cast, particularly the vastly underrated Alfred Molina (as Aldrich) who plays it quiet, and Stanley Tucci who does not but is a hoot (and when is Tucci not a hoot?) as larger-than-life studio boss Jack Warner.
My only qualm about "Feud" is whether there's quite enough story there to sustain eight episodes.  But with a cast like this, you could bring out the phone book, and I'd be hanging on their every word.
GRADE: B+