APRIL 25, 2017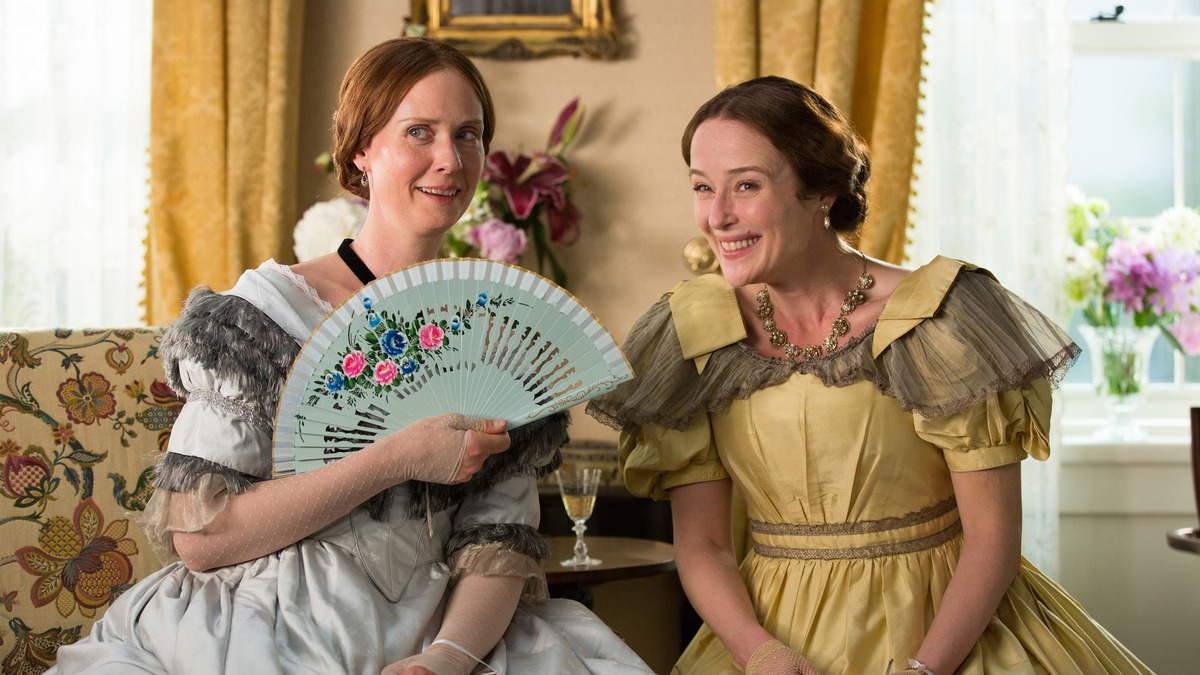 The question might be asked:  do we really need an Emily Dickinson film?
If that film is Terence Davies' "A Quiet Passion," the answer is definitely yes.
You could certainly be forgiven if you thought the film would be simply a conventional biography of a withdrawn poet who rarely left her family's Amherst home so that she can write in peace.  And the film's poster doesn't help much, as it's simply an image of a prim Emily posing as if for a portrait.  Yawn.
But onscreen, "A Quiet Passion" is warm, approachable and surprisingly funny.  (Bet you didn't expect that.)  And that tone is largely due to Davies, the film's writer/director.
Not only is Terence Davies one of the finest directors working today to come out of the U.K., but he is one of the finest gay directors working in the world.  In particular, his two autobiographical films — "Distant Voices, Still Lives" (1988) and what to me is his masterpiece, "The Long Day Closes" (1992) — really spoke to me personally in a way that few films have.
Davies grew up as a boy in an industrial city, as did I.  He was Catholic. (check)  He was gay. (check)  And he loved to escape the world around him by going to the movies. (double check)  It was a strange feeling, but those films marked the first time in my moviegoing life that I could watch the screen and say "That's me up there."
Of course, you can't make just autobiographical remembrances of your childhood and expect to have a career, so Davies then turned to adapting literary works to the screen that featured strong female characters.  And Davies has made a string of them — "The House of Mirth" with Gillian Anderson and Rachel Weisz in "The Deep Blue Sea" are probably the best known — and now we have "A Quiet Passion" with the extraordinary Cynthia Nixon.
When we first meet young Emily (played at this point by Emma Bell, who's terrific), she is introduced as an outspoken student at Mt. Holyoke College who, though possessing a strong sense of faith, couldn't give a whit about organized religion so she retreats to her family home in Amherst, MA.  The years pass, depicted in a stunningly visual scene in which each family member sits down to be photographed.  One by one, they morph into what they look like years later when the story resumes.  For example, the family patriarch Edward (Keith Carradine) barely changes, while Emily begins as Bell and gradually blossoms into Nixon, who takes over from there.
Nixon brings a biting wit to Emily, which gives a lightness to the film's first hour that is totally unexpected.  When I say it's funny, I don't mean it's knee-slapping "Tootsie" kind of funny.  But if you find yourself laughing and wondering whether that's an appropriate response in a poet's biopic, believe me, it's more than appropriate.
Not so much in the second half of "A Quiet Passion," as the tone darkens and death begins to envelop the Dickinson family.  The wit with which Emily delighted others is suddenly turned against them, keeping anyone who wants to help at arm's length as she becomes more and more reclusive.
If you're wondering whether the extraordinary Dickinson poetry is present, worry not — it's there and read with emotion by Nixon.  If it seems like I've been a bit skimpy about discussing the plot, it's because the most memorable moments in "A Quiet Passion" are just that — moments — whether it be Davies' powerful visuals, solid work by a strong ensemble cast, or even just a glance between characters that can speak volumes.
And then there's Cynthia Nixon.  Her work here is among her finest ever and would certainly have to be considered among the year's best to date.  I would be tempted to say that "A Quiet Passion" is Cynthia Nixon's show, except it's not.
It's Terence Davies'.
GRADE: B+