APRIL 20, 2017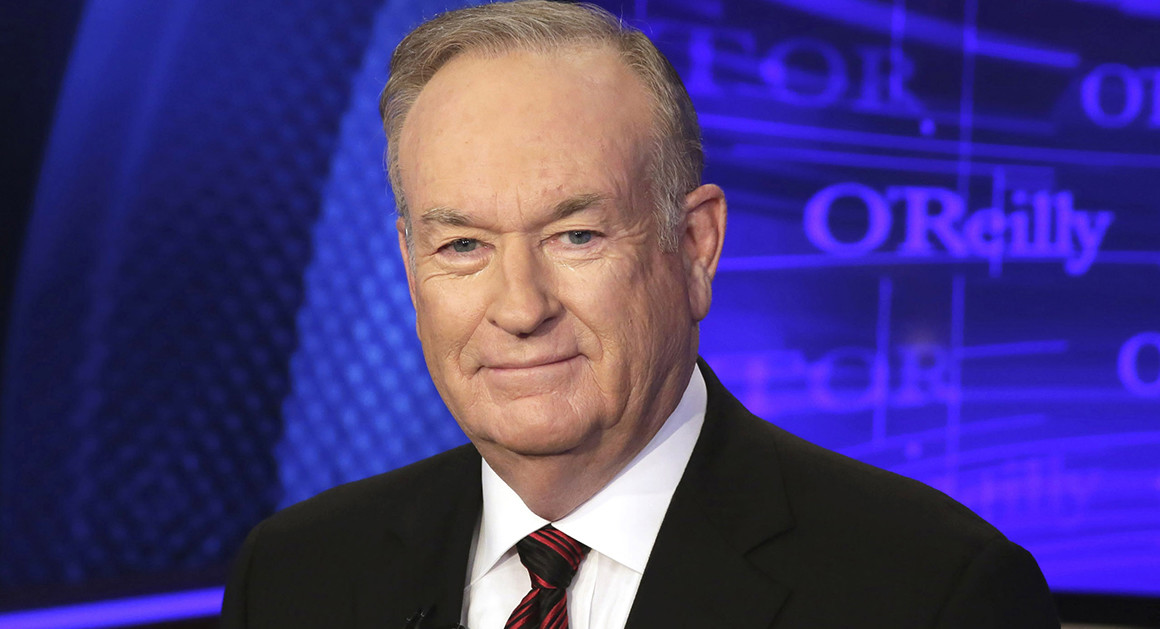 Photo: AP
Finally.
After years of making excuses for the star of its highest-rated show, Fox News finally fired Bill O'Reilly on Wednesday after pressure became too much following years of accusations that O'Reilly had sexually harassed a large number of female employees at Fox News Channel.
From his point of view, O'Reilly, knowing that his job was on the line, still went on a pre-scheduled vacation to Italy, a trip that O'Reilly tried to turn it a contest ("Where in the word is Bill O'Reilly?"  Who cares?) but when he returns to the U.S., it won't be as the host of "The O'Reilly Factor," cable television's highest-rated news show.
As of Thursday, as many as six women have filed sexual harassment suits against O'Reilly, with more reportedly waiting in the wings.  After 21st Century Fox announced that, after a "thorough and careful review," O'Reilly and Fox News will part ways after Fox has paid more then $13 million in settlements to women whom O'Reilly has allegedly harassed, and more than 50 companies have already pulled their ads from "The O'Reilly Factor."
Fox News is not doing anything noble here.  Bill O'Reilly is a sleazebag to whom Fox News turned a blind eye for years because he was making the company a boatload of money — $178 million in ad revenue in 2015 alone.  Those women who were courageous enough to complain about O'Reilly's activities were usually shown the door, quietly of course.
O'Reilly is certainly not alone as a serial abuser at Fox News.  Former Fox chairman and CEO Roger Ailes, for example, resigned after former Fox News anchor Gretchen Carlson accused him of harassment and agreed to a reported $20 million settlement.
O'Reilly's legal troubles tied to his abuse of women stretch back as far as 2004 when he was famously sued for harassment by Fox News producer Andrea Mackris.  Sit back and enjoy these bits of O'Reilly-isms from the legal transcript:
So anyway I'd be rubbing your big boobs and getting your nipples hard, kinda' kissing your neck from behind… and then I would take the other hand with the falafel [sic] thing and I'd put it on your pussy but you'd have to do it really light, just kind of a tease business….
Wait a minute.  A falafel?  That really is messy.  (It was later disclosed that he really meant "loofah."  Those Middle East terms really confuse Bill-O.)  But this is the kind of guy we're dealing with here.
These reports of harassment have followed O'Reilly for years, but the final straw came on April 1 when The New York Times published a piece chronicling O'Reilly's history of abusing women, which O'Reilly dismissed (playing the victim as always) as the price he must pay for being a celebrity in the limelight.  (Note to Bill:  Much as I loathe him, Sean Hannity, who is almost as celebrated and controversial as you are, has never had a whiff of harassment scandal around him, so no, it does not come with the territory.)
So O'Reilly is finally gone from Fox News, which doesn't necessarily mean that we will be rid of him.  There will likely be some kind of "poor me" tour as he promotes his best-selling "Killing…" series of best-sellers (no great contribution to Western literature there).  But at least we will be spared his "no spin zone" every night.
Don't let the door hit you in the ass on your way out, Bill-O.