APRIL 19, 2017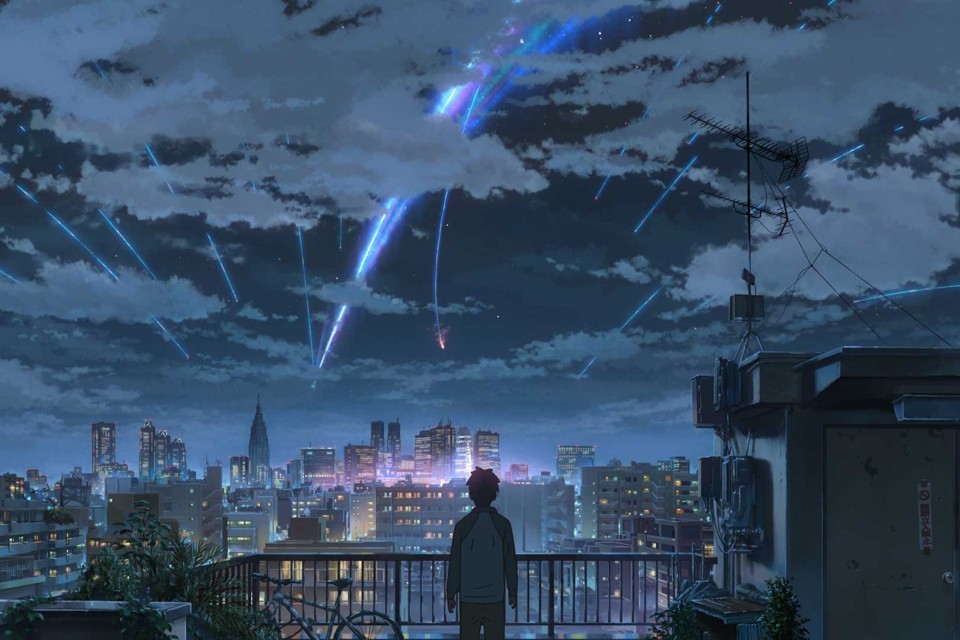 Continuing our look at the hidden gems that April brings to the nation's movie screens, let's turn to top Japanese anime director Makoto Shinkai's "Your Name."  (note the punctuation)
It's likely that you've never heard of "Your Name." but hopefully its current release in U.S. theaters will change that.  Even before its American release, "Your Name." has grossed more than $328 million (you read that right) around the world and has broken box-office records in country after country.  While it's doubtful that the film will reach the same stratospheric heights in the U.S. (America, with the exception of fanboys, has never really warmed to anime), "Your Name." must be considered as one of the more significant releases of the year.
"Your Name." begins as a variation of the classic Disney film "Freaky Friday," in which a mother and a daughter find that they have switched bodies, and each experiences what life is like for the other.  It's a durable story, first made in 1976 with Barbara Harris and Jodie Foster, then remade as a TV movie in 1995 with Shelley Long and Gaby Hoffman and as a feature in 2003 with Jamie Lee Curtis and Lindsay Lohan.
Enough movie geek stuff.  Let's get to "Your Name."  Here we have Mitsuha, a schoolgirl in Itomori, a small town by a picturesque bay.  She's happy, but she knows that there's much more out there for her and wishes that she was a boy (with all of his possibilities in Japanese culture) in Tokyo.  Hundreds of miles away, Taki, a high school student in Tokyo, wakes up to find that he has switched bodies with Mitsuha.  There's a lot of "Oh my God, I've got boobs" jokes as you would expect, but frankly at first, after hearing about how good "Your Name." was from the international film festival circuit, I was a little disappointed that the film was merely a body-switching story.
I needn't have worried.
[SPOILERS AHEAD]
Once the two body-switchers come to understand their situation, they begin to leave each other notes as to what is now going on in each other's lives.  But here's where the cosmic element comes into "Your Name."
There's a comet heading into the general direction of Earth that suddenly splits off and its meteor is heading straight for Itomori.   Mitsuha isn't necessarily upset about it, but Taki realizes that he and Mitsuha are on different timelines and the comet will be crashing into Mitsuha's town the next day, so he needs to jump through time in order to warn her.
The effort by both Taki and Mitsuha to look out for one another inevitably leads to a very long-distance romance, and with Taki knowing that Mitsuha is about to die, he tries everything to find her and warn her.
Let's just say it.  Shinkai's visuals in "Your Name." are absolutely gorgeous.  The film is being released around the U.S. in a dubbed and an original-language version, and while I usually prefer the original-language version, I'd highly recommend the dubbed version here because the visuals are so beautiful that looking down for the subtitles will only diminish your experience of enjoying it.
"Your Name.," which won the Los Angeles Film Critics' Award for the Best Animated Film of 2016 (over "Zootopia" and "The Red Turtle"!!), is, despite its slow start, a major achievement in the animated field, and, while you're waiting for "Guardians of the Galaxy 2" in three weeks, you could do far far worse that giving "Your Name." a try.
GRADE: B+