JUNE 12, 2017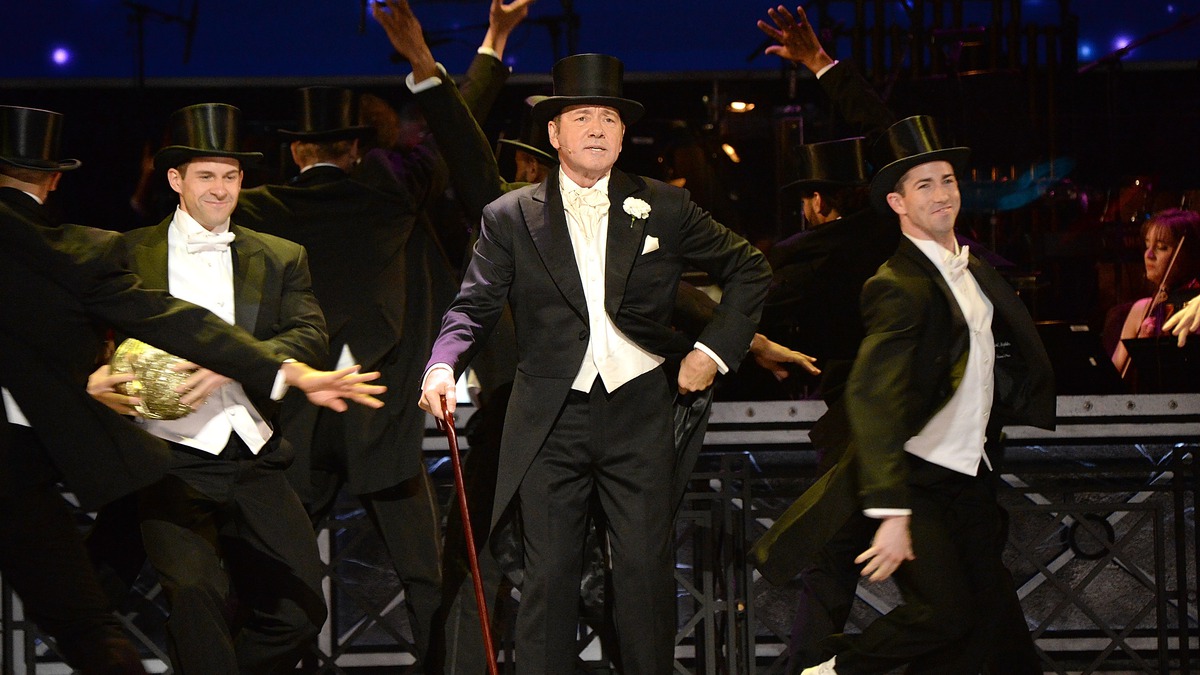 Photo: CBS
It was quite an innovative year on Broadway, but you'd never know from Sunday night's telecast of the "71st Annual Tony Awards" on CBS.
Hosted by former Tony winner Kevin Spacey (who was reportedly the 15th person to whom the producers offered the hosting gig), the show lacked the spark and pathos of other recent Tony telecasts, particularly last year's edition with James Corden (also a former Tony winner and an enthusiastic cheerleader for Broadway) delivering a smashing job as host, as well as having the excitement of the "Hamilton" phenomenon while at the same time maneuvering an extremely delicate challenge of setting the right tone on that night since, less than 24 hours prior, 49 people were massacred at the gay nightclub Pulse in Orlando.  (Corden nailed just the right tone beautifully.)
For his part, Spacey faced no such obstacle and, by and large, did an OK job.  His opening number spoofing several of this year's nominated musicals generated a few solid laughs, but it also included two (count 'em, two!) jokes about the closet and coming out.  Kevin, if you want to announce that you're gay, just come out or stay in the closet.  But using that "is-he-or-isn't he?" as a running cutesy schtick is getting really tiresome.
The producers had Spacey lean on his impressive skills of impersonation, but the stars he chose to imitate were less than inspired choices.  Bill Clinton?  Spacey does Clinton well, but he's not exactly timely.  But Johnny Carson?  Really?  I would wager that half the audience has never even seen Carson on television.  Some new material is definitely in order.
Let's get to the good stuff — who won.  This year there was no grand sweep a la "Hamilton" last year, and the awards were distributed fairly evenly.  "Dear Evan Hansen," the teen musical about the aftereffects of a student's suicide, took home 6 Tonys in all, including the big prize, Best Musical, as well as Best Actor for its star, Ben Platt.  "Natasha, Pierre & The Great Comet of 1812," which led all shows in number of nominations with 12, walked away with just 2 technical Tonys, and "Come From Away," the feel-good 9/11 musical (I can't believe I'm typing that phrase) scored a big upset over "Evan Hansen" and "The Great Comet" in the Best Director category.  The fourth nominee, "Groundhog Day" based on the Bill Murray movie, got skunked.
Among musical revivals, "Hello Dolly" dominated as the best revival as well as in acting categories, with Tonys for star Bette Midler and supporting actor Gavin Creel.  As Midler, who was given a special Tony in 1974 but never won a competitive one, received her Best Actress award, she began to thank a list of names and the orchestra started to play her off.  No, no, one does not interrupt Miss Midler during an acceptance speech, and she gave the orchestra leader the stinkeye and warned them to "shut that crap off."  The orchestra obeyed.
On the new play side, the Tony went to "Oslo," the sprawling three-hour dramatization of the 1991 Oslo Peace Accords between Israel and the PLO in 1993, and Best Play Revival was won by "August Wilson's Jitney," the only drama in his 10-play cycle never to receive a prior Broadway production.  Lead acting winners included Emmy-winner Laurie Metcalf ("A Doll's House, Part 2"), Oscar-winner Kevin Kline ("Present Laughter"), and in supporting categories, Emmy-winner Cynthia Nixon ("Lillian Hellman's The Little Foxes") and in an upset over favored Danny DeVito, Michael Aronov for "Oslo."
One more word about the Best Play category.  The Tonys have always had a problem dealing with drama — they can't be presented in a big production number the way musicals can, but the Tonys want to be fair.  This year, they found a very good alternative — asking the playwrights themselves to stand center-stage to explain their own personal feelings about the play that they wrote.  It was involving and made me want to see the plays even more — it's the one terrific innovation for which the 2017 Tonys may be best be remembered.
A new season is about to start, and I'm excited already,  In the meantime, here are this year's winners:
Best Play:
"Oslo" (WINNER)
"A Doll's House, Part 2"
"Indecent"
"Sweat"
Best Musical:
"Dear Evan Hansen" (WINNER)
"Come From Away"
"Groundhog Day The Musical"
"Natasha, Pierre & The Great Comet of 1812"
 Best Book of a Musical:
"Dear Evan Hansen" — Steven Levenson (WINNER)
"Come From Away" — Irene Sankoff and David Hein
"Groundhog Day The Musical" — Danny Rubin
"Natasha, Pierre & The Great Comet of 1812" — Dave Malloy
Best Original Score:
"Dear Evan Hansen" — Music & Lyrics: Benj Pasek & Justin Paul (WINNER)
"Come From Away" — Music & Lyrics: Irene Sankoff and David Hein
"Groundhog Day The Musical" — Music & Lyrics: Tim Minchin
"Natasha, Pierre & The Great Comet of 1812" — Music & Lyrics: Dave Malloy
Best Revival of a Play:
"August Wilson's Jitney" (WINNER)
"Lillian Hellman's The Little Foxes"
"Present Laughter"
"Six Degrees of Separation"
Best Revival of a Musical:
"Hello, Dolly!" (WINNER)
"Falsettos"
"Miss Saigon"
Best Performance by an Actor in a Leading Role in a Play:
Kevin Kline, "Present Laughter" (WINNER)
Denis Arndt, "Heisenberg"
Chris Cooper, "A Doll's House, Part 2"
Corey Hawkins, "Six Degrees of Separation"
Jefferson Mays, "Oslo"
Best Performance by an Actress in a Leading Role in a Play:
Laurie Metcalf, "A Doll's House, Part 2" (WINNER)
Cate Blanchett, "The Present"
Jennifer Ehle, "Oslo"
Sally Field, "The Glass Menagerie"
Laura Linney, "Lillian Hellman's The Little Foxes"
Best Performance by an Actor in a Leading Role in a Musical:
Ben Platt, "Dear Evan Hansen"(WINNER)
Christian Borle, "Falsettos"
Josh Groban, "Natasha, Pierre & The Great Comet of 1812"
Andy Karl, "Groundhog Day The Musical"
David Hyde Pierce, "Hello, Dolly!"
Best Performance by an Actress in a Leading Role in a Musical:
Bette Midler, "Hello, Dolly!" (WINNER)
Denee Benton, "Natasha, Pierre & The Great Comet of 1812"
Christine Ebersole, "War Paint"
Patti LuPone, "War Paint"
Eva Noblezada, "Miss Saigon"
Best Performance by an Actor in a Featured Role in a Play:
Michael Aronov, "Oslo" (WINNER)
Danny DeVito, "Arthur Miller's The Price"
Nathan Lane, "The Front Page"
Richard Thomas, "Lillian Hellman's The Little Foxes"
John Douglas Thompson, "August Wilson's Jitney"
Best Performance by an Actress in a Featured Role in a Play:
Cynthia Nixon, "Lillian Hellman's The Little Foxes" (WINNER)
Johanna Day, "Sweat"
Jayne Houdyshell, "A Doll's House, Part 2"
Condola Rashad, "A Doll's House, Part 2"
Michelle Wilson, "Sweat"
Best Performance by an Actor in a Featured Role in a Musical:
Gavin Creel, "Hello, Dolly!" (WINNER)
Mike Faist, "Dear Evan Hansen"
Andrew Rannells, "Falsettos"
Lucas Steele, "Natasha, Pierre & The Great Comet of 1812"
Brandon Uranowitz, "Falsettos"
Best Performance by an Actress in a Featured Role in a Musical:
Rachel Bay Jones, "Dear Evan Hansen" (WINNER)
Kate Baldwin, "Hello, Dolly!"
Stephanie J. Block, "Falsettos"
Jenn Colella, "Come From Away"
Mary Beth Peil, "Anastasia"
Best Scenic Design of a Play:
Nigel Hook, "The Play That Goes Wrong" (WINNER)
David Gallo, "August Wilson's Jitney"
Douglas W. Schmidt, "The Front Page"
Michael Yeargan, "Oslo"
Best Scenic Design of a Musical:
Mimi Lien, "Natasha, Pierre & The Great Comet of 1812" (WINNER)
Rob Howell, "Groundhog Day The Musical"
David Korins, "War Paint"
Santo Loquasto, "Hello, Dolly!"
Best Costume Design of a Play:
Jane Greenwood, "Lillian Hellman's The Little Foxes" (WINNER)
Susan Hilferty, "Present Laughter"
Toni-Leslie James, "August Wilson's Jitney"
David Zinn, "A Doll's House, Part 2"
Best Costume Design of a Musical:
Santo Loquasto, "Hello, Dolly!" (WINNER)
Linda Cho, "Anastasia"
Paloma Young, "Natasha, Pierre & The Great Comet of 1812"
Catherine Zuber, "War Paint"
Best Lighting Design of a Play:
Christopher Akerlind, "Indecent" (WINNER)
Jane Cox, "August Wilson's Jitney"
Donald Holder, "Oslo"
Jennifer Tipton, "A Doll's House, Part 2"
Best Lighting Design of a Musical:
Bradley King, "Natasha, Pierre & The Great Comet of 1812" (WINNER)
Howell Binkley, "Come From Away"
Natasha Katz, "Hello, Dolly!"
Japhy Weideman, "Dear Evan Hansen"
 Best Direction of a Play:
Rebecca Taichman, "Indecent" (WINNER)
Sam Gold, "A Doll's House, Part 2"
Ruben Santiago-Hudson, "August Wilson's Jitney"
Bartlett Sher, "Oslo"
Daniel Sullivan, "Lillian Hellman's The Little Foxes"
Best Direction of a Musical:
Christopher Ashley, "Come From Away" (WINNER)
Rachel Chavkin, "Natasha, Pierre & The Great Comet of 1812"
Michael Greif, "Dear Evan Hansen"
Matthew Warchus, "Groundhog Day The Musical"
Jerry Zaks, "Hello, Dolly!"
Best Choreography:
Andy Blankenbuehler, "Bandstand" (WINNER)
Peter Darling and Ellen Kane, "Groundhog Day The Musical"
Kelly Devine, "Come From Away"
Denis Jones, "Holiday Inn, The New Irving Berlin Musical"
Sam Pinkleton, "Natasha, Pierre & The Great Comet of 1812"
Best Orchestrations:
Alex Lacamoire, "Dear Evan Hansen" (WINNER)
Bill Elliott and Greg Anthony Rassen, "Bandstand"
Larry Hochman, "Hello, Dolly!"
Dave Malloy, "Natasha, Pierre & The Great Comet of 1812"