OCTOBER 23, 2017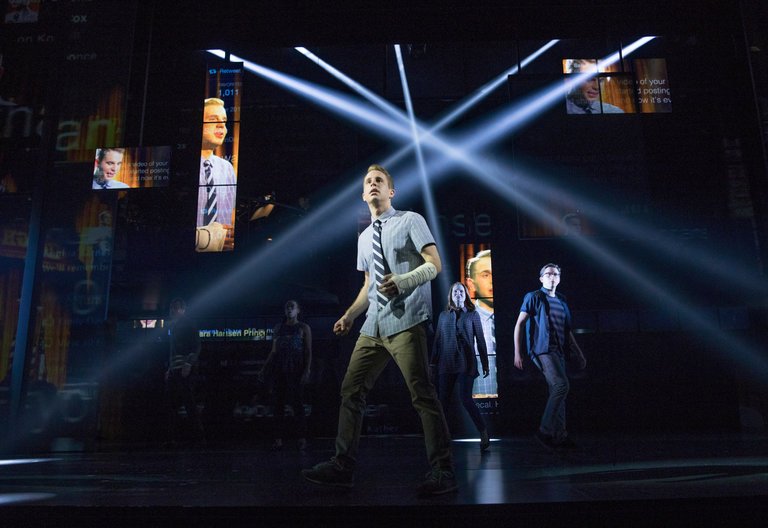 Photo: The New York Times
When I saw "Dear Evan Hansen" a week or so ago at New York's Music Box Theater, I did something I've never before done at a Broadway musical.
I wept.
No, not one of those "single tear forming at the end of an emotional curtain call you can easily sweep away and claim that there's something in your eye" kind of crying.  It was shoulder-shaking kind of weeping.
As we worked our way up the aisle at the show's conclusion, I asked my husband to excuse me, and I went into a corner of the lobby to cry my eyes out.
Now I will fully own up to being a softie, but my husband gets emotional as well, and the show didn't work for him at all.  That night at dinner, he asked me what it was about the show that set me off so emotionally.  I've given it a lot of thought over the past few days, and I think I know, but it's very wrapped up in the story.
I want to be careful about spoilers, because "Dear Evan Hansen," which won this year's Tony Award for Best Musical, is that rare bird, an original Broadway musical, whose story will likely come as a surprise to its audiences.  Evan is an impossibly shy 17 year-old high school student, whose social skills are virtually zero.  (Whenever anyone friendly says hi, Evan responds with such nervous word salad that it sends the person fleeing in the other direction.)
After an urging from his loving mom Heidi (Tony winner Rachel Bay Jones), Evan sees a therapist who suggests that Evan write himself a letter every day beginning with the words "Dear Evan Hansen," and emphasizing what a good person he is and what a good friend he can be.
Unfortunately one day at school, Evan's daily letter is intercepted by the class bully Connor Murphy (Colton Ryan at my performance), who laughs at the letter's sentiment and after knocking Evan to the ground, stuffs the letter in his pocket and walks away.  Connor is just as much a social outcast as Evan, but his response is to boost his own self-esteem by stepping on those whom he perceives as weaker than he is.
The next day, Connor's body is found, having killed himself sometime after he left school.  His classmates are stunned, and Evan is surprised when he is visited by Connor's grieving parents.  His mother Cynthia (Garrett Long at my performance) is clutching the "Dear Evan Hansen" letter found on Connor's body, believing that Connor wrote it to his "good friend" Evan and desperate to confirm that her troubled, lonely son had someone in his life whom he liked.
Evan is tempted to tell the parents the truth, but, seeing how it would crush Cynthia's raised hopes, decides to tell a little white lie and confirm that they were indeed friends.  When pressed for further details about where they hung out, Evan begins to construct a whole friendship based on lies.  Evan considers himself to have done a good thing by comforting the family, and the fact that it raises his social standing at school and brings him in closer proximity to Connor's sister Zoe (Laura Dreyfuss) on whom he has a crush, makes it a win/win/win, right?
Then it all goes horribly wrong.
The production is visually stunning, with director Michael Greif staging the action simply while video screens of scrolling social media loom ominously overhead.  The Tony-winning original score by Benj Pasek and Justin Paul (who also won Oscars this year for their work on "La La Land") at first sounds like easy-listening pop but whose lyrics contain the brace of suffering and pain.  And I blame my lobby breakdown entirely on Steven Levenson's Tony-winning book.
The cast, even the alternates, were powerful across the board.  As Evan, Ben Platt, who has become the focus of most of the show's publicity, is in his final weeks on Broadway and no longer does matinees, so we saw his alternate, Michael Lee Brown, who was just electrifying.
As to the question as to why I reacted as emotionally as I did to the show, I think it was initially identifying with being an outsider who, in wanting to help someone else, stretches (or ignores) the truth to try to say something comforting.  But knowing that you've sinned still eats away a bit inside you.  And at the end, there's that wonderful possibility of unquestioning forgiveness, and that's what put me over the top.  (Have you guessed yet that I'm a lapsed Catholic?)  But even if you're no longer of the faith, don't let this one pass you by.
GRADE: A