OCTOBER 16, 2017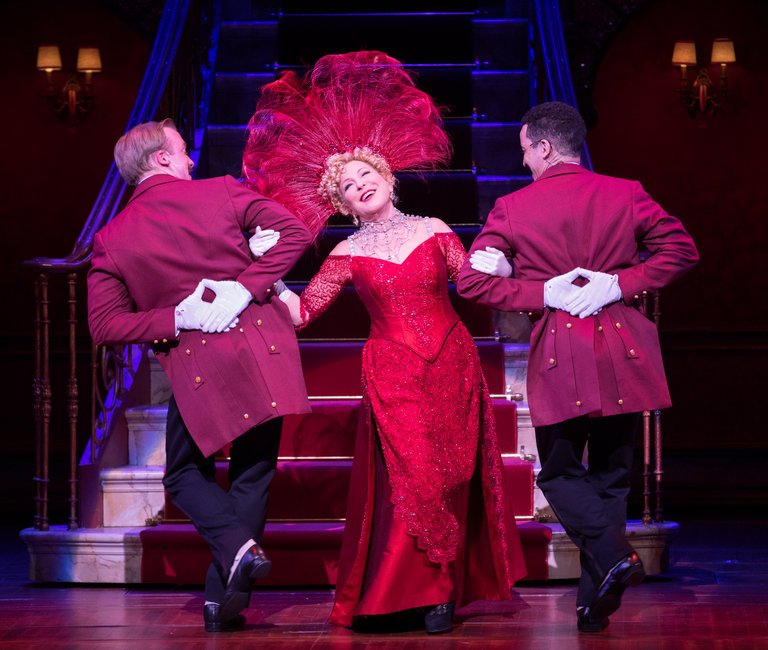 Photo: The New York Times
Among my New York friends, the big question this spring was "Have you seen Bette?"  Understandable given the frenzy that accompanied the the return of Bette Midler to the Broadway stage in a book musical.  It has been almost 50 years since the Divine Miss M first appeared in "Fiddler on the Roof" on Broadway, so the excitement upon her return to the Great White Way was palpable.
Her Broadway return is with "Hello, Dolly!," the Carol Channing warhorse that first premiered 53 years ago and is so identified with Channing that few actresses have dared to take it on.  So naturally it would take someone like Midler to step up to the plate.  She destroys the old Carol Channing template and completely makes it her own (so now the show will likely be known as that old Bette Midler warhorse).
The story, based on Thornton Wilder's "The Matchmaker," follows Dolly Gallagher Levi (Midler) who, after the death of her husband Ephram, vows to bring together her single friends in holy matrimony.  On Dolly's part, she has her own matrimonial eye on hay & feed magnate and well-known grump Horace Vandergelder (David Hyde Pierce).
I had heard that Midler's Dolly was a tough ticket to snare, but I hadn't realized just how tough until I got on the ground last week in New York.  (I was told by a reliable source that a single ticket was going for as high as $2,000!)  Luckily, I got my ticket last spring for less than 1/10th of that, but that meant, to afford it, I had to dine on ramen for most of the summer. (As if.)
Forget all the backstory.  Is this production really that good?
Midler's "Hello, Dolly!" is 2 1/2 hours of sheer theatrical bliss.  If you're a Midler fan as I am (I waited in line 6 hours in a New York winter years ago for tickets to her "Clams on the Half Shell" revue), you probably know just the performance you want her to give, and that's exactly what she provides for you and more.  OK, her upper vocal register isn't what it was once, but she's 71  — cut her some slack! — and what she does vocally in her lower registers is so wonderfully expressive that you don't miss the higher notes.  Plus, as always, she's funny as hell.
Part of the reason for the ticket frenzy in New York is the fact that Midler and Pierce are leaving on January 14.  Their replacements, Tony winner Bernadette Peters (a force of nature in her own right and a great choice) and Tony nominee Victor Garber will do just fine not just because they are great performers but the production that Midler leaves behind is a model of musical comedy excellence, thanks to director Jerry Zaks, probably the premier musical comedy director working today.  The skill Zaks displays as he moves his male chorus around Pierce in a confined space in "It Takes a Woman" or the business of hiding under tables and in closets in a milliner's shop is simply musical comedy brilliance.
Just a word about David Hyde Pierce.  Yes, Midler is getting the lion's share of the publicity and justifiably so.  But the performance that Pierce is giving should not be overlooked.  He takes the best of what Walter Matthau did as Horace in the 1969 film but puts his own twist on it, and the result is just delightful.  Kudos too to Gavin Creel (who won a Tony Award for this performance) as Cornelius and Kate Baldwin (Tony nominee) as milliner Irene Malloy, who is currently Horace's fiancee, whom Dolly steers to Cornelius so that she can have Horace for herself.
I have racked my brain to find something wrong with this production, and as contrary as I normally am, I  just can't.  It is simply classic musical comedy perfection.  So I have no choice.
GRADE: A