NOVEMBER 14, 2017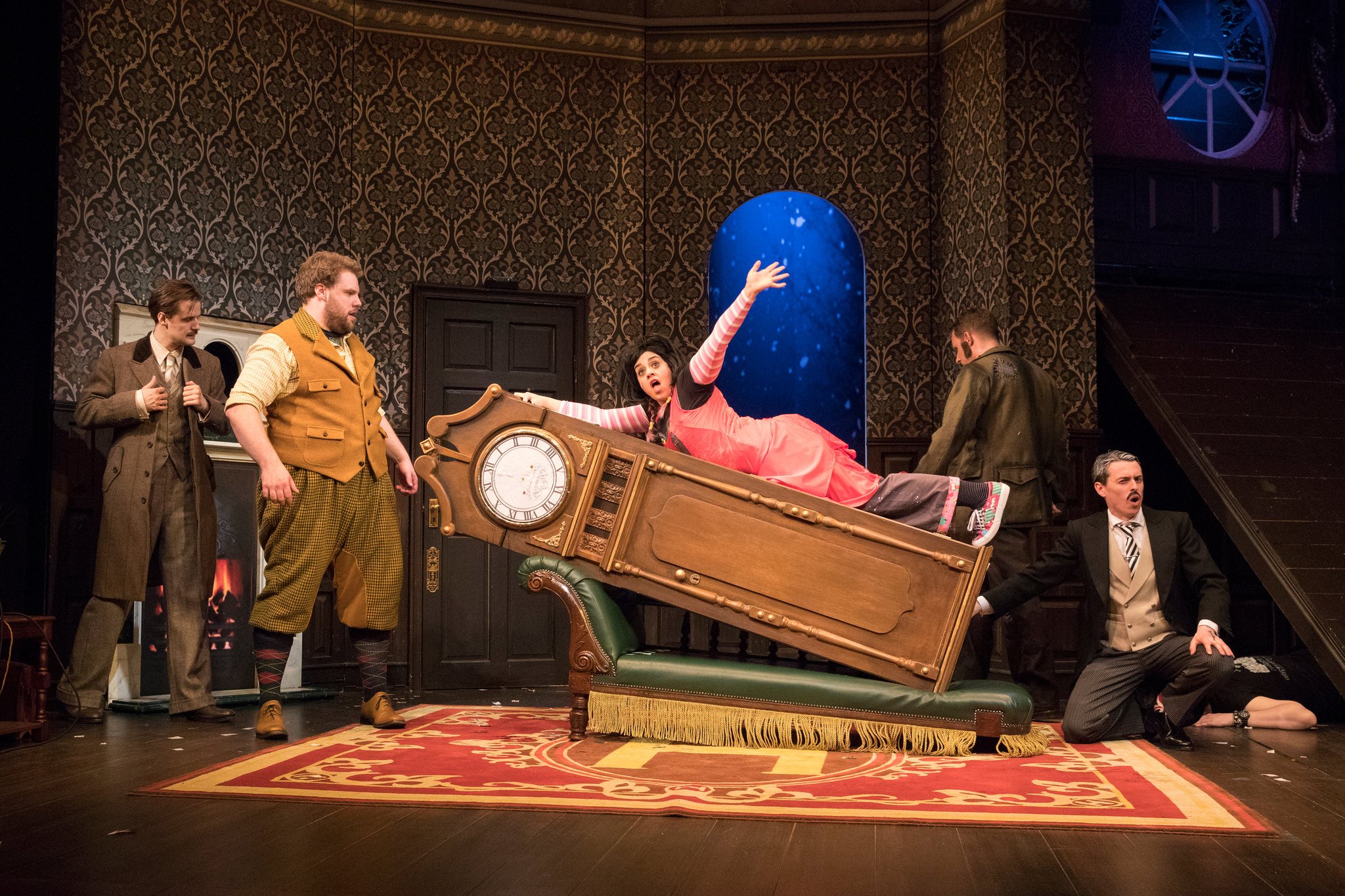 Photo: The New York Times
Let me tell you about a special evening in the Broadway theatre.
It seems that the Cornley University Drama Society has traveled to New York and somehow got a gig on Broadway at the Lyceum Theatre.  It's a lucky thing too, because back in England the drama society has been having some challenges, such as their lack of budget (hence their production of "James and the Peach") and lack of actors to cast  (as seen in their epic production of "The Lion and the Wardrobe" or their summer musical "Cat").
No matter, Chris Bean, drama society president, assures us in a pre-curtain speech, and he is oh so proud to present the group's production of the classic whodunnit, "The Murder at Haversham Manor," which he is quick to announce, is his directorial debut.  So with that, on with the show!
Sorry to say it doesn't begin well.  The play is supposed to start with the murdered corpse, Charles Haversham, lying dead on a fainting couch.  Unfortunately, the lights come up just a little early.  Once in place, the corpse drapes his hand onto the floor just to assure us that he is dead, whereupon every entering character manages to step on his hand, bring the corpse momentarily to life in pain.
And everything goes downhill from there.
For the next two hours, doors get stuck, cues are missed, props are misplaced, actors are knocked cold, and the entire set implodes around itself.  Just another evening in the theatre.
This whole debacle is, of course, hooey, but it's expertly-done hooey in the Olivier Award-winning farce "The Play That Goes Wrong," which more than lives up to its title.  Written by Henry Lewis, Jonathan Sayer and Henry Shields — three members of England's impish Mischief Theatre company — the play is absolutely shameless, which is one of my highest compliments for a farce.  It will do anything for a laugh and is one of those comedies where, if a joke doesn't work, just wait 10 seconds and another will come along, often when you least expect it.
The key to any successful farce is timing, and the split-second direction by Mark Bell here ticks like clockwork.  A talented cast who understands that timing is also necessary, and to ensure that, producers imported the original British cast for the show's opening weeks in the spring to get it off the ground.  Now that it has (it is currently the longest-running play on Broadway), they have since been replaced by an American cast, and happily these actors also understand farce — there isn't a weak link in the bunch.
The entire production is so smart that you're laughing before the on-stage action even begins.  In the traditional cast headshots in the show's poster outside the theater, it includes one of "cast member" Leonardo DiCaprio with the caveat *"does not appear Monday-Sunday."  The cover to the Playbill you're given is deliberately  misprinted, and inside there is a phony Playbill for "Haversham Manor" that includes wildly padded biographies of the whodunnit's cast.
However, be warned:  there are no jokes per se in "The Play That Goes Wrong."  It's two hours of crazed overacting and lots & lots of physical comedy.  If sets collapsing and people getting smacked is not your cup of theatrical tea, avoid this play at all costs.  But, for me at least, sometimes two hours of sheer silliness, especially considering what's going on in the world, is just what I desperately need.
GRADE: B+