MARCH 5, 2018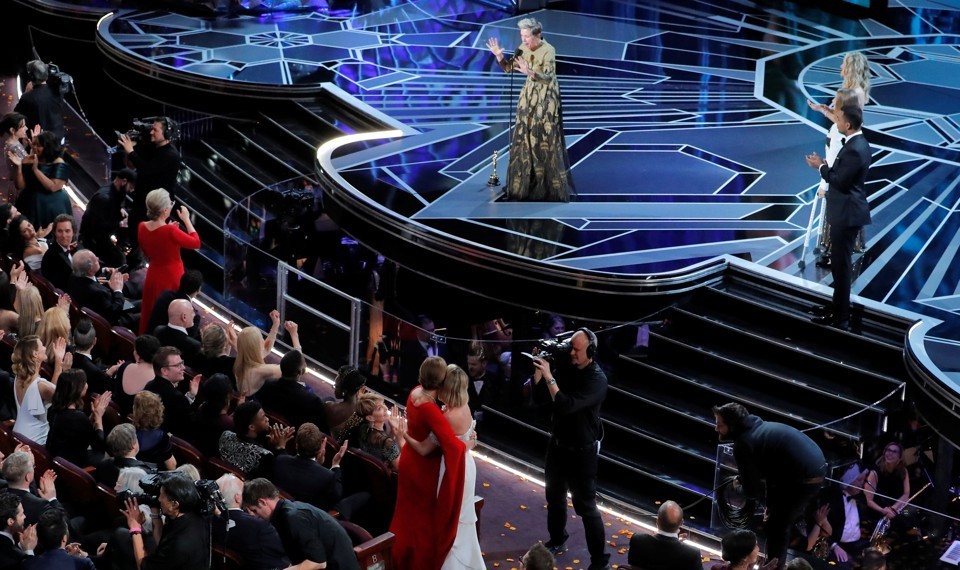 Photo: Reuters
Let's all take a deep breath.  It's over.
The Trump Administration?  Not yet.  I'm talking about an extra-long (delayed by the Winter Olympics) Oscar season that might have seemed even longer were it not for the wide diversity of contenders and a roller-coaster ride in which Best Picture front-runners seemed to change every week.
And now we have our Oscar winners for the 2017 season and a telecast that, despite a few less than stellar moments, usually rose to the occasion during a difficult moment in Hollywood.
Much of that is due to host Jimmy Kimmel, whose impressive host debut last year was marred by the famous Best Picture envelope mix-up, but he came back even stronger this year with a script that that struck a delicate balance between critiques and a respect for the grand traditions of Hollywood.
But I'm getting ahead of myself.  Let's not bury the lead.
"The Shape of Water," Guillermo del Toro's fantasy, a unique blending of 1950s movie elements, from "The Creature From the Black Lagoon" to films by romantic-film director Douglas Sirk, emerged on top, winning four Oscars for the film's detailed production design, its haunting score by Alexandre Desplat, its imaginative direction, and its final win for Best Picture of the Year.
Certainly going into the evening, "The Shape of Water" was one of the favorites, having earned 13 nominations.  However, given the topsy-turvy shifts in momentum that surprised many throughout the Oscar season, "Shape"'s win was anything but a foregone conclusion, however.  After all, it failed to be nominated for the Screen Actors Guild ensemble prize (the last time that happened to a Best Picture winner was 1995's "Braveheart"), and it has also been two decades that a Best Picture had no writing or acting wins.  So it was no shoo-in by any means.
The acting awards, though, were predictable, as each Oscar winner had swept the board in previous award ceremonies.  Best Actor winner Gary Oldman ("Darkest Hour") delivered a fairly pat speech until his final line asking his mum to "put the kettle on" because he's coming home with Oscar.  Best Supporting Actor winner Sam Rockwell ("Three Billboards Outside Ebbing, Missouri") continued to play the likable goof who knows exactly what he's doing.  And Best Supporting Actress Allison Janney ("I, Tonya") threw some much-welcome vinegar into the boilerplate acceptance speech by joking that "I did it all by myself."
But clearly the moment of the evening was given by Best Actress winner Frances McDormand ("Three Billboards Outside Ebbing, Missouri").  After accepting the award, she said those words for which we have been longed to hear: "I've got some things to say," which is cue for buckling up your seatbelt.  After requisite thanks to cast, crew and family, McDormand asked every female nominee in any category to stand up and urged studio executives to look around to see all the women who have their own stories to tell who need financing to tell them.  She left the stage with two words — "inclusion rider" — about which I'm sure that most viewers were simply baffled but was aimed at those women standing.  An "inclusion rider" is a contractual clause to their deals going forward, requiring racial and/or gender equality on movie productions.  Since it was said from the stage of the Oscars, I'm sure we'll be hearing about it again.
That moment was the fitting capper of a very lengthy Oscar ceremony that at times seemed to be walking on eggshells in an attempt to strike the right tone in a Hollywood that has been rocked with issues of diversity and sexual harassment.  Host Jimmy Kimmel trotted out some strong Harvey Weinstein jokes which landed, but it didn't seem to be enough.  When three women — Ashley Judd, Annabella Sciora, Salma Hayek — all of whom were virtually blackballed in the industry for rejecting Weinstein's advances, are brought on as presenters without any context whatsoever, and in the same ceremony, accused rapist Kobe Bryant is awarded an Oscar for a short film he wrote, something seems off.
Here are some more highlights and lowlights of Sunday night's ceremony.
HIGHLIGHT:  Jordan Peele becomes the first African-American to win the Oscar for Best Original Screenplay for "Get Out."
LOWLIGHT:  Please no more interactions of movie stars with the unwashed masses.  Last year, it was a tour bus whose passengers were paraded past the movie stars in attendance as if they were Madame Tussaud's waxworks come to life.  This year, movie stars marched into the theater next door to interrupt a screening of "A Wrinkle in Time" to shoot cannons filled with hot dogs at them.  Please make it stop.
HIGHLIGHT:  Eva Marie Saint and Rita Moreno — national treasures.
HIGHLIGHT:  A shoeless Tiffany Haddish and Maya Rudolph — national treasures to be.  And if Jimmy Kimmel can't return as host next year, please please please consider these two.  The comedy highlight of the entire ceremony.
LOWLIGHT:  The "Remember Me" number.  Star Gael García Bernal began by singing off-key, and the  production number that followed seemed to be straight out of a Disney cruise ship.  Thank goodness the quality of the song from "Coco" rose above it and won the Oscar.
HIGHLIGHT:  The emotion on the face of trans actress Daniela Vega as the film in which she stars, "A Fantastic Woman" (review to come this week), took home the Best Foreign Language Film Oscar.
LOWLIGHT:  Cutting off Sufjan Stevens' beautiful rendition of his nominated song "Mystery of Love" from "Call Me By Your Name" after one verse, when "The Greatest Showman"'s "This Is Me" got a long production number.
HIGHLIGHT:  89 year-old film great James Ivory takes home his first Oscar for scripting "Call Me By Your Name" and becomes the oldest Oscar winner ever.  (Though I wished the announcer had included this achievement in her intro.)
Here are the winners of the 90th Annual Academy Awards:
BEST PICTURE:
"THE SHAPE OF WATER"
BEST DIRECTOR:
GUILLERMO DEL TORO ("THE SHAPE OF WATER")

BEST ACTOR:
GARY OLDMAN ("DARKEST HOUR")

BEST ACTRESS:
FRANCES McDORMAND ("THREE BILLBOARDS OUTSIDE EBBING, MISSOURI")
BEST SUPPORTING ACTOR:
SAM ROCKWELL ("THREE BILLBOARDS OUTSIDE EBBING, MISSOURI")

BEST SUPPORTING ACTRESS:
ALLISON JANNEY ("I, TONYA")
BEST ORIGINAL SCREENPLAY:
"GET OUT"
BEST ADAPTED SCREENPLAY:
"CALL ME BY YOUR NAME"
BEST CINEMATOGRAPHY:
"BLADE RUNNER 2049″
BEST COSTUME DESIGN:
"PHANTOM THREAD"

BEST EDITING:
"DUNKIRK"
BEST MAKEUP AND HAIR:
"DARKEST HOUR"
BEST PRODUCTION DESIGN:
"THE SHAPE OF WATER"
BEST SCORE:
"THE SHAPE OF WATER"

BEST SONG:
"REMEMBER ME" ("COCO")

BEST SOUND EDITING:
"DUNKIRK"

BEST SOUND MIXING:
"DUNKIRK"
BEST VISUAL EFFECTS:
"BLADE RUNNER 2049″
BEST ANIMATED FEATURE:
"COCO"

BEST DOCUMENTARY FEATURE:
"ICARUS"

BEST FOREIGN-LANGUAGE FILM:
"A FANTASTIC WOMAN" (CHILE)
BEST ANIMATED SHORT:
"DEAR BASKETBALL"
BEST DOCUMENTARY SHORT:
"HEAVEN IS A TRAFFIC JAM ON THE 405"

BEST LIVE ACTION SHORT:
"THE SILENT CHILD"