MAY 30, 2018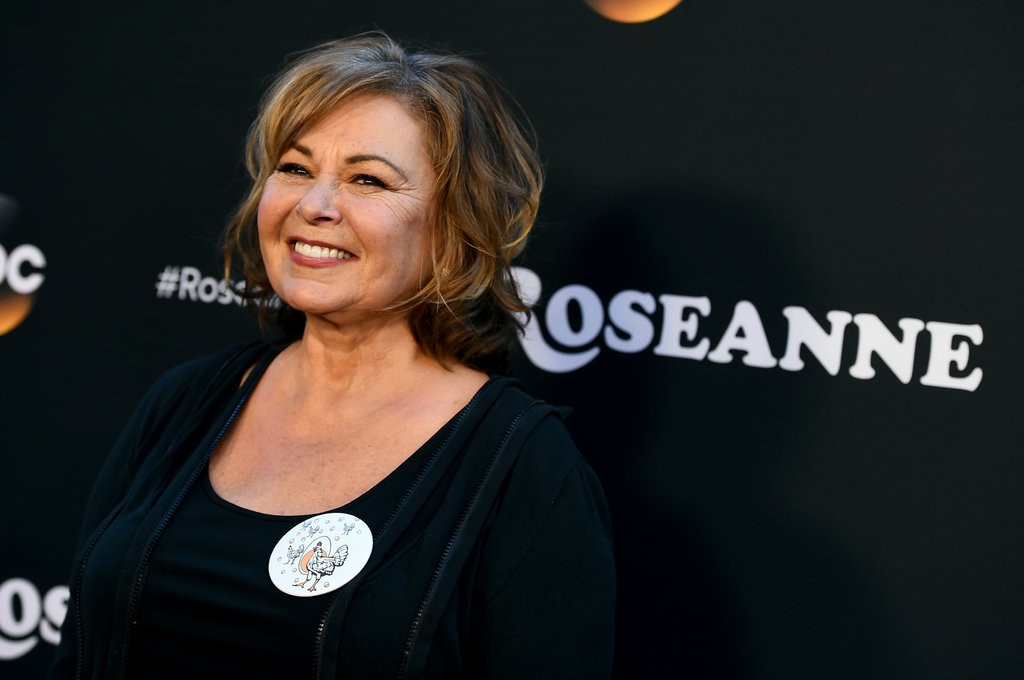 Photo: AP
Yes, ABC should have known what they were getting into.  You lie down with Roseanne Barr, you wake up with racism.
On Tuesday afternoon, ABC canceled its highest-rated series, "Roseanne," several hours after Barr posted a racist tweet that prompted outcry across the country.  The star's Twitter feed has been a bubbling cesspool of right-wing hate for years now, but how vile could a tweet be that would prompt a series cancellation?
Referring to Valerie Jarrett, President Obama's long-time senior adviser and an African-American woman who was born of American parents living in Iran, Barr tweeted this: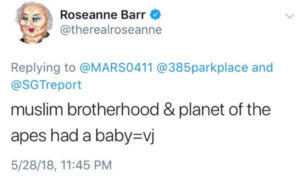 Yikes.
However, unlike other networks that have given its bigoted stars a mere slap on the wrist — I'm thinking of A&E's light handling of "Duck Dynasty's" homophobic Phil Robertson — ABC's actions were swift and definitive.  Mere hours after the Roseanne tweet came to light, ABC canceled the highly-rated series outright and by day's end, scrubbed any mention of Roseanne from the network's website.
Cynics might say that there is nothing noble about ABC's decision, that it was just about the bottom line and avoiding an economic boycott, and all that may be true.  But the fact remains that ABC did the right thing and accomplished it without dithering.  According to The New York Times, the network was expected to earn about $60 million from a second season of "Roseanne," but ABC sacrificed that profit by today's decision.
The swiftness of the network's actions is reflected in the network's cancellation statement, issued by ABC Entertainment Group's president Channing Dungey:
"Roseanne's Twitter statement is abhorrent, repugnant and inconsistent with our values, and we have decided to cancel her show."
Condemnation of Barr's sentiments extended to both sides of the political aisle — in fact, it was even cheered by Bill O'Reilly (!!), who knows a thing or two about scandals:
"@ABC/@Disney could not continue with the show without insulting millions of Americans."
Out actress Sara Gilbert, Barr's co-star and the person most credited with driving the successful series reboot, condemned her co-star's remarks even before the ABC cancellation:
"Roseanne's recent comments about Valerie Jarrett, and so much more, are abhorrent and do not reflect the beliefs of our cast and crew or anyone associated with our show.  I am disappointed in her actions to say the least."
For her part, Valerie Jarrett brushed off Barr's insults, observing on Tuesday night at an MSNBC town hall on racism:
"I think we have to turn it into a teaching moment.  I'm fine. I'm worried about all the people out there who don't have a circle of friends and followers who come right to their defense.  The person who is walking down the street minding their own business and they see somebody cling to their purse or want to cross the street; or every black parent I know who has a boy who has to sit down and have a conversation, 'the talk,' as we call it.  As you say, those ordinary examples of racism that happen every single day."
Still, there are victims of Barr's big yap.  According to industry sources, there are upwards of 200 people who work on "Roseanne" in some capacity, not just John Goodman and Laurie Metcalf, but camerapeople, costumers, sound engineers, makeup artists…people who work show-to-show and paycheck-to-paycheck who never quite know where their next opportunity will come along.  And when they luck into a ratings hit like "Roseanne," one that looked like it could provide solid employment for the next five years, people put down payments on things like houses and cars.
But thanks to Roseanne's racist impulses, all of those people are suddenly out of a job.
Yes, it's a sad day in television, all due to the mouthings of a once-powerful racist.  But a television network, of all institutions, stepped up and did the right thing, and for that we should all be grateful.