MAY 22, 2018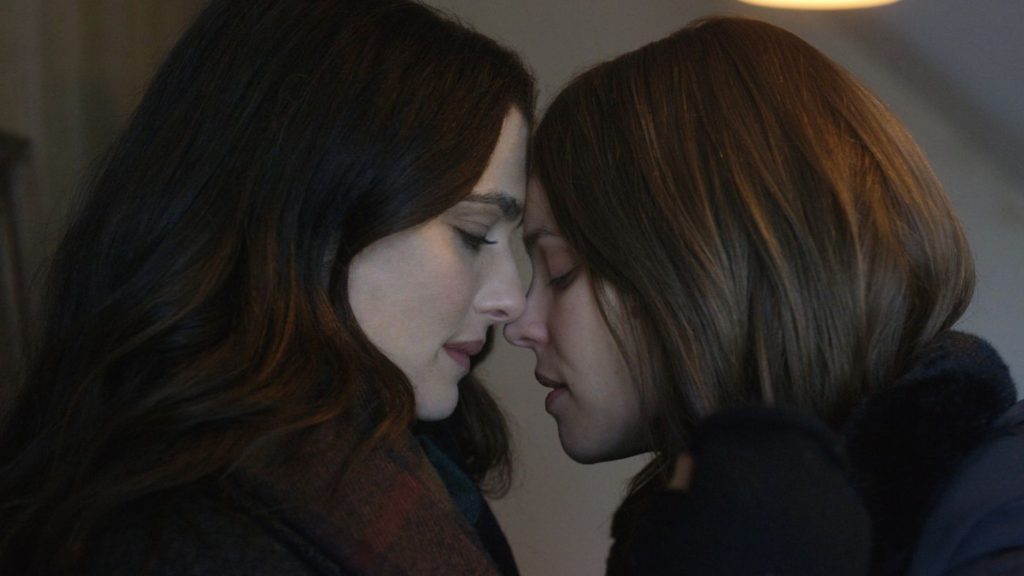 Chilean filmmaker Sebastián Lelio has had quite a year.  In March, he won the Academy Award for Best Foreign Language film for "A Fantastic Woman," a tense drama about a transgender woman who has her world ripped out from under her when her lover dies and his family swoops in to freeze her out as she mourns.  It was easily one of the finest films of 2017 (it was #7 on my Ten Best list) and promised a stellar career ahead for Lelio.
Well, Lelio's follow-up, "Disobedience," is now in theaters, and the director is now batting 2 for 2.
Although "Disobedience" is also about sexuality, it couldn't be more different in tone from "A Fantastic Woman."  The film is set in a North London in an Orthodox Jewish community, where its leading citizen, the local rabbi Rav Krushka, drops dead during a service.  Rav's daughter Ronnie (Rachel Weisz), now a famous New York photographer, flies back to London to grieve.
When Ronnie, once known in the community by her given name Ronit, shows up at the home of her childhood friend Dovid (Alessandro Nivola) to sit shiva, however, tongues among the mourners begin to wag.  It seems that Ronit exiled herself years ago after it was discovered that she was having a lesbian affair with another childhood friend Esti (Rachel McAdams).  Once Ronit left town, the community pressured Esti to marry Dovid in an effort to make her straight.
Now that Ronit has returned, Dovid impulsively invites her to stay at their place until the funeral.  But with Ronit and Esti now under the same roof, well…one thing inevitably leads to another.
Among the more interesting topics that "Disobedience" tackles head-on is the intersection of conservative religion and sexuality.  We've all seen stories about extreme right-wing pastors who are caught preying on young (usually male) parishioners.  But the situation in "Disobedience" is different — these are two adult women who decide to resume a consensual relationship, with one, Esti, still living an Orthodox Jewish life.
Weisz is terrific as Ronit, negotiating a character who, in order to mourn properly, must return to a community that shunned her and face the woman for whom she still has feelings.  It's a tricky role to make believable, but Weisz's skillful performance allows the audience to understand her rather than judge her.  And McAdams, who is sporting what to these Yankee ears sounds like a spot-on British accent, is a marvel as a woman whose passions have been sublimated so as to conform to the community in which she needs to be above reproach.
A word, too, about Alessandro Nivola.  As Dovid, who was tapped by Rav Krushka to be his successor leading the synagogue, Nivola is virtually unrecognizable, doughy while donning glasses as well as a thick beard as the new rabbi.  Though he is known as more of a hunky type, "Disobedience" marks a career-best performance for Nivola as a man who fears that he may be losing his wife to a woman whom he has brought into their home.
Is "Disobedience" talky?  Definitely, so that if you're not a fan of lots of dialogue, you may be better off elsewhere.  But here talkiness also contains stimulating ideas, which is all I ask from a film with something on its mind.
GRADE: B+