JUNE 11, 2018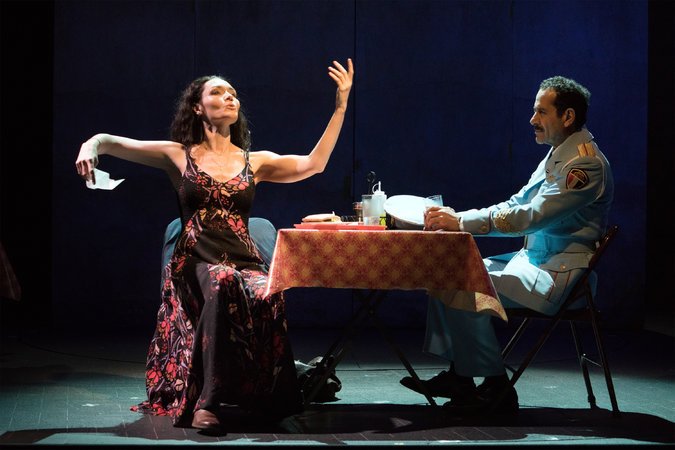 Photo: The New York Times
"The Band's Visit," an intimate musical in which lives are touched when an Egyptian military band finds itself stranded in a tiny town in Northern Israel, stunned Broadway prognosticators when it won 10 awards out of 11 nominations at the 72nd Annual Tony Awards, held at Radio City Music Hall on Sunday.
The show's virtual sweep of the Tonys came at the expense of its splashier competition for Best Musical — "Mean Girls" (based on the Tina Fey movie), "Spongebob Squarepants" (from the Nickelodeon kids cartoon) and "Frozen" (an adaptation of the Disney animated film).
While both "Mean Girls" and "Spongebob" actually came into Sunday's ceremony with more nominations — 12 apiece — than "The Band's Visit," "Spongebob" could only win a single Tony (for scenic design) and "Mean Girls" was skunked entirely.  (Its zero-for twelve Tony showing ties it with 2010's "The Scottsboro Boys" as Tony's biggest loser.)  "Frozen" also lost the three categories for which it was nominated.
If the Broadway press saw the triumph of "The Band's Visit" as a repudiation of the kind of big musical that might better belong in a theme park rather than on Broadway, Tony voters paradoxically chose one of those big shows as the year's Best Play — the two-part "Harry Potter and the Cursed Child."  Although the drama won no acting awards, the show's highly-praised technical achievements brought it six Tonys, including the Best Director prize to the play's John Tiffany.
On the revival front, "Angels in America" took the Best Revival of a Play category, along with two key acting prizes — Best Leading Actor for Andrew Garfield and Best Featured Actor for Nathan Lane (his third Tony Award and his first for a dramatic role).
The musical revival race was largely seen as a showdown between new productions of "My Fair Lady" and "Carousel," but in one of the night's biggest upsets, the Tony went to the third entry in the race, a comparatively modest revival of the 1990 musical "Once on This Island."
But what about the actual ceremony?  It was a particularly low-key Tonys — not just because it wasn't a strong year both on the musical and play side, but the ceremony was hosted by two newbies, Josh Groban and Sara Bareilles.  They made for an amiable, if not electric, pair but a vast improvement over last year's ceremony which was hosted by a pre-banishment Kevin Spacey.
How did the show go?  Here are a few highlights and lowlights from the 72nd Tony Awards:
THUMBS UP
The Upsets — Surprises came early when several nominees favored to win got their hat handed to them.  Tina Fey was an overwhelming favorite to capture Best Book of a Musical for "Mean Girls," and the potential for a big celebrity win was probably why the show scheduled this category for prime time, a rarity.  But she lost to Itamar Moses for "The Band's Visit," an early indicator that the little musical was going to have a big night, which included an upset win for Featured Actor in a Musical for Ari'el Stachel ("The Band's Visit") over the favored Norbert Leo Butz ("My Fair Lady").  The astonished faces of the upset winners often make for the best moments of a Tonys telecast.
The Winners — The Tonys, among all awards shows, seem to be the best at handing the award to the most deserving winner.  Witness Glenda Jackson, who won her very first Tony at age 82 and her "Three Tall Women" co-star Laurie Metcalf who won her second consecutive Tony, which is probably sweet consolation after her Oscar loss for "Lady Bird" and the whole "Roseanne" debacle.  And Justin Peck's athletic choreography for "Carousel" was rightly honored as well.
The Speeches — The acceptance speeches at the Tonys often feel more personal than at other award shows because each winner is a part of the Broadway community, and to be voted "the best" by those you know and respect adds an extra layer of emotional gratitude.  Garfield, for example, gave an heartfelt salute to the LGBTQ community, and directing winner David Cromer ("The Band's Visit") urged outreach to friends who might be contemplating suicide.  Two winners powerfully addressed how xenophobia affected their career — Featured Musical Actress winner Lindsay Mendez recalled how she was told that she would have to change her Latino last name to Matthews or else she would never work in this business, and Featured Actor winner Stachel had to hide the fact that he was of Middle Eastern descent after 9/11 so that he could find work.
MIXED
The Performances — As usual, they were a mixed bag.  A medley from "My Fair Lady" seemed randomly truncated, and an attempt to replicate an in-the-round experience on a proscenium stage made the "Once on This Island" performance a bit of a jumble.  And what was that live goat doing anyway?  But the "Carousel" selection of "Blow High, Blow Low" used the entire Radio City stage to effectively show off Justin Peck's choreography.  And television certainly helped "The Band's Visit's" intimate number of the song "Omar Sharif," as Katrina Lenk's delicate performance was shown in close-up, bringing co-star Tony Shaloub to near tears, small touches that might not register as well from the rear balcony of the Ethel Barrymore Theater.  And then there's Bruce Springsteen.  Some people have knocked the Special Class Tony recipient's spoken intro to "My Hometown" as too long, but I hung on every word.  The most moving performance, however, was from the theater students of Marjory Stoneman Douglas High School from Parkland, FL who performed "Seasons of Love" from "Rent."  There was grumbling in some quarters that the song is overused on award shows, but if anyone has earned the right to sing it, it was these courageous students.
THUMBS DOWN
The Theme — It was a nice intention — shining a focus on the dreams of young performers whose goal is to come to Broadway — and the Groban/Bareilles team suggested that viewers text photos of their first time on stage so that they could be used on the show.  The first few were charming, but by about the fifth time you saw an 8 year-old dressed in a costume from "Cats," the charm had worn off.
Robert DeNiro — After an evening in which winners subtly addressed important issues that have been ignored by Trump (who was not mentioned by name), out came DeNiro to say "F*** Trump!" and then flex his muscles.  It wasn't the swear word to which I object — it was the lack of follow up as to why he chose to say it.  It was a gift bag to the right-wing base as proof of some kind of entertainment industry conspiracy against Trump.  It wasn't that it was shocking;  it was just juvenile and incomplete, and I would have expected something more from the likes of DeNiro.
Here are the winners of the 2018 Tony Awards:
Best Musical: "The Band's Visit"
Best Play:  "Harry Potter and the Cursed Child," Parts One and Two
Best Revival of a Musical:  "Once On This Island"
Best Revival of a Play:  "Angels in America" ("Millennium Approaches" and "Perestroika")
Best Performance by an Actor in a Leading Role in a Musical:  Tony Shaloub ("The Band's Visit")
Best Performance by an Actress in a Leading Role in a Musical:  Katrina Lenk ("The Band's Visit")
Best Performance by an Actor in a Leading Role in a Play:  Andrew Garfield ("Angels in America")
Best Performance by an Actress in a Leading Role in a Play:  Glenda Jackson ("Three Tall Women")
Best Performance by an Actor in a Featured Role in a Musical:  Ari'el Stachel ("The Band's Visit")
Best Performance by an Actress in a Featured Role in a Musical:  Lindsay Mendez ("Carousel")
Best Performance by an Actor in a Featured Role in a Play:  Nathan Lane ("Angels in America")
Best Performance by an Actress in a Featured Role in a Play:  Laurie Metcalf ("Three Tall Women")
Best Direction of a Play:  John Tiffany ("Harry Potter and the Cursed Child")
Best Direction of a Musical:  David Cromer ("The Band's Visit")
Best Book of a Musical:  Itamar Moses ("The Band's Visit")
Best Original Score (Music and/or Lyrics) Written for the Theater:  David Yazbek ("The Band's Visit")
Best Scenic Design of a Play:  Christine Jones ("Harry Potter and the Cursed Child")
Best Scenic Design of a Musical:  David Zinn ("Spongebob Squarepants: The Musical")
Best Costume Design of a Play:  Katrina Lindsay ("Harry Potter and the Cursed Child")
Best Costume Design of a Musical:  Catherine Zuber ("My Fair Lady")

Best Lighting Design of a Play:  Neil Austin ("Harry Potter and the Cursed Child")
Best Lighting Design of a Musical:  Tyler Micoleau ("The Band's Visit")
Best Choreography:  Justin Peck ("Carousel")
Best Orchestrations:  Jamshied Sharifi ("The Band's Visit")
Best Sound Design of a Play:  Gareth Fry ("Harry Potter and the Cursed Child")
Best Sound Design of a Musical:  Kai Harada ("The Band's Visit")