JULY 11, 2018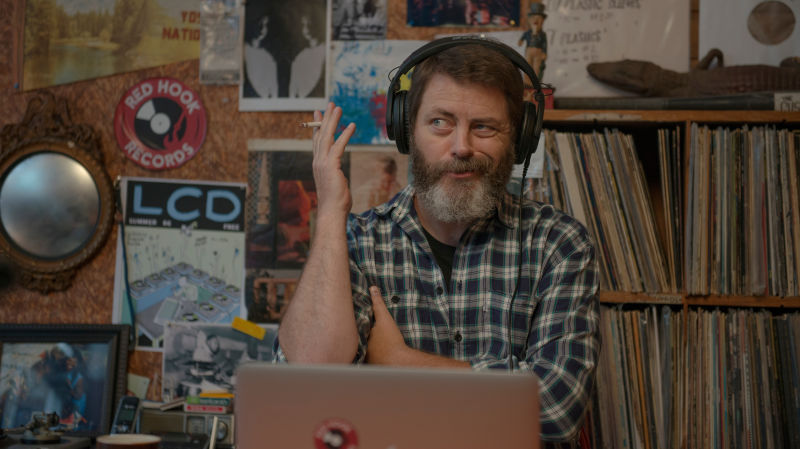 "Hearts Beat Loud" is an absolute charmer of a movie.
By that, I don't mean to minimize the film's achievement.  It sets out to charm (not an easy thing to make believable), and charm it does.
And charm is the stock-in-trade of the film's agile director, Brett Haley, who helmed two enjoyable films in the same vein, 2015's "I'll See You in My Dreams" (with Blythe Danner and Sam Elliott) and last year's "The Hero" (with Elliott and Nick Offerman).
Offerman returns here as Frank Fisher, the proprietor of Red Hook Records, who opened his vinyl store in the days when people were still listening to records but now finds that his customers are few and far between.  Given the fact that the Red Hook section of Brooklyn has become impossibly trendy, his landlord Leslie (Toni Collette, in a wonderful performance that couldn't be more different than her Oscar-worthy turn in "Hereditary") has no choice but to raise his rent, a development that forces Frank to close his shop.
Frank, now a widower, has always had a dream of being a successful musician (as a younger man, he had a brief music career, having released one unsuccessful album), and that dream has never left him.  But, as he is aging, he seeks to transfer that dream to his daughter Sam (Kiersey Clemons), who is on track to enter UCLA as a medical student with hopes of becoming a doctor.
Frank dotes on his daughter but regularly interrupts her homework for what he calls "jam sesh time," where Frank plays back-up while Sam sings.  This could he dismissed as a loving daughter indulging her dad — the only problem is that Sam is an incredibly talented vocalist, far better in music than Frank could ever be.  After he records their latest composition, a song titled "Hearts Beat Loud," Frank secretly uploads it to Spotify, and soon it is being heard in coffee shops all over town.
Yes, "Hearts Beat Loud" is a fantasy vision of life in the music business, but Haley roots his story in character, which makes all the difference.
Offerman, who's terrific, plays Frank as a bit of an overgrown child.  Yes, he smokes a little too much and he drinks a little too much, thanks to his bartender friend Dave ("Cheers'" Ted Danson, behind the bar again).  But he adores Sam not only for who she is but, I suspect, the fact that she is the most precious remembrance of his late wife.
But the real star of "Hearts Beat Loud" is Clemons, who not only has the singing chops but displays major acting skills as well.  She beautifully communicates the conflicts in Sam's life — she doesn't want to be parted from her new girlfriend (Sasha Stone, wonderful as always) and especially from her dad, flawed as he is.  Yet she has a dream to be something more.
"Hearts Beat Loud" is not a major motion picture event, but sometimes you just want a good time at the movies, and "Hearts Beat Loud" provides that.  And more.
GRADE: B